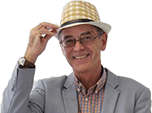 Review: Honda City (2008)
Rating:
Good looking saloon version of Jazz II, with Thai market 1.5 litre 120PS I-VTEC engine and 5-speed autobox. Easy 43mpg.
Not for UK. Unfavourable baht/sterling exchange rate. Factory flooded October/November 2011.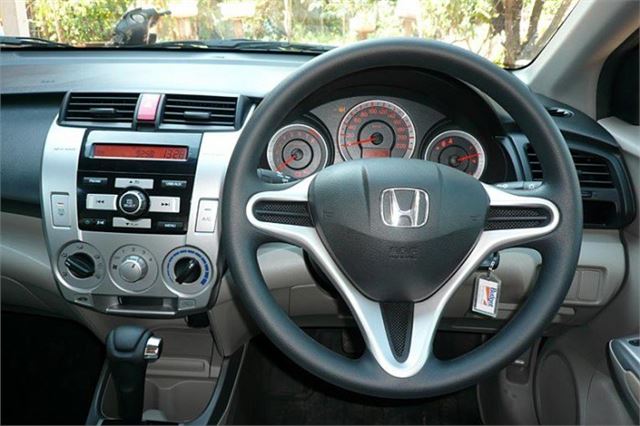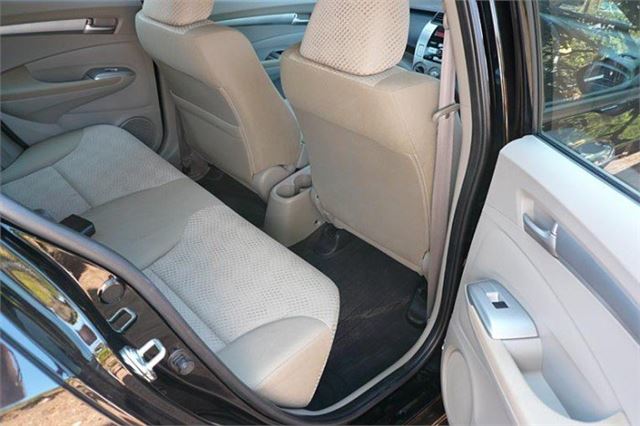 Recently Added To This Review
28 January 2018 A facelifted, hired version of the 2008 Honda City 1.5iVTEC S with 5-speed automatic transmission averaged 41.2mpg over 784 miles
in Thailand driven by HJ. More than 200 of those miles were with 6 adults and 5 children aboard. Read more
12 March 2008
New, much better looking Honda City for Asian market. Huge improvement on previous City. On stretched version of new Jazz platform making it 50mm longer than Jazz. 4,395mm long x 1,695mm wide x 1,470... Read more
Honda City (2008): At A Glance
Neither Honda nor Toyota expected the Thais to buy a small hatchback. The market in Thailand for this size of car was saloons. And if you asked Thais before 2003 they'd have confirmed that they didn't like the look of hatchbacks.
So, instead of launching the Yaris to the Thai market, Toyota gave it the Yaris based Soluna Vios. A decent enough small four-door with a 110PS 1.5 VVTI engine and 5-speed manual or 4-speed torque converter auto.
And instead of introducing the Jazz (or 'Fit') to the Thais, Honda played safe by rebodying it as its second generation 'City'.
Unfortunately, with its disjointed upright stance and portholed 'A' pillars, the City wasn't going to win any beauty contests. And Thais puzzled as to why Honda had ever bothered with its lift-up-squab 'magic' rear seats. The Soluna Vios ran away with the Thai small saloon market, and the Honda City languished.
Then some brave person at Honda decided to try the Jazz on the Thai market after all. With the same 110PS 1.5 I-DSI engine and CVT-7 transmission as the City. Suddenly, it turned out that Thais did like hatchbacks. Particularly young Thais. Very soon a Jazz was the car to have, a club started, and a lively rice rocket scene developed with Jazz starting to sprout big wheels, turbochargers and even gullwing doors.
Toyota couldn't let Honda have this new section of the market all to itself. So as soon as the second generation Yaris ('Vitz') was ready, Thailand got that, continuing with the standard 110PS 1.5 and 5-speed manual or 4-speed autobox as the Soluna Vios. Even the tourist police on Phuket Island now run around in them.
Then, to keep striking while the iron was hot, Toyota relaunched the Vios, with a slightly plumper body, also sold in Japan.
So, even though the Jazz was selling like hot rice cakes, Honda had to reply with a new City, and it did so in September 2008.
Trains of students dressed up as new Citys were seen chugging along the sidewalks of Bangkok. And in the looks department, everything that had been wrong with the previous City was right about the new one.
Honda City (2008): What's It Like Inside?
Based on the second-generation Jazz, with I-VETC instead if I-DSI engines, it's a very pretty car that has everything in the styling department that the new Vios doesn't.
The fuel tank is under the hard front seats, and you sit quite high, but very comfortably. The steering wheel is similar to current Civic and Jazz and adjusts for height but not reach. The instruments are clear analogue, picked out in red. The dash is pleasing to look at and ergonomic to use.
Instead of lift-up 'magic' rear seats, Honda has gone for deep storage bins underneath them, because that's what the market told them it wanted. On SV versions, the seatbacks fold down onto the squabs. And Citys have two rear ISOFIX childseat tethers. The big 506 litre boot is wide and deep, keylock or cabin release, but no button, and under the floor there's a full-size steel spare wheel, with the same 175/65 R15 tyre as the other four. Actual dimensions are 39" deep x 58.5" wide behind the arches x 25" high.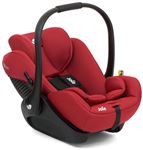 Child seats that fit a Honda City (2008)
Our unique Car Seat Chooser shows you which child car seats will fit this car and which seat positions that they will fit, so that you don't have to check every car seat manufacturer's website for compatibility.
What's the Honda City (2008) like to drive?
Steering is reasonably meaty and doesn't divorce you from the road. I guess they moved the camber angle forward as they did for the new Jazz to make it more positive, though it does lightens-up a bit at speed.
Unlike the UK Jazz it has neither a CVT-7 nor a 6-speed I-SHIFT. Instead you get very decent 5-speed torque converter automatic. You can select D3 or D2 on the floor (or use paddles on the VS), but in everyday driving there's no real reason to because kickdown is quick and depending on how hard you kick, the box will instantly drop one or two ratios and get you past yet another slow old Isuzu Bedford lorryload of sticks. Lift and it's back to cruising quietly and efficiently at around 30mph per 1,000rpm. Over a 396 mile fuel check, mostly with 3 - 6 adults aboard, and at cruising speeds of 75 - 90mph with plenty of overtaking, I averaged 42.94 mpg on Thai 91, which is about the same as UK 95 Ron, and also about the same as we get from our four and a half year old Vios.
There was a sticker stating E20 95 Ron part bio on the back window but the man from Budget advised us not to use it. Thai petrol prices have fallen back much more sharply than in the UK from around 33 baht a litre down to around 21.50 baht a litre for 91 and down to around 17 baht a litre for E20. Even with Sterling at a low 50 baht / £1, that's 43p a litre for premium unleaded and 34p a litre for part bio super.
I did a total of 923 kilometres (577 miles) in the City, so got to know it quite well. The performance matched the looks, so if I were choosing between a new Vios and the new City it's certainly the one I would go for.
Whether the Brits would take to it over the Jazz is another matter altogether. And, unfortunately for the UK, the dash is so different from the Jazz I can't tell you if it could be adapted to carry a heater as well as the standard fit aircon.
One thing it does do is make a very strong case for the pleasing combination of 120PS 1.5 I-VTEC engine and 5-speed torque converter automatic. This won't help Honda achieve its corporate fleet average of 130g/km CO2, but in truth it is the engine and transmission combination its UK customers really want, and, as I proved, the real world economy is good enough.
What have we been asked about the Honda City (2008)?
Every day we're asked hundreds of questions from car buyers and owners through Ask Honest John. Our team of experts, including the nation's favourite motoring agony uncle - Honest John himself - answer queries and conudrums ranging from what car to buy to how to care for it as an owner. If you could do with a spot of friendly advice before buying you're next car, get in touch and we'll do what we can to help.
Ask HJ
Jazz banned
I was thinking of changing my 2005/05 Jazz 1.4 SE DSi 5d CVT-7 for the new Jazz. I road tested the new model and agree the performance, ride and steering have improved although I thought the dash overcomplicated. I found the I-SHIFT totally unacceptable with each gearchange jerky, similar to a novice driver letting out the clutch on the first lesson. I certainly missed the silky smooth changes of my CVT. You reported that the reason for the I-SHIFT was to reduce emissions and hence VED. This has not been achieved and at the moment I would not buy the current auto version, but continue with my superb CVT. What are the chances of Honda fitting the CVT gearbox to the new Jazz when they build them in Swindon?
You can learn to drive an I-SHIFT smoothly. But since there has turned out to be no benefit in CO2 based tax, Honda might be forced to fit the CVT. Or might fit the 5-speed torque converter auto and possibly the 1.5 120PS I-VTEC engine, as fitted to Jazz and Honda Citys in Thailand and the USA. This powertrain is tested here: www.honestjohn.co.uk/road_tests/index.htm?id=363 There is no significant fuel economy penalty, as I proved. But, of course, your other option is the Honda Insight hybrid that comes with a CVT as standard, from £15,500. Test here: www.honestjohn.co.uk/road_tests/index.htm?id=366

More Questions
See also