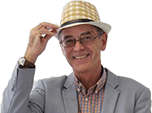 What do you think of my idea to indicate speed limits by painting the central line on a road?
A couple of years ago, I sent the following suggestion to the Editor of the Daily Telegraph, who promptly ignored it. I still think it has some merit. What do you think?

"I see from yesterday's edition that our lunatic government is proposing millions of extra speed signs, which will uglify our roads even more, at a ridiculous and unnecessary cost. A simpler, less obtrusive and vastly cheaper alternative - if these speed limits are really necessary - would be to colour-code the central painted line; say, red for 30mph, blue for 40, green for 50, leaving white to indicate that there is no particular limit on that stretch of road. This would have the benefit of being immediately visible to drivers, could be changed quickly and easily if a limit is inappropriate, and could be applied to stretches of varying length without any need to erect signs (which can get overgrown or knocked down or vandalized). Where's my paintbrush?"
Asked on by HI, Nicosia, Cyprus

Answered by
Honest John
I remember this from a few years ago (when we did have a lunatic in charge of the country's finances). Not such a brilliant idea at night. But I'll try to run it.