Learning to drive in: A Hyundai i10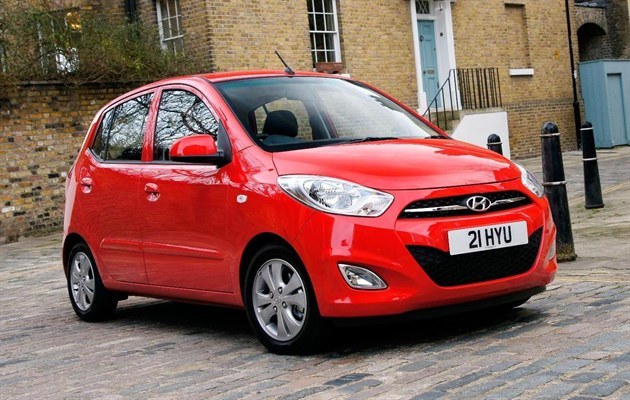 Driving lessons are challenging things. There's a lot to contend with out on the road, but there's more to learning than watching out for hazards and perfecting manoeuvres. In fact, the challenges begin before you even start the lessons, because picking the right car in which to learn is really important, and it's something many learners will overlook.
The seats need to be comfortable and easy to adjust, because you'll need to set them every time you get in the car. The same goes for the mirrors. The steering ought to be light, the visibility ought to be good, the biting point easy to find, the gearbox precise... you get the idea!
Unfortunately, though, most road tests don't cover these details, and so when it comes to figuring out what car you want to learn in you might find yourself stuck. Luckily, over the coming months we'll be bringing you learner oriented reviews of some of the most common driving school cars.
First up is the Hyundai i10. You'll find that many driving schools are running Hyundai i10s, i20s and i30s, and we've even seen a few ix35s SUVs with L plates on, but the i10 is the smallest of the lot and is becoming an ever more common sight at test centres.
Getting started
The first time you sit in the i10 you'll feel quite high up, which maximises visibility and is definitely a good thing for a learner! Moving the seat into a comfortable position is fairly easy, although getting the back rest 'just-so' can be a bit of a faff, which is worth bearing in mind as you'll have to adjust it every time you get in.
It's the same story with the wing mirrors, which on more basic models are adjusted by little plastic stalks. These are imprecise, and getting the mirrors perfectly positioned really helps when doing manoeuvres. Besides that the cabin is clearly laid out and you should settle in quite quickly, and you'll have no trouble finding the controls.
On the move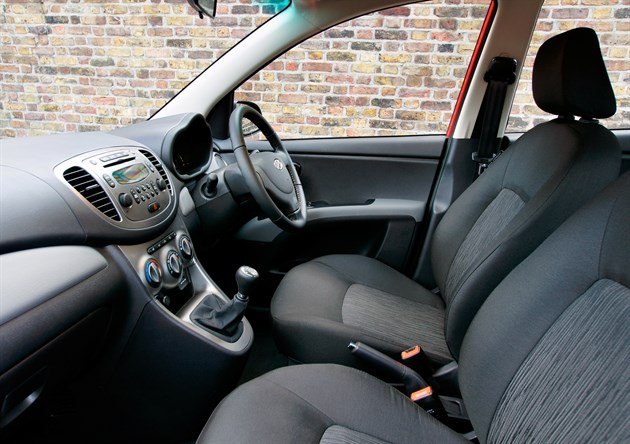 Getting started in the i10 isn't difficult - the clutch pedal is light and the rear end hunkers down noticeably when you find the biting point, which isn't too sharp and sudden. That ought to help you avoid stalling when pulling away. When you're on the move it's easy to change gear thanks to a shift indicator in the dashboard, a light, smooth gear shift and a cleverly positioned gear lever, which sits high up rather than on the floor.
The i10 is narrow and short, so if your lessons are in a busy town it's an ideal car to thread through small gaps, simply because it's so easy to judge its size. That fact also means you shouldn't give your instructor too many scares by edging too close to the verge!
The speedo and rev counter are very easy to read, and the mirrors are big, giving a good view back. It's also possible to set the mirrors to provide a good view back while framing the rear wheel arch, which really helps when parking or driving near a kerb.
The 'A-pillars' - which stretch from the roof down the sides of the windscreen to the bonnet – aren't too chunky and are fairly upright, so seeing around them at junctions isn't too difficult so hopefully you won't pull out in front of anyone!
Manoeuvres 
Finding a car perfectly suited to manoeuvres like reversing around corners or bay parking is practically impossible. There are always blind spots and lumps sticking out in curious places, but some cars are better than others, and the i10's strongest area is slow speed manoeuvres.
The sides are straight, so if you set the wing mirrors properly you can see the kerb in relation to the rear wheels, and the back of car is flat, so judging space behind is fairly easy. That's helped further by a relatively large rear window.
The steering is very light, too, and it offers a good amount of lock, making turning in the road and parallel parking both fairly easy, something helped further by the cars short length.
Summary
It might not be the most common driving school car, but if you've seen an instructor with the i10 then it's a decent bet. If you're dreading those tricky manoeuvres and your spatial awareness needs a bit of work then it's absolutely ideal, because there are few vehicles that are quite so easy to park.
Helpful details
Shift indicator – if you pay attention to this it'll help keep you from losing marks on the 'eco driving' criteria of the test.
Vehicle checks – In the show-me tell-me checks section of your test you should be able to identify the vitals of the engine bay easily – they're all colour-coded yellow.
Five-doors – if you need to carry a rear passenger, as is sometimes the case when going out on a driving test or lesson, the fairly spacious back seats and the rear doors will help.
Gear-lever – mounted to the centre console, it's high up and easy to operate, so you won't have to look down and take your eyes off the road when you need to change gears.
Unhelpful details:
The backrest – it can be a struggle to get this in the right place, a problem when it's always moving around.
The mirrors – on some models they're adjusted by an inaccurate stalk, although electric adjustment is fitted to some cars.

Already learning? Visit our Facebook page and let us know what car you're taking lessons in. You'll also find lots of useful information, and you can ask us and other learners anything you want.