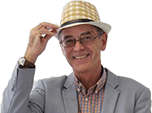 Toyota Mirai 2015 Road Test

Welcome to the future, in the interesting, slightly oddball shape of the Toyota Mirai.
If a car could be run on air and water, that would be fulfilment of an impossible dream. No combustion, so no pollution.
The next best step is hydrogen, and Honda, Hyundai/KIA and Toyota have all been working on a building a practical electric car powered by a hydrogen fuel cell battery.
Hydrogen is the 'fuel of the future' because it is infinitely renewable and, with the Mirai, Toyota is giving the World a taste of what that future might be like in 15 – 20 years time.
Only a taste, because a mere 12 Mirais will be imported to the UK in 2015 and just 18 a year thereafter. But by 2020 Toyota intends to have sold 30,000 hydrogen fuel cell vehicles Worldwide.
At £66,000 apiece Mirais, are unlikely to be sold. Instead, they will be leased at an all-inclusive £750 a month, which also covers the cost of fuel for 60,000 miles over 4 years.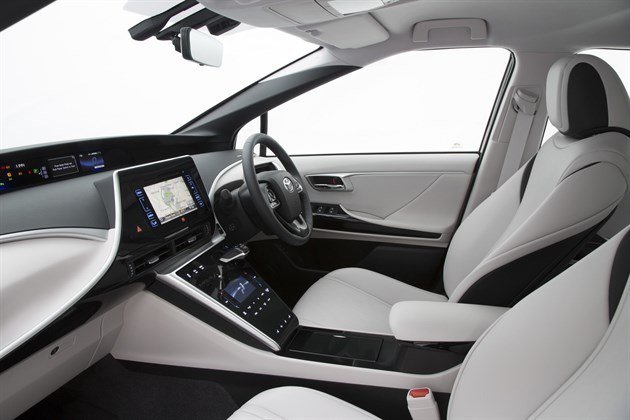 Driving the future is not in the least intimidating because, like the Honda FCX Clarity prototypes of 2009 and the KIA Borrego FCEV prototype of 2010, it's no different from driving any other electric car, such as the Nissan Leaf or a Renault Zoe.
That's because the motor is not is fuelled by hydrogen, but instead the hydrogen fuel cell that provides the electrical power for the motor.
Unlike a Leaf or a Zoe, range on a full tank of 5 kilos of compressed hydrogen gas is up to 300 miles.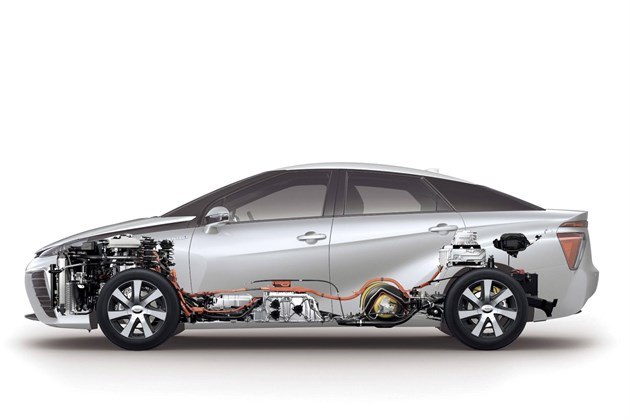 It's a slightly curious, semi-futuristic, yet still conventional looking three box saloon with a motor up front, four doors, four seats and a trunk at the back. Only an eagle-eyed car geek would notice it in everyday traffic.
Controls are very similar to a Toyota Prius, with a familiar little lever to select Reverse, Drive, hill descent braking and a button for Park. Couldn't be simpler.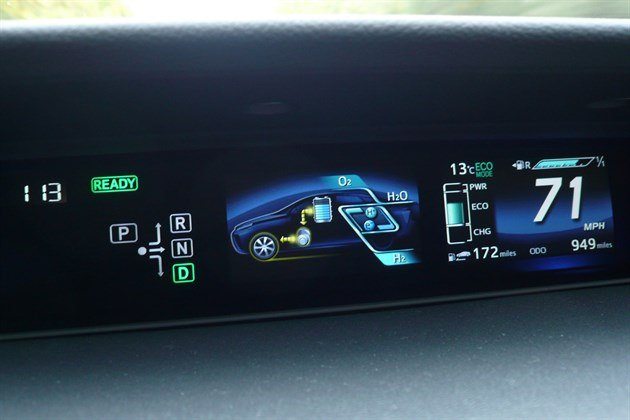 In front of your eyes, just below the windscreen, you get a very clear TFT dash giving your speed, a fuel gauge, and a diagrammatic representation of whether the battery is providing power or is undergoing regeneration.
It's all very smooth, with just a faint occasional whirring from the electric motor that powers the front wheels, perfectly adequate pick-up to speed, untroubled hill climbing ability and limo-like ride and handling. It will obviously make an excellent taxi and, since Green Tomato is having a few, numerous private hire customers will get to experience the back seat.
Filling the tank is foolproof, as we already discovered when filling the FCX Clarity and Borrego FCEV.
The luxurious, leather-clad interior fosters a Lexus-like feeling of well-being as your just reward for helping to save the World
More at Toyota