Ford Focus ST 2.3 EcoBoost 2019 Road Test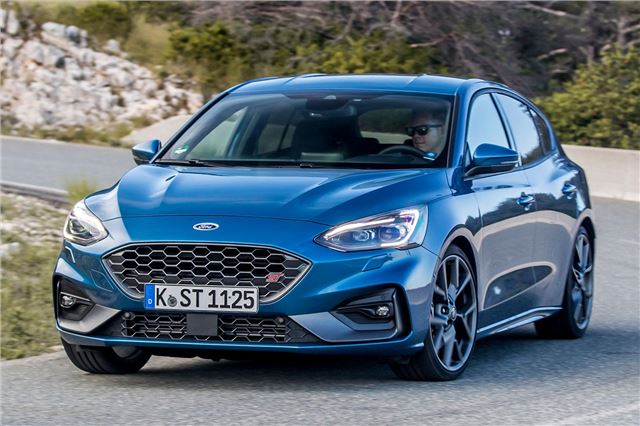 Based on the excellent new Ford Focus, the Focus ST has all the potential to be an incredible hot hatch to take on the Volkswagen Golf GTI, Honda Civic Type R and Hyundai i30N. It's great to drive and just as practical as the regular Focus but - with the petrol hatch starting at £32,000 - rivals are both cheaper and more exciting.
If you want everyone to know you've bought a Focus ST, it's worth opting for the exclusive Orange Fury or Ford Performance Blue paint, otherwise it looks very similar to the ST-Line model. Cosmetic upgrades are fairly modest, including a relatively discreet rear spoiler, a new grille, ST badging and 19-inch alloy wheels. We get the sense that Ford is holding out the most in-your-face appearance for a more dramatic RS model.
The same could be said for the way the Focus ST drives. Let's not get blase about how quick it is - with 280PS (an extra 30PS over its predecessor), the petrol ST will accelerate from 0 to 62mph in 5.7 seconds (0.8 seconds quicker than the old model). An impressive 420Nm of torque means there's faster in-gear acceleration than the previous Focus RS, while a trick new anti-lag system means there's barely a millisecond's delay when you hit the throttle.
It's fun, but it's not going to excite you in the same way as a Honda Civic Type R. In typical 2019 hot hatch fashion there's plenty of fake noise piped into the cabin and the exhaust will make the odd popping noise, but it's not as raucous as a Hyundai i30N. That'll be a good thing for some, but we'd like a hot hatch to be a little more thrilling.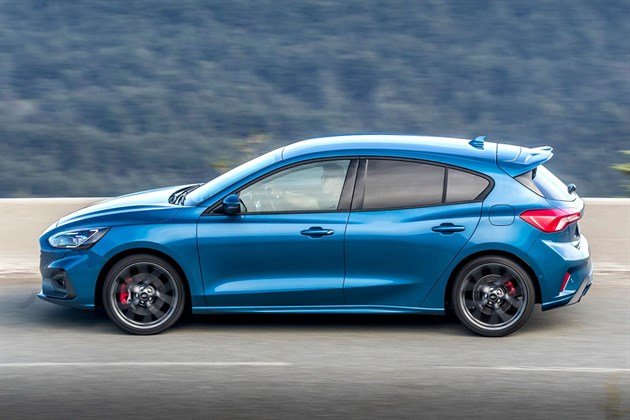 It goes through corners well - very well, in fact - with little in the way of lean when you chuck it into a bend. There's a trick electronic differential, which you can feel shifting torque between the front wheels to aid traction, while adaptive dampers (standard on the petrol hatch) seem very compliant, although we'll reserve final judgement until we've driven the ST in the UK.
Like the smaller Fiesta ST, the Focus now comes with selectable drive modes for the first time, changing parameters like the suspension, steering and throttle response. Ford says it's learnt from the Fiesta's drive modes, which some reviewers judged to be too subtle, but we think the changes between the Focus ST's are too dramatic. The steering is oddly springy in sportier drive modes, far too keen to self-centre, and there isn't an individual drive mode available to allow you to mix and match various elements.
There's an automatic on its way but, for now, the Focus ST can only be specified with a six-speed manual gearbox. It's every bit as perfect as you'd expect from a fast Ford gearchange, while the pedals are well-placed. Opting for the £250 Performance Pack adds a shift indicator, launch control and rev matching - all of which will appeal to enthusiastic drivers.
The Focus ST is just as practical as the standard Focus. There's a reasonable amount of room in the rear seats, even for fully-grown adults, while the boot is adequate if nothing to shout about. The rear bench can be dropped easily and is relatively flat, should you need to transport bulkier items.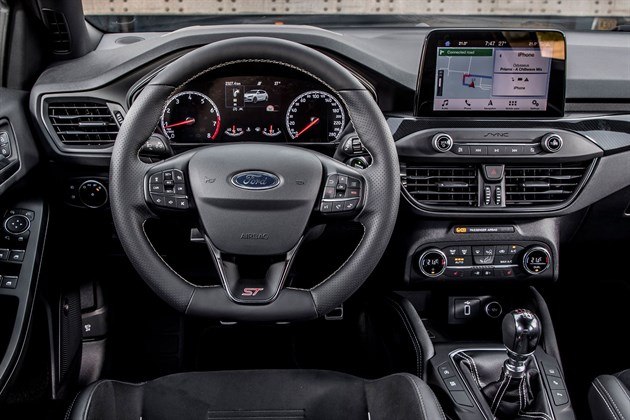 Just like the exterior, Ford's ST bods appear to have done only the bare minimum to the cabin. Save for the carbon-effect dash and excellent Recaro part-leather bucket seats, you'd be struggling to tell you've bought a performance model. This isn't necessarily a bad thing - the latest Focus has a quality interior - but we'd like to see a touch more pizzazz.
Buyers of previous Focus STs have been able to choose from a variety of different trim levels (ST-1, 2, 3), but now there's just one. That means all STs are now well equipped as standard, including an eight-inch navigation system, B&O audio, front and rear parking sensors, as well as Ford's driver assistance pack (including traffic sign recognition, auto high beam and adaptive cruise control).
Prices start at £29,495 for the diesel Focus ST hatch with its 190PS 2.0-litre EcoBlue engine, but the petrol hatch costs from £31,995. It's well-equpped, sure, but it's also more expensive than the Honda Civic Type R (£31,550), Volkswagen Golf GTI (£31,480) and Hyundai i30N (£25,995).
The Focus ST has in recent years lived in the shadow of the smaller, cheaper Fiesta ST - and, unfortunately, we suspect it will continue to do so. It's very quick and pretty good to drive, but there's no shortage of cars in this sector that are also equally quick and good to drive. The Focus ST is just as easy to live with as the standard car, but keen drivers will find more excitement in rivals.
The Ford Focus ST is on sale now with deliveries from later in the year.