Ford C-Max 1.8 Zetec 2004 Road Test
Wed, 11 Feb 2004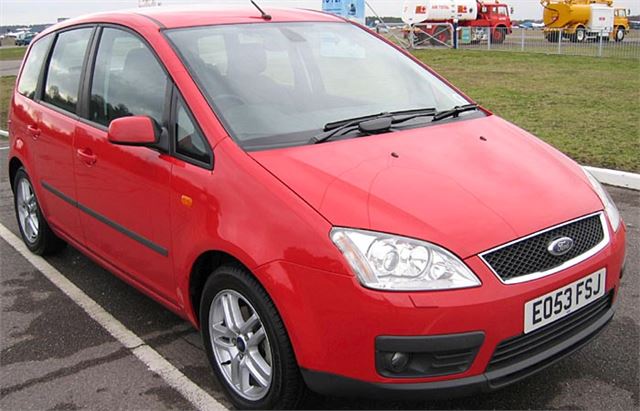 "Surprise and delight" was an old marketing term for showroom appeal. The last thing I expected was to be surprised and delighted by the handling of an MPV. I suppose I should have paid a bit more attention to what everyone else has been writing about the Ford C-Max.

This is the first launched but actually the third car I have driven on Ford-Volvo-Mazda's C1 chassis, itself an updated reworking of the original, excellent Focus platform which even set the class standard VW sought to emulate with new Golf.

At first, as usual, unfamiliarity breeds discontent and everything from the clutch through the switches to the steering feels too featherlight. Then you get used to it and suddenly you find that though the steering is easy on the arms it's also very communicative and, despite the fact you sit on nodding terms with van drivers, the C-Max handles (for want of a better word) delightfully. You expect roll understeer from this kind of vehicle, but you get none of it. The thing digs in, bites and goes round corners like the rabbit at a greyhound track.

And you're comfortable, and you're happy and the touch screen DVD satnav is very good. There's not much noise, except for a slight whistle from the door seal on the C-Max I drove.

Petrol engines are the new Ford line-up. Which means chain-cam for the 1.8 rather than belt, so no snap unhappy worries. 
The boot is cavernous, as you'd expect, but I wasn't terribly taken with the gimmicky rear seats. If you're strong, the idea is you tip over and unlatch the narrow centre rear seat, then find somewhere to dump it. Having done so, you can then slide the other two seats diagonally backwards, gaining legroom at the expense of bootroom. But then you sit awkwardly so, after trying it once, would probably retrieve the centre seat, put it back and forget about sliding the others.

Telegraph motoring editor Peter Hall reckoned it wasn't an MPV at all. Just a car with a cavernous interior. And in writing that he paid the C-Max a supreme compliment. Because after a week in mine, I didn't think of it as an MPV either. I just thought it was a really nice car. With handling somewhere between a Mazda 3 and a new Volvo S40. And, despite the same electro-hydraulic system, much better steering than the 2.0 litre Mazda 3.

So why buy a car when you can have an MPV which drives at least as well?