Toyota Aygo (2005 - 2014)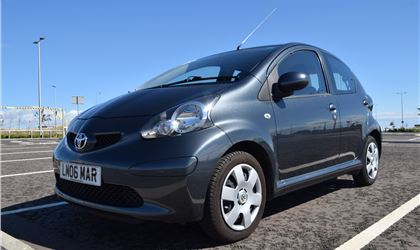 1,0 AYGO+5dr VVT-I
reviewed by Anonymous on 6 August 2018
4
Tax/Insurance/Warranty costs
4
Cost of maintenance and repairs
4
Experience at the dealership
5
How you rate the manufacturer
If you are after a cheeky car with plenty personality but also low running costs, the mark 1 Toyota Aygo may be the perfect car for you.
Introduction
The Mark 1 Toyota Aygo was launched in 2005 in partnership with Peugeot and Citroen as an affordable city car, with a fun drive and low running costs, Aygo may be the perfect first car. Will Aygo provide Japanese reliability with French flare? Read this review to find out.
Engines
The Mark 1 Toyota Aygo which debuted in 2005 came with two engine choices, a 1 litre, 3-cylinder petrol engine producing 67bph or a 1.4 litre, 4-cylinder turbo diesel producing 54bhp, made by Ford, however, this engine was no longer available with Aygo after 2006 due to poor sales.
The example we have here is the 1-litre petrol. This engine produces 67bhp at 6,000rpm and 91 N.M of Torque at 3,600prm. It takes 13.7 seconds to reach 60mph from a standstill.
Gearboxes
The Aygo also came with two gearbox choices, a 5-speed manual or a 5-speed semi-automatic called Multimode. Since the latter choice does not have a clutch pedal, it can be driven with an Automatic only licence.
This car here has the more traditional manual gearbox setup, be aware that this gearbox was never silky smooth or precise. Whining sounds are a sign of abuse, so walk away if you are looking on the used market.
The clutch can suffer on town-bound examples, so make sure there are no signs of slip or an unusually high biting point which shows that it will need to be replaced.
Some Aygo's clutch will fail at around 40,000, mines did a couple of weeks ago. The original pre-2009 cars were fitted with a 180mm diameter clutch, some suffered water issues. After 2009, Aygo was fitted with a 190mm diameter clutch from Yaris.
On the Road
The Toyota Aygo is a nippy little car that is happy to rev. The steering is light and precise which is brilliant for town driving. The small dimensions also help me to fit into spaces that my friends with Fiestas and Corsas could never.
On twisty country roads the car holds itself well with minimal body roll, however, you do need to drop down a couple of gears to get enough punch to overtake.
At speed, wind noise is good, much better than a mark 5 Fiesta of a similar age. You can still have a normal conversation, even at 70mph.
Interior
The cabin of the Aygo+ is generally a happy place to be, with a light and airy feeling. The radio and heating controls are simple and easy to use, the auxiliary port for connecting to a phone or MP3 player to play music is a welcomed extra.
Some plastics low down in the cabin can feel brittle and flimsy, however this car 10 years old and is still in one piece.
The seats are comfortable and do not make you ache, even after two hours of sitting, there is enough headroom for most adults.
However, the steering wheel only adjusts for rake and not reach. For me having little arms, this means having the seat all the way forward, so I can reach the wheel but hitting my knees on the plastic underneath the wheel due to my long legs.
There is a surprisingly large amount of room in the rear, with headroom being good and legroom average for a car of this size, however, this means you have a tiny boot.
The boot in the Aygo is tiny at only 139- litres, compared to the newer VW Up!'s 251 litres. The rear seats can be folded 50-50 to provide extra room, however, they do not fold flat and the metal back can be scratched easily.
To make up for the tiny boot, Toyota has provided 25 litres of storage space inside the cabin. Decent size door bins in each door, two cups holders in front of the gearstick, big enough to fit two McDonald's medium(400ml) drinks. There is a tray above the 12volt port, useful for storing a mobile phone or glasses case. There is also an area in front of the two cup holders which is useful for storing another pair of glasses. There is a slot behind the gearstick which fits a McDonald's ketchup dipper perfectly. At each side of the handbrake, there is a slot which I use for keeping my wallet and a pen. There is also a glove "shelf"; a lid, handle, lock and hinges can be found on sites such as eBay. There is also a slot to the right of the steering wheel which is big enough to fit five CD cases in.
The Aygo+ also has front electric windows but the rear windows only pop out, this is the case with all Aygo models, even 5 door versions.
Safety
The Aygo is fitted with four airbags, one for the driver and front passenger's face side impact airbags in each of the front seats, sadly the rear is not fitted with any airbags.
Both rear seats are fitted with ISOFIX points to enable you to fit two car seats for infants, however, I doubt you would be able to fit a pram in the boot.
The Aygo is also fitted with Anti-Locking brakes, this helps you have control of the steering and stops the wheels from skidding during an emergency stop.
Running Costs
Running Costs should be low, Toyota claim 61mpg from this engine but after 5 months of driving, I always get a real 48mph on mixed roads.
The Aygo is in Insurance Groups 2-3, this is a benefit for younger drivers such as myself.
Due to the low CO2 output of 108g/km, it is only £20 a year to tax.
Toyotas are generally reliable but clutch problems mentioned earlier may arise at around 40,000 miles.
Overall
The Toyota Aygo is a superb little town car, it can also be taken on longer journeys too, my commute involves a dual carriageway and a 60mph B-road.
If you are after a cheeky car with plenty personality but also low running costs, the mark 1 Toyota Aygo may be the perfect car for you.
reviewed by Paul Tof on 3 July 2017
reviewed by Dan the civic man on 13 October 2013
reviewed by huwpd on 14 September 2013
reviewed by huwpd on 21 November 2010
reviewed by blofelt on 21 October 2010
Write your review
About this car
| | |
| --- | --- |
| Price | £7,725–£11,620 |
| Road Tax | A–B |
| MPG | 61.4–68.9 mpg |
| Real MPG | 86.2% |
Just reviewed...