Suzuki Swift (2005 - 2010)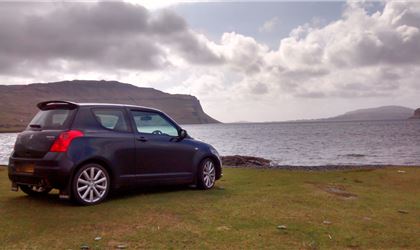 1.6 Sport 3dr Hatchback
reviewed by Trevor Cole on 9 May 2019
4
Tax/Insurance/Warranty costs
4
Cost of maintenance and repairs
4
Experience at the dealership
4
How you rate the manufacturer
A fantastic car.
My partner bought her Swift Sport 1.6 in April 2015. It wasn't what we set out to buy. We were looking for a practical and small engined five door hatchback but one test drive in this immaculate, two door, 58 plate, Sport with 42,000 miles, from a very trusting owner, was enough; it was love at first drive! It needed a new door stay and MOT as this was very short but he did these things. He even gave us money for petrol! The other thing that sold it to me was that it came with an expensive set of Dunlop SP Wintersport 3D winter tyres on black MSW alloy 16 inch wheels. I'm a great fan of winter tyres and these are superb on the road, wet, dry and in snow (as I found out this winter). They have no sidewall movement, just like the superb17 inch Hankook Ventus V12 Evo 2 summer tyres we have on it now.

The car is focused and no motorway cruiser as it is low geared, noisy, with firm suspension, a small boot and only two doors. What it does have is low weight (one tonne), a stiff chassis and a peach of an engine that loves to be revved to it's 7200rpm rev limiter. The engine goes way back to the eighties when Toyota rallied it in the Corolla GT and GTi rally cars and it was in the MR2. It was designed by Yamaha. 123bhp means it is quick enough (but not as quick as a modern turbo hot hatch). However you can use more of the power more of the time. Put simply this car is FUN, GREAT FUN. Every journey can be a joy. The ideal road is a twisting, tight and yumpy road where you keep it between 4000-5000 rpm for absolutely instant throttle response in the bends then nail it to the rev limiter on the straights – great fun. It is oh so planted. There is no body lean and it feels glued to the road – the absolute business.

As for running costs and reliability it is very good with 37mpg, road tax is £190 (£150 on 2010 VVT or later versions) and it uses no oil between 9000 mile services. It's needed one new brake caliper and an air-con condenser (£430) but any car of this age will need these items. It has also had two coil springs but lots of different manufacturers cars need these now as the non-German sourcing is not so good.

So would we recommend it? You bet. You need a crow bar to get my partner out of it. We don't think you can beat this car for fun for the money; it is fantastic. BUY ONE. You won't regret it. Our replacement will be another one.

A quick update; the car has now done 70k and is still very reliable and still feels planted and much newer. It has needed another coil spring for the MOT and the engine management light came on recently. I put Shell V-Power fuel in and ran it for a day but no change so I took it to my local garage who said it was poor cat efficiency and reset the light for £54! However the light hasn't come back on and I would recommend to everyone to put the expensive Shell V-Power in, at least every fourth fill up, to clean the cat as this worked on an SX4 I had. Also I now have read that the engine management warning light can be reset by simply disconnecting the battery for a few minutes. You may need to put in a radio code afterwards depending on your model and reset the clock.

I apologize to readers for getting the origins of the 1.6 engine wrong as another reviewer pointed out but it doesn't change the fact that it's a fantastically responsive engine once 3000rpm is reached.

Still thoroughly recommended.
reviewed by Anonymous on 24 January 2019
reviewed by Anonymous on 11 March 2018
reviewed by Anonymous on 24 February 2018
reviewed by Anonymous on 6 January 2017
reviewed by Swiss bloke on 1 March 2016
reviewed by daveadams on 28 August 2014
reviewed by daveadams on 29 November 2013
reviewed by IandT on 10 June 2010
Write your review
About this car
| | |
| --- | --- |
| Price | £8,995–£12,995 |
| Road Tax | C–G |
| MPG | 40.4–62.8 mpg |
| Real MPG | 89.8% |
Just reviewed...