Peugeot 307 SW (2002 - 2008)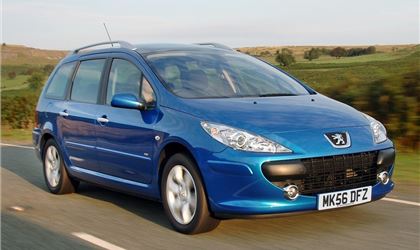 S HDi 90 Estate
reviewed by Anonymous on 3 June 2019
4
Tax/Insurance/Warranty costs
4
Cost of maintenance and repairs
4
Experience at the dealership
4
How you rate the manufacturer
Hugely capable.
I bought our 307SW to replace a BMW 525i in a 'sensible pants' moment of need. For the first 6 weeks I loathed the Peugeot having come from a background of Saab's, Volvo's, Alfa's and Jaguars. However, slowly the incredible mpg, regardlessof pace or load, softened my discontent and the enormous boot and useful roof bars began to prove their worth on visits to the builders merchants, well known forest based holiday parks and when faced with a week of family camping. However there is nothing like a challenge, so how about adding a roof box and trailer and 2 extra seats - no sweat for a secondhand 90k 307SW. By now the Pug was growing on me and after a good few thousand miles on the Paege where the cruise control and comfy seats were appreciated I treated it to a remap and Michelin Cross Climates. Yes I have had to replace consumables, yes there has been the odd electrical glitch but no, it has never let me or the family down and at 150k I tend to drive this car rather than my shiny newish Passat with the moonroof back airco on and armrest down. Also I have to say that although the drive is a bit on the soft and rolly side the 307 grips and can be enormous fun regardless of the absence of a clutch foot rest. You can drive it responsibly to Roadcraft or turn in late and deep with a good dollop of trail braking and know all will be well. Just a shame they don't make them anymore and that Peugeot did not evolve the design as the concept was sheer genius. Have to admit that Air co struggles in Southern Europe, boot is a little short for long loads, steering wheels peel if exposed to hand creams, suspension bushes and drop links wear quickly, seats are hefty to remove/reposition, a-pillars create a blind spot and the gear shift is long but these are all minor niggles in such a versatile machine. Avoid twin flywheel 110 and buy a 90 with FSH having checked for advisories on MOT.
reviewed by Tim Hicks on 3 June 2019
reviewed by Diesel Nut on 6 December 2014
reviewed by spike72 on 21 October 2014
reviewed by Libero37 on 23 January 2014
reviewed by h15t0r1an on 23 January 2014
reviewed by jaytei on 29 October 2012
reviewed by deafburglar on 6 December 2010
reviewed by igiveup!! on 21 June 2010
Write your review
About this car
| | |
| --- | --- |
| Price | £14,500–£19,045 |
| Road Tax | E–I |
| MPG | 36.7–56.5 mpg |
| Real MPG | 93.5% |
Just reviewed...