Nissan Micra (2017 on)
reviewed by Anonymous on 12 September 2020
reviewed by David Graydon on 9 August 2018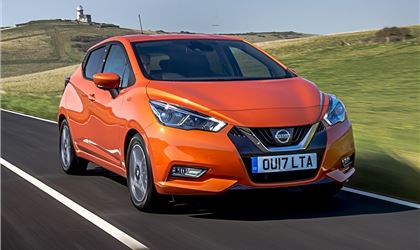 1.5 dCi 90ps Acenta 5dr Hatchback
reviewed by Jonathan Pickard on 5 July 2018
5
Tax/Insurance/Warranty costs
5
Cost of maintenance and repairs
4
Experience at the dealership
4
How you rate the manufacturer
Love my Micra!
I bought this car with 8000 miles on the clock from my local Nissan Dealership. I bought it to be a second car which both me and the Mrs would share and use as a runaround in the small city streets.

I have to say I was hesitant buying a Micra, as they have always been known for being basic ugly uncomfortable boxy hatchbacks.
However, the new Micra is, I believe, a smart looking hatchback both inside and out. And after doing some research on the internet I found out that the new Nissan Micra actually shares its underpinnings with the Renault Clio. Having owned three 1.5 dCi Clios which were brilliant, I was sold.

Since buying the Micra it has already done around 20,000 miles - much more than expected as both me and my wife enjoy driving it. In which time absolute nothing has gone wrong.

So, what's good and bad about the brand new Nissan Micra? Well, the interior is quite nice for a supermini -still some cheap plastics on the doors and around the cabin but not bad meaning the Micra is a comfortable place to do many miles.
However the biggest selling point is just how easy it is to drive and how cheap it is to run. The fuel economy is usually around/above 65 miles-per-gallon and the road tax is £0.00, yes FREE.

So is there anything I dislike about my Micra? Well other than the odd bits of cheap plastic, manual rear windows and slightly laggy touchscreen.

There is one other issue actually. The name, Nissan Micra. Many people will be put off of buying the car due to this reason. And it is miles better than Micras of old. I think Nissan need to rename the new generation Micra because if they did then they would sell a lot more.

Would I recommend the brand new Nissan Micra? Yes

What supermini will I buy next? Either the brand new Ford Fiesta, Volkswagen Polo or Skoda Fabia.
Write your review
About this car
| | |
| --- | --- |
| Price | £11,995–£20,740 |
| Road Tax | A–F |
| MPG | 61.4–88.3 mpg |
| Real MPG | 77.9% |
Just reviewed...