Mitsubishi ASX (2010 on)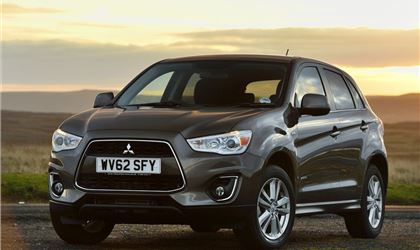 2 1.6 115 MIVEC ASX 2WD 5dr
reviewed by Anonymous on 1 March 2020
2
Tax/Insurance/Warranty costs
2
Cost of maintenance and repairs
4
Experience at the dealership
3
How you rate the manufacturer
Practical but not without manufacturing faults
Bought this car use from Mitsubishi Bridgend and at first the car was great but then the issues started just as my 12 month warranty expired. Complained about high handbrake travel told its within parameters 13 clicks????? Then at our next mot rear brakes binding causing scored discs and pads £480 plus £600 each break caliper needed replacement quoted to replace. Found an estimated £1600 of extra work (needed) on a car that had at the time 32k on the clock done 6000 miles since bought. Complained to mitsubishi head office and was told that the brake calipers are to be changed under an extension of warranty but brake pad and disc damage because of this fault was not covered????? £360 for a service and £1200 for front wishbones and droplinks????? In the end took it to my local garage and new drop links fitted £50 new discs and pads £150 fitted. Rear tailgate rusted under the lip where the button is. Dealership tried to fob me off with service history not all done a main dealers. So complained to mitsubishi head office again brand new tailgate fitted free of charge. The car itself is a pleasant drive and apart from the warranty recalls and rip off mitsubishi main dealer NETHANIEL CARS BRIDGEND servicing and repairs prices it's a good car I get 40+mpg out of it and seats are comfy. My only advice is make sure all the warranty recalls work is done check for rust under the tailgate lifting handle and you should have a good car on your hands. But word of advice DO NOT use main dealers to get parts for your car or they'll empty your wallet for you! Use Oe parts instead and save a fortune.
reviewed by Chris Gage on 27 December 2018
reviewed by Anonymous on 10 October 2018
reviewed by Anonymous on 4 August 2015
reviewed by ballogie on 17 October 2014
reviewed by 3NoTrumps on 1 May 2014
reviewed by Fusta on 29 April 2014
reviewed by CliffDee on 23 January 2014
reviewed by dsced on 6 December 2013
reviewed by CliffDee on 20 July 2013
reviewed by Anonymous on 15 August 2012
reviewed by CliveC on 18 March 2012
reviewed by Anonymous on 6 February 2012
Write your review
About this car
| | |
| --- | --- |
| Price | £14,999–£25,139 |
| Road Tax | C–G |
| MPG | 47.1–61.4 mpg |
| Real MPG | 83.8% |
Just reviewed...