MINI Hatch (2007 - 2013)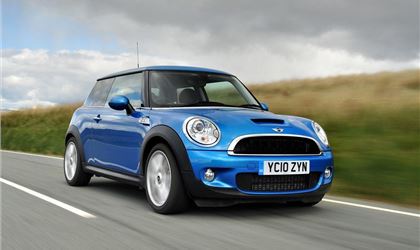 Cooper 3dr
reviewed by Anonymous on 3 July 2021
4
Tax/Insurance/Warranty costs
4
Cost of maintenance and repairs
5
Experience at the dealership
4
How you rate the manufacturer
A great 2nd car
The Mini is the ideal 2nd car if you're upgrading from a runabout. If you want something sporty and can do without the practicalities of other small hatchbacks - the Mini delivers in lots of ways. But, like all things in life - what you get in fun you trade for practicality and comfort.

The primary reason for that is that the Mini is unrefined compared to other small cars from other brands. This has been improved in later models, but on this 2007 model, there was still work to do. The clutch on these cars is notoriously heavy, and the ride is like barreling down a rocky mountain on a tin tray. On top of that the boot is famously small (think a couple of bags of shopping or a couple of large rucksacks and that's about it.) These may not be dealbreakers for you, but they are worth considering.

If you're like me, practicality will be the least of your worries when you're in your early 20s. The only probelm is the quirks of this car can become irritations as you get that little bit older. The car caters pretty much exclusively for a driver and one passenger in the front seats. You'd rather not spend any length of time in the back seats as all the space is dedicated to the front. With low slung seats, you'll still be OK up front if you're taller.

Comfort factor aside, the car is really fun to drive. It turns sharply, as the marketing famously claims. And the 1.6 litre engine gives you plenty of grunt. Even as you move into 6th gear the engine has a lot of power in the top 2 gears. The Mini One by contrast has much more low end push. If you're considering different models, the One is best for town driving, the Cooper has more power at 50mph+ and is a better all rounder.

The car had very few technical issues in the time I owned it. I had 1 Air Con failure and 1 new clutch, as I took the car to 12 years of age. Personally, I found the dealership network a little pricey compared to unofficial shops. That said, basic work like MOT's, brakes etc weren't too bad. But the costs balloon when you need big work like Air Conditioning etc. That said, the service was great and you feel looked after. So while there is a price premium for the work, that cost comes with significant value too.

Overall the Mini is a mostly reliable and fun car to drive and own. But it's a car you should only choose if you value the fun factor over practicality.
reviewed by Anonymous on 4 February 2020
reviewed by IrishNeil on 20 July 2018
reviewed by Anonymous on 7 March 2018
reviewed by Spiders Fan on 21 March 2017
reviewed by Spiders Fan on 21 March 2017
reviewed by Eulambios on 14 April 2014
reviewed by JeremyBing on 13 January 2014
reviewed by Bowmer on 21 November 2013
reviewed by DEM1985 on 13 December 2011
reviewed by graingerblaze on 25 April 2011
reviewed by bearmina on 24 February 2011
Write your review
About this car
| | |
| --- | --- |
| Price | £14,900–£19,345 |
| Road Tax | D–F |
| MPG | 44.1–52.3 mpg |
| Real MPG | 77.5% |
Just reviewed...