MINI Paceman (2013 - 2017)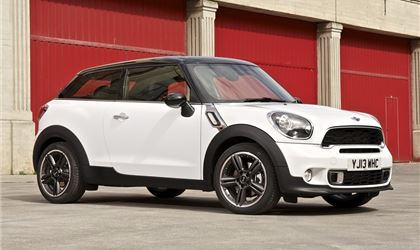 1.6 Cooper D ALL4 3dr SUV
reviewed by Matt Nation on 11 December 2018
4
Tax/Insurance/Warranty costs
3
Cost of maintenance and repairs
3
Experience at the dealership
2
How you rate the manufacturer
Looks the part...but not a lot more...
We were really looking forward to getting this car. I appreciate the look is a little marmite - but I actually like the chunky coupe styling. I'm also happy with the anti-tardis nature of the vehicle - huge on the outside and yet somehow small on the inside. We didn't need the space. It's not gone wrong either, so can't complain about that. BUT there are SO many poor design niggles with it. We have the ALL4 version which seems like a poor idea to begin with. The 1.6 engine isn't strong enough to power it, so taking off is a VERY slow business and you have to rev it an awful lot to get away from a junction. Woe betide you if you change up to second too quickly - it isn't very forgiving. The insanely optimistic gear recommendation indicator keeps telling you to change up - but if you do that, you'll struggle to keep the engine going...
Then there's the run flat tyres it comes with. Coupled with the go kart suspension (just pray you don't have any loose fillings) they make the ride so noisy that in-car conversation at speed is reduced to sign language. Not only that, but on bumpy back roads they actually steer themselves, frequently jerking the steering wheel out of your hands as they follow any undulation in the road and try to throw you into the ditch. Apparently this is reduced if you move over to normal tyres - so one wonders why BMW specced run flats in the first place? Maybe to avoid having to pay for a jack and spare wheel?
Whilst we're thinking about cost saving. It seems BMW cut a few corners in several areas. I can't remember the last car I had that didn't automatically engage the rear windscreen wiper when you go into reverse and it's raining. Apart from this one. The upgraded sound system we have has DAB, which is nice. Sound quality is good. It also has Bluetooth calls from your phone. Except the bluetooth doesn't include media playing - so you can't play music from your phone over the car speakers. Why?? If you've got Bluetooth set up - its the EASIEST THING IN THE WORLD to include that - like EVERY other car manufacturer. The design of the handbrake is dreadful too - there is an arm rest between the two front seats. Sadly, when you pull the handbrake up, you crush your fingers between the handbrake and the armrest. There is no way of resolving this. Surely a basic design fail?? The MINI authorised Satnav that is fitted is hilarious in the way that it is entirely obscured by the steering wheel. There is no way of adjusting it into a position so that the screen can be seen by the driver. And this is the MINI authorised solution...! Whilst the gear change is good. The logic of placing the reverse gear right next to first gear, without the need to lift it or push it down and with no beep to acknowledge you are in reverse has caught me out numerous times. It's almost like the designer had a vindictive streak aimed at potential owners. Oh and the laughable fuel efficiency that BMW claim for this car. 60mpg. HOW? I drive it as carefully as possible on open country lanes and motorways, rarely queuing. And I get about 37.6mpg That's nearly half their claim. My car has done 36,000 miles, so it's hardly a high mileage engine either. then there's the boot open button on the keyfob. Logically, like every other car I've owned, you press this and it unlocks and opens the boot, without unlocking the rest of the car. But no. On the PACEMAN, it does nothing, until you actually unlock the whole car, including the boot and THEN it unlatches the boot. But you still have to physically open the boot. So the button is entirely pointless. It has no function whatsoever - so why include it on the fob?? Similarly, there is a button on the steering wheel with a voice control icon lit up. I read the entire manual back and forth and still have no idea what it does. Having trawled forums, apparently it does nothing. Nice one BMW. Only you could light up a button that does absolutely nothing. I welcome comment on this. If anyone has any solutions to any of the above issues - please tell me. As it is, this is one of the most disappointing cars I've ever owned. It could have been soooo good - but too many stupid design niggles...!
Write your review
About this car
| | |
| --- | --- |
| Price | £19,215–£31,281 |
| Road Tax | C–I |
| MPG | 36.7–67.3 mpg |
| Real MPG | 75.2% |
Just reviewed...