Lexus RX400h (2005 - 2009)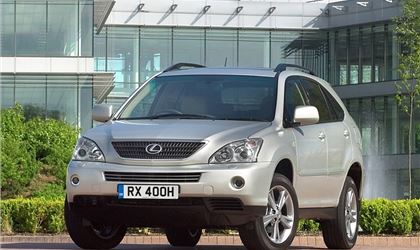 3.3 Litre Auto
reviewed by Dan Todd on 29 December 2020
3
Tax/Insurance/Warranty costs
4
Cost of maintenance and repairs
4
Experience at the dealership
5
How you rate the manufacturer
Big and Majestic
Bought the Lexus back in April 2018 as the Audi A4 had clocked up 160k and the the feeble 130bhp engine was driving me mad. Tbh I wasn't keen on an SUV but the wife wanted something bigger, relaxing and automatic, so I thought "why not?". I went for a Lexus due to their rock solid reliability and, well it's a Lexus.
As soon as I sat in the drivers seat I knew I'd gone up a few notches in the old car status. Heated electric leather seats, amazing sound system, led lights, dual zone climate control and a tape deck. Yes a tape deck. Brilliant.
Pros: This car is powerful. 0-60 in 7.5 sec but feels even quicker. No hill is a problem and cruises down the motorway at illegal limits. Insanely comfortable and the handling is surprisingly taught, even round a big old roundabout. Big boot and very practical. Fuel economy? Be gentle and you'll get a good 30+ mpg

Cons : Fuel economy. Cane the Lexus and mpg will drop to 25mpg. Rear reversing light is pathetic. You'd get more light sticking a candle on your boot. The sat nav is a head scratcher. I reckon I'd understand the flight instructions of a Typhoon fighter jet easier than the sat nav on this car.

Aside from a new radiator, four new tyres, new suspension arms and springs and rear boot battery ( all general wear n tear stuff) the Lexus hasn't missed a heart beat. With only 130k on the clock, I reckon she's good for a couple more years. Great car!
reviewed by Anonymous on 29 June 2019
reviewed by Anonymous on 10 March 2019
reviewed by HJFMember on 16 June 2016
reviewed by Anonymous on 9 August 2015
reviewed by Teejaybee on 28 December 2012
reviewed by Brad_wales on 25 October 2012
reviewed by buzzable on 22 December 2011
Write your review
About this car
| | |
| --- | --- |
| Price | £35,505–£45,950 |
| Road Tax | - |
| MPG | 34.1 mpg |
| Real MPG | 89.0% |
Just reviewed...