Land Rover Defender (1984 - 2016)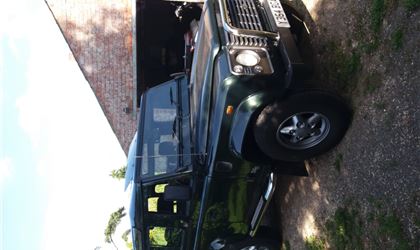 90 Td5 County Station Wagon
reviewed by David Hull on 4 July 2021
3
Tax/Insurance/Warranty costs
4
Cost of maintenance and repairs
1
Experience at the dealership
5
How you rate the manufacturer
My car for life. Always wanted one , no regrets
I'd always admired the Defender. And always wanted one, but i really had no excuse or real reason to own one. That all changed in April 2018, when we became the proud owners of our first caravan. I needed a towing vehicle, and yep, you've gessed it, a Defender beckoned. I have a mechanical background, so with torch in hand, i went to look at lots. At the price range i was in (upto £13000) i was in a bit of a mine field. Lots of very over priced badly treated, and heavily rusted rubbish. The main issues, where very rotten, and poorly repaired chassis, bashed and dented panels, and eaten by dogs interiors.. One in particular, had had a new rear cross member, welded on so badly, that i believe, if i'd tried to tow with it, it would have come off. Anyway, after about 10 disappointments, i went to see a 2001 TD5 in Epsom Green. When i saw her, it was lust at first sight. Bright shiney paintwork. Dent free. Nice clean, and intact interior. All looked good. After a good look round and underneath, i spoke to the dealer. He informed me, that in 2009, the Defender had been rolled, and was registered as a Cat C insurance write off. But it was bought for salvage by a Land Rover engineer, who had rebuilt it from the ground up onto a brand new Galvanized chassi. The new bulkhead was also Galvanized, as were the doors. And every single fastener used was stainless steel. Now after many years as a mechanic, i wouldn't normally touch a damaged repaired car, with a barge pole. But the Defender is different. It's just a great big Meccano kit. If it's bent or broken, you just unbolt it, and replace it with new, and in this case, better than new. So the deal was done. I paid £11750 for her. In the first six weeks of ownership, i realized why the previous owner had sold her !!! In six weeks, i was brought home on the back of a trailer 4 times. Oh dear. Luckily, i could do the work myself, so an iffy fuel pump relay was identified, and replaced. A faulty injector loom was replaced. A faulty throttle pedal was replaced. A holed intercooler was replaced. A smokey turbo was also replaced. Since all this work has been done, i've not had a seconds trouble. We've been the length and breadth of the UK, with our caravan on the back. I'm only 5ft 7ins tall, so the Defender fit's me like it was tailor made. If you're much taller than about 5ft 10" , youmay find it somewhat cramped. I arrive after a long journey, like i've been in a much more modern equivalent. I've put lots of sound deadening material under the rubber flooring, improved the sound system, and upgraded the interior panels tp Puma spec. And it's now positively civilized. Averaging about 30mpg, at a steady 60-65 mph. With the caravan on the back, i keep the speed to 50-55 mph, and get around 26 mg. The only major gripe i have, is the painfully heavy clutch. But, if it gets to the stage, where my knees can't cope anymore, i'll have her converted to an automatic. So to sum up. If you want a Defender, buy one. Don't listen to the horror stories. You just have to take life a little slower. Leave for journeys, a little earlier. Bolt it down to the gound, when unattended. And just enjoy being in a vehicle, that, well, just makes you and others smile.
reviewed by Anonymous on 15 March 2021
reviewed by Anonymous on 15 March 2021
reviewed by Anonymous on 1 November 2020
reviewed by Peter Weddell-Hall on 31 August 2020
reviewed by Neimad on 6 September 2017
reviewed by tigeraqua on 5 September 2017
reviewed by tigeraqua on 5 September 2017
reviewed by Trevor Bean on 31 July 2017
reviewed by Suffolk_Mike on 27 January 2015
reviewed by Robbie M on 8 July 2013
reviewed by RL's dad on 10 September 2012
reviewed by Derbyshiretraveller on 28 October 2011
reviewed by RL's dad on 31 January 2011
reviewed by Robbie M on 3 June 2010
Write your review
About this car
| | |
| --- | --- |
| Price | £20,540–£33,005 |
| Road Tax | M |
| MPG | 25.5–28.8 mpg |
| Real MPG | 103.2% |
Just reviewed...