Infiniti Q30 (2015 - 2020)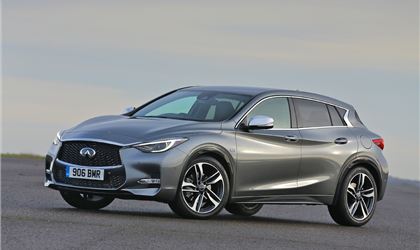 Q30 1.5d
reviewed by Crazy88 on 24 April 2018
2
Tax/Insurance/Warranty costs
2
Cost of maintenance and repairs
Trying to be something it's not
Purchased from new to replace a VW Golf, was looking for something 'different' a new experience and liked what Infiniti were saying. This is the 'Premium' (no really!?!) brand from Nissan and was sold to me as being in the same league as Lexus, also manufactured in the UK so thought I was doing the right thing.
Unusual stalling that I've come to loathe as the windows are far to small and the pillars to wide and this honestly makes driving and parking in reverse hazardous. It has had a catalogue of faults including severed seat belt strap, seat belt anchors loose, under arch cover detached, rear parking sensors faulty, defective paint finish, driver air bag fault and the list goes on.
The engine is noisy and doesn't return anywhere near the quoted MPG and a number of the 'features' including the electronic parking break and automatic distance contro, are not fit for purpose.
Above all the dealer network are appalling especially for a so called 'luxury' brand.
My nearest dealer is 20 miles away and I only discovered after purchase they refuse to offer a collection and delivery service for any of the issues above, factory recalls (of which there has been 3 in 18 months) or indeed for its scheduled servicing!!
So all in all the car, dealer network and the brand itself are all a major disappointment and I will be changing back to a German manufacturer as quickly as possible although the shocking residual value may hinder this.
reviewed by Crazy88 on 24 April 2018
reviewed by Anonymous on 10 January 2018
reviewed by Scoobie Doo on 16 April 2017
Write your review
About this car
| | |
| --- | --- |
| Price | £21,300–£38,260 |
| Road Tax | B–G |
| MPG | 42.2–72.4 mpg |
| Real MPG | 81.2% |
Just reviewed...