Honda FR-V (2004 - 2009)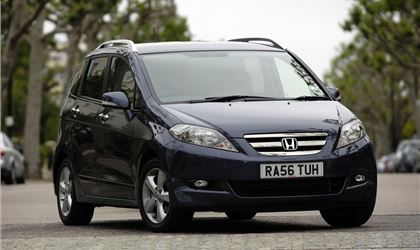 1.8i VTEC EX 5dr Auto
reviewed by Anonymous on 27 April 2020
4
Tax/Insurance/Warranty costs
4
Cost of maintenance and repairs
4
Experience at the dealership
5
How you rate the manufacturer
Best family car ever for us
Perfect car for a young family of 3 kids, we called our car "Happy".

Exceptionally good wide stability and traction control, especially in the rain.
We always felt safe. Excellent capacity for all the kids' stuff.

Fun to drive on tight corners even for a fairly top-heavy family car.
The kid's friends loved the middle seat.

A little pricey on fuel, a hybrid version would have been better. The tires seemed to wear out quickly, probably from driving on our windy roads.
Be aware of the weight and having too many bikes stacked if you use bike rack on the rear door.

In 10 years, we had no mechanical problems after driving the FRV 235,000 km.

Unfortunately, a motorcycle when through the front end and windscreen. The mechanic wanted to rebuild the car after I scraped it. We were happy for someone else to enjoy the car.

The kids were devastated that we got rid of the car. They felt the FRV was part of their home.
Two years later we still occasionally see our old "Happy" driving around the city in near mint condition.

The Honda FRV was our best family car ever. We miss our FRV.
reviewed by abermad on 26 May 2017
reviewed by abermad on 2 March 2013
reviewed by davejaman on 25 July 2012
reviewed by Comical Engineer on 9 April 2012
reviewed by Lygonos on 27 December 2010
reviewed by sensible john on 15 November 2010
reviewed by Martins1602 on 21 May 2010
Write your review
About this car
| | |
| --- | --- |
| Price | £15,400–£22,072 |
| Road Tax | H–J |
| MPG | 33.6–44.8 mpg |
| Real MPG | 92.7% |
Just reviewed...