Honda CR-Z (2010 - 2015)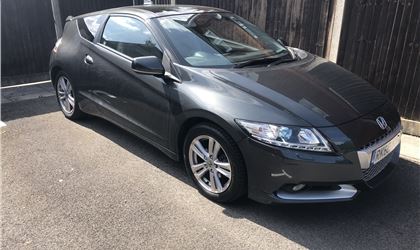 GT Nav
reviewed by Nigel C on 28 March 2021
5
Tax/Insurance/Warranty costs
4
Cost of maintenance and repairs
5
Experience at the dealership
5
How you rate the manufacturer
Amazing little car
£20 road fund compared to over £200! Insurance is also cheaper. Later models I believe are more expensive road tax.
The engine is responsive and very quiet, gear box is notchy when cold especially into 1st but soon eases up.
Fuel consumption ranges from around 38 to over 55mpg when on a long run.
No idea why say the boot isn't big, with rear seats folded down I can get huge amounts inside and also there is space for a spare as I have a Honda space saver in mine, much better than tyre goop!
Dash is amazing although the built in satnav is very dated however the stereo sound is very good as is the telephone connection. Switch from any driving mode (sport, normal, eco) is seamless and the sport mode helps throttle response.
Leather seats are comfy and heated in my model (gt nav t) and I've driven for well over 4 hours without aches in my back.
Privacy glass is good as the rear window is all most flat so helps keep the heat out in the summer.
To be honest the only things I'd change is i'd like a way to keep the small rear window on the boot lid clean as it gets dirty really quickly, side/over shoulder view when joining traffic isn't good as theres a huge blind spot, minor issues really.
Genuine parts prices are huge and some are eye watering but general servicing isn't any more expensive than my old diesel car which was a Ford.
reviewed by Anonymous on 11 December 2019
reviewed by Anonymous on 11 April 2019
reviewed by artill on 27 March 2015
reviewed by twroyston on 30 December 2010
Write your review
About this car
| | |
| --- | --- |
| Price | £18,035–£25,120 |
| Road Tax | Alternative fuel, C–Alternative fuel, D |
| MPG | 54.3–56.5 mpg |
| Real MPG | 86.8% |
Just reviewed...