Honda CR-V (2018 on)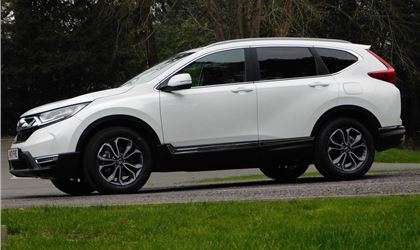 2.0 i-MMD Hybrid SR E-Cvt 2WD 5dr
reviewed by Anonymous on 10 March 2022
5
Tax/Insurance/Warranty costs
5
Cost of maintenance and repairs
5
Experience at the dealership
5
How you rate the manufacturer
Fantastic, very practical, smooth, powerful & well built.
We purchased this car to replace a smaller vehicle that was no longer suitable for our needs. The car is very smooth; so quiet as the engine and drivetrain are completely separate. Many car websites will classify the car as a CVT drivetrain, but this couldn't be further from the truth.

What is unique about this CRV is that it actually doesn't have a gearbox at all. The car runs off an electric motor unit pretty much all the time with the engine basically an on-board power generator; the electric motor unit is split into two halves, one half is connected to the drive wheels and propels the car forward using electric power from the high voltage battery/generator unit, and the other half is the generator unit which is connected to the engine and wheels.

A computer manages what power goes where, so when the engine is running it diverts power to the battery, or the electric motor/even both at times; and also takes regen power from the wheels to the generator unit to the battery when it slows down as and when it decides it needs the power.

Much of the time the engine isnt even running, unless you come to a hill or you need to accelerate, but the power is immediate as its buffered by the high voltage battery. This can seem a bit weird to start with as the engine behaves completely separate to the car. But this results in 60 mpg town driving, with 48 mpg on the motorway, so its more suitable for town driving than going up and down the motorway all day, but even still 48 mpg on the motorway isn't awful either for a car this size. For comparisons sake our ford focus ecoboost 1.0 could barely manage 50 mpg on the motorway, and that was going like a granny, town was more like 35 mpg.

The CRV also has a direct locking shaft that goes from the engine to the final drive gear, so from 45MPH up to around 85MPH the engine locks directly to the driven wheels, where it operates as a normal combustion-driven vehicle. At speeds higher than this, the drive shaft disengages and the electric motor takes over again up to its top speed of 112mph. Its a very clever design.

The build quality is superb, as the room. The doors open almost to a full 45 degrees angle which really helps, and the boot space is huge. The infotainment system is a little confusing at times, but many complain about the small screen, I myself prefer the smaller screen so..

Generally the car is superb, and we are very happy. The 2WD version is the most economical, and the highest performing of the range with a 0-60 time of around 8 seconds, that's 1990's hot hatch numbers there, and it feels much quicker, especially from a standstill with that instant torque.

Only thing that does take time to get your head round is that engine, it operates completely of its own accord. Sometimes all of a sudden it will rev its nuts off for a few seconds as a hill comes up unexpectedly, or you plant your foot down, it bothers you a bit to start with but you do get used to it and in fact when you get back into a normal car, you realise how agricultural and primitive manual geared cars sound and feel in comparison.

You can also choose EV mode only, which is handy for maneuvering the vehicle; Eco mode which reduces all the unnecessary use of power to just the motors & engine, its quite slow in this setting; and Sport mode which firms up the suspension, and boosts the power, it does actually become quite fun to drive in this mode, even if it does still sound a bit...alien like.. Its propper rapid from a standing start in sport mode foot to the floor, just put earplugs in for that engine as it will rev like an intercity 125 departing waterloo.
reviewed by Anonymous on 10 February 2022
reviewed by Anonymous on 31 January 2022
reviewed by Terry Field on 5 January 2022
reviewed by Duncan Espie-Whitburn on 28 September 2021
reviewed by Andrew Richard Johnson on 22 July 2021
reviewed by Failander on 25 January 2020
reviewed by Anonymous on 14 November 2019
reviewed by Clothcap on 17 October 2019
reviewed by Anonymous on 6 October 2019
Write your review
About this car
| | |
| --- | --- |
| Price | £31,470–£40,420 |
| Road Tax | Alternative fuel, C–H |
| MPG | 33.6–64.2 mpg |
| Real MPG | 100.9% |
Just reviewed...