Ford Focus ST (2005 - 2011)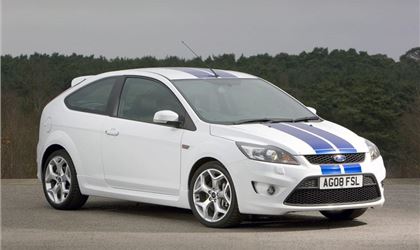 ST-2 2.5 3dr Hatchback
reviewed by AP1 on 22 August 2013
4
Tax/Insurance/Warranty costs
4
Cost of maintenance and repairs
5
Experience at the dealership
5
How you rate the manufacturer
Great engine and good handling/ride balance.
I bought this car at two and a half years old with just over 17,000 miles on the clock. I am the second owner. It replaced an MG ZS180 4dr that I had from new. I have owned it for four years and it has now covered 47,000 miles.

I find the ST an excellent car to drive. The engine is smooth, very flexible and offers impressive in-gear performance. It is quiet when driving normally but produces an exciting 5 cylinder soundtrack under load. The big-hearted nature of the engine, in combination with good levels of overall refinement and the smooth controls (steering, throttle etc.) also make this a very good long distance car to travel in.

The ST feels very different from other MK2 Focus models that I have driven; it feels smoother and more substantial, especially the steering and damping. The ride is controlled but comfortable and the handling is very good and predictable. In comparison with the ZS the Focus is less communicative to drive, however, for driving along Britain's worsening roads, the balance of the Ford is better, more of the time.

Some owners have complained about the fuel consumption. Although it is not great it is about what I would expect. Around town MPG is circa early 20s, local running produces late 20s and long journeys average 30-32MPG. Considering the car has a 6 speed box and a high sixth gear I would expect better motorway consumption but otherwise I am happy with the MPG.

The car is finished in Electric Orange which I think looks stunning, however, I would think twice about this colour if your car is likely to 'acquire' paint damage as it is a very difficult to colour match. The interior is surprisingly roomy front and back. The Sony stereo is very good and I like the design and fit and finish; I much prefer the interior of this generation of Ford over the new 'angular' look of the latest Fords. The heated screen is a really good feature and the Xenon lights are excellent. The car could be improved with climate control instead of manual a/c and having cruise control fitted as it is such a good long distance car (I felt fresh after driving a 520 mile trip from Lincolnshire to Skye in one day last summer).

In terms of reliability the car has been very good. I have it serviced once a year by the local Ford/Volvo service centre. The only mechanical repair required was a new A/C condenser after it picked up a hole. Other wise the only items replaced have been tyres. I have got between 15,000-20,000 miles from a set of fronts and just a bit more from the rear tyres. However you must keep an eye on the inside edge of the tyres as the suspension geometry causes the inside to wear first.

Overall I think it a great car that I enjoy driving. In my view running costs are acceptable and the car offers a great balance between performance, refinement and practicality. I did consider changing it for a RS but I think I would loose much of ST's usability and refinement, though the RS would be a more exciting car on the right road and good for track day use. The new ST is an obvious replacement but I am not keen on the interior and would prefer it with an updated version of the 5 cylinder engine (as per the new Volvo V40).
reviewed by Andy 94 on 6 July 2013
reviewed by maddog999 on 14 February 2011
reviewed by Dave_yorkshire on 14 February 2011
Write your review
About this car
| | |
| --- | --- |
| Price | £17,995–£20,695 |
| Road Tax | K |
| MPG | 30.4 mpg |
| Real MPG | 85.5% |
Just reviewed...