Daihatsu Materia (2007 - 2009)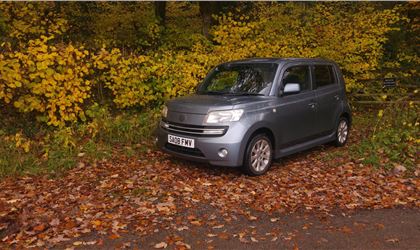 1.5l manual 5dr mini MPV
reviewed by Robert Jowett on 3 December 2018
3
Tax/Insurance/Warranty costs
5
Cost of maintenance and repairs
4
Experience at the dealership
5
How you rate the manufacturer
Terrific all rounder!
From the outside, the unusual boxy styling and friendly face make the car very popular with the under 10s who often point it out in car parks. The styling must be fuel for the imagination, which plays nicely into the practical and usable packaging of the car.

It's taken myself and three other six foot men in space and comfort. The sliding rear seat means you can have such ample legroom or as much boot space as a far larger car, helped further by the reasonably high and upright seating. Its footprint is roughly equal to a Fiesta but is up to the task of a larger people mover.

One thing in that contrasts it to a larger car though, is the drivetrain. While the 10 second 0-60mph time is good for the class, it is achieved as much by low gearing as by the pleasant 1.5 litre engine. The car revs too high to be at home on the motorway and although the engine is not resonant at those speeds it does detract from the otherwise relaxing and well damped ride.

It is surprisingly composed and balanced in suspension, not falling victim to the compromise that may come from a taller car. This car cannot be described as sporty but does hold its own, the gearing which limits cruising encourages jovial progress on windier roads.

Such progress will impact MPG of course. Over 10,000 miles this car has averaged roughly 40mpg. A steady motorway cruise will provide 50mpg and harsher driving around 30mpg. Such figures aren't dazzling for a small car and neither is the tax rate. As this car car was not designed for European tax legislation it produces a rather high CO2 output and a £230 annual RFL fee. These figures are probably the least appealing features of the car. Secondly would be the limited parts availability. I was quoted over £1000 to purchase an air compressor through a approved supplier and ex-dealer. The part coming from Daihatsu Malaysia reserve stock.

Fortunate then that the vehicle has otherwise proven highly reliable with no faults or breakdowns in the first ten years and 100,000 miles. The clutch lasted for 80,000miles of mixed driving. Hence, the cost of maintenance and repair has been very low, servicing has been provided by a good local garage without issue. Service parts are not unique to the vehicle so are not expensive.

Overall this car has proved popular with myself, family and friends. Who warm to the oddball charm and comfort of travel. It receives preference over Honda Jazz's when we travel together. I am willing to pay a little extra for tax each year to get the benefits of both small and large car.
reviewed by Edward Hayden on 6 October 2018
reviewed by adey on 25 April 2013
reviewed by stunorthants26 on 23 April 2012
reviewed by axisadman on 28 November 2011
reviewed by ifer63 on 14 October 2011
Write your review
About this car
| | |
| --- | --- |
| Price | £11,079–£11,926 |
| Road Tax | H–I |
| MPG | 37.7–39.2 mpg |
| Real MPG | 109.0% |
Just reviewed...