Audi S1 (2014 - 2018)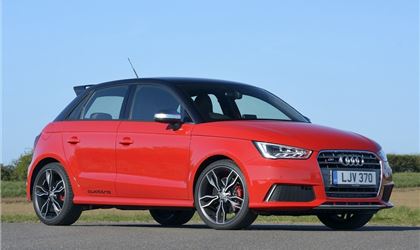 S1 Sportback
reviewed by Anonymous on 27 May 2019
3
Tax/Insurance/Warranty costs
2
Cost of maintenance and repairs
4
Experience at the dealership
3
How you rate the manufacturer
Great performance, poor quality
I bought this car expecting performance coupled with Audi quality, what I got was the performance that came at a price, unreliability. Make no mistake, this is a true 'pocket rocket', but if you buy one, be prepared for numerous, expensive trips to the dealer. In 18 months, my car suffered from rear suspension problems which meant that shock absorbers and wheel bearings were replaced after less than 25,000 miles. Electrical issues included failed window mechanism, (twice..), DAB radio issues, one of the seat heaters staying on and warning lights coming on for no reason. My car also suffered from uneven tyre wear and I had to have the wheels balanced and aligned every two months! Under hard acceleration, you have to hang on tight to ensure the car stays in a straight line or you may end up in a hedge as the torque steer is awful. What was very disappointing was that Audi Customer Services decided that most of these issues were 'to be expected as they were characteristics of the car'..... Lastly, this car has a tiny fuel tank, so expect less than 300 miles per fill up, some electric cars now have a better range! I now own a Skoda Octavia VRS, done almost 8000 miles, trouble free and wonderful to drive....!
reviewed by Anonymous on 14 September 2018
reviewed by Stevephillips on 2 November 2017
reviewed by Chris Baker on 29 August 2017
Write your review
About this car
| | |
| --- | --- |
| Price | £25,600–£30,210 |
| Road Tax | G–H |
| MPG | 39.2–40.4 mpg |
| Real MPG | 78.9% |
Just reviewed...