Audi A6 (2018 on)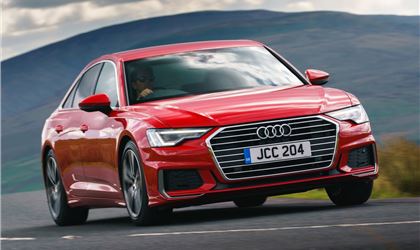 40 TDI 204ps 12V S Line S tronic 4dr
reviewed by Anonymous on 5 November 2020
3
Tax/Insurance/Warranty costs
4
Cost of maintenance and repairs
3
Experience at the dealership
4
How you rate the manufacturer
Too clever for its own good electronically
Fantastic sat in the showroom playing with all those lovely electronics and displays. A different story when actually on the road and you rediscover a turn nob is much safer and quicker than a large flat haptic pressing LCD screen with your eyes on the road not on the screen. Our 4 th A6 and this one the least economical. Previous 2016 model regularly gave well over 55 mpg on a long motorway run and often nearer 60 mpg. Frequently freewheeled and regenerated infrequently. This model does 46-48 mph on same long run almost refuses to freewheel and regularly regenerates. All has an effect on economy.
On pickup the car navigation not properly displaying but told was due to having only been authorised that morning by dealer and would update on drive home- it didn't. Regrettably I discovered the windscreen washers were not connected something not picked up in PDC (!) result it was interesting passing lorries after a rainstorm on the M62. and unable to clear muck off windscreen Was back at dealers within the first week.
First non Avant model and although did not think I used the estate facility the boot whilst very deep is not great for more bulky items but not fault of the car.
Small things annoy like cup holder size changed ( reduced diameter) from previous model so existing Audi cups no longer fit. Only £50 for 2 but why?The second drop down tray in the armrest deleted so less space for small easily misplaced items. The auto gear lever moved from central to right side of transmission tunnel resulting in knee now sometimes knocking into sports mode whereas never happened previously. Perhaps they were too busy concentrating in the attractive LCD displays instead of actually driving it.
We also run an A8 ( which is fabulous compared to theA6 ) A4 Allroad.,TT, A1 and Q3 - all current models so yes we are an Audi family but would I buy another A6 probably not. For me the interior electronics are style over substance. First A6 my wife is uncomfortable driving due to the way the screen operated controls are accessed and does not feel safe driving it .
reviewed by Anonymous on 23 October 2019
Write your review
About this car
| | |
| --- | --- |
| Price | £41,005–£77,220 |
| Road Tax | Alternative fuel, C–Alternative fuel, G |
| MPG | 38.2–64.2 mpg |
| Real MPG | 81.0% |
Just reviewed...