Alfa Romeo Giulia (2016 on)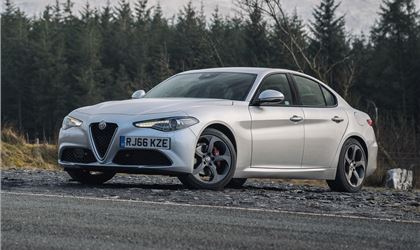 2.0 Turbo 280hp Veloce Auto 4dr
reviewed by Anonymous on 9 September 2021
5
Tax/Insurance/Warranty costs
5
Cost of maintenance and repairs
3
Experience at the dealership
3
How you rate the manufacturer
superb
The steering is direct and responsive with great feedback. The suspension is so well setup and provides a comfortable ride even on our under invested roads. Its a proper drivers car and even after 2 years it is a joy to drive. While the veloce isn't anywhere near as swift as the qf it is still plenty fast and still planted to the road when driven hard. It comes with Brembo brakes as standard and they are superb. I find the 2 door merc I also own to be a bit sluggish and unresponsive to drive in comparison.

Now the criticisms - some of the interior trim feels distinctly cheap for a 40k car. I have had the audis mercs and beamers and the interior doesn't quite match the trim in the exec and upper ranges of those brands. The full size aluminium paddles feel proper quality but moving your hand on to the cheap plastic of the indicator stalk makes you wonder what on earth Alfa were thinking!

The infotainment isn't the best but not an issue for me as car play works fine. Some manufacturers get carried away (looking at you JLR) with sticking all sorts of features in the touch screen which means eyes off road trying to find the right screen so in some ways its bit retro not having all the distractions.

On to reliability - in addition to the German brands I have also had several of JLR's luxury vehicles and have to say that so far this Alfa is the only European branded vehicle I have owned that hasn't needed any warranty work within the first 2 years. The alarm is a bit sensitive and very occasionally goes off but that is it. The dealer said the alarm can be a bit sensitive and they would dial it down but I haven't had that done yet.

Running costs - insurance has been surprisingly cheap despite being a fast car. It came with 3 years free servicing and 5 years manufacturers warranty so it has been comparatively cheap motoring. Fuel economy has been particulalry good but that's probably a reflection of too much use of dynamic mode on my part !!!

The quality of the dealership servicing experience has not been good. It has a proper bargain basement feel to the experience and Alfa really need to get their act together on this issue. I have used two different dealers and each time its been a a poor experience despite the car being mid range Mercedes money. Its been standing at a counter whilst the paperwork is done. No seating offered at all.

Hey Alfa did you know Range Rover and Mercedes give you a chair to sit on at a desk and even bring you a good quality cup of coffee within the service price ??? They also provide a seated waiting area once you arrive may be you should do the same.
reviewed by john gibney on 21 January 2021
reviewed by Anonymous on 21 January 2021
reviewed by David Guzzetta on 31 December 2020
reviewed by Anonymous on 29 October 2020
reviewed by Anonymous on 22 February 2020
Write your review
About this car
| | |
| --- | --- |
| Price | £32,490–£62,500 |
| Road Tax | B–K |
| MPG | 30.7–67.3 mpg |
| Real MPG | 73.9% |
Just reviewed...