Alfa Romeo Giulia (2016 on)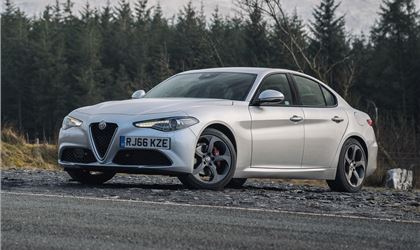 2.9 BiTurbo V6 510 Quadrifoglio Auto 4dr
reviewed by Anonymous on 22 February 2020
5
Tax/Insurance/Warranty costs
5
Cost of maintenance and repairs
5
Experience at the dealership
5
How you rate the manufacturer
Stunning
Bought with 60 miles on the clock at a good discount on list. In Alfa Competizone Red- the car looks and drivers beautifully.
id tried the Veloce before buying the QF and its chalk and cheese- if you can afford a QF its the one to go for.

With all that power on tap (510 bhp through the rear wheels) it has an extraordinary range of driving styles- but in all of those an immediate access to the full power range is available on tap as conditions deserve.

Sounds wonderful in Dynamic and Racing mode.
It becomes a bit of a hooligan in racing and can catch you out easily as all driver aids are switched off.

I LOVE IT- Its individual- still quite rare, well engineered and a thing of beauty from every angle you look at it

Only niggles are
With the standard wheel sizes you do get a rippling noise and vibration at low speed when the tyres are cold- which can be a bit disconcerting - even after a years ownership.
Washer reserve seems to be tiny

Fuel economy isn't a strong point= moreover as much of my use is city / urban averaged 20mpg in the year- yikes!
But you dont buy a 3lt twin turbo 510 bhp car for economy.
Issues in the year buckled a wheel on hitting a pot hole, 750£ for new wheel and tyre.
Turbo gate valve replaced under warranty as it was sticking- I suspect due to urban driving.
Car deffinetly needs to be woken gently in the morning- let the oils and fluids warm up before you open it up.
Write your review
About this car
| | |
| --- | --- |
| Price | £32,490–£82,500 |
| Road Tax | B–K |
| MPG | 30.7–67.3 mpg |
| Real MPG | 73.3% |
Just reviewed...