Our Cars: Volvo XC40 Recharge Plug-in Hybrid T5 Inscription Pro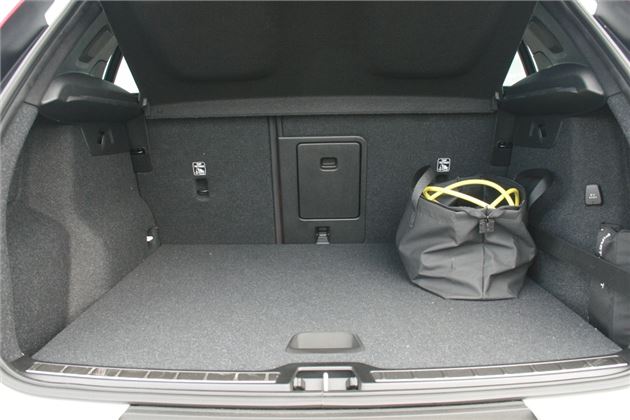 19 October 2020: How to deal with the XC40's plug-in baggage
The Details
| | |
| --- | --- |
| Current mileage | 5010 |
| Claimed economy | 117.5-134.5mpg |
| Actual economy | 62mpg |
Volvo Plug-In Hybrid top tip - always put the charging cable and its little bag under the boot floor. The XC40 has a decent level of space around the spare wheel well and it's perfect for hiding the bulky bag and its 4.5 metre lead. 
If I'm honest, it took me a couple of months to work this out. Why? Because the bag for the charging leads is carabiner clipped to a hook in the boot and I naturally assumed this was Volvo's way of telling me that where it should stay. 
Thing is, over the past few months, the charging cable bag has become a pain in the proverbial. Not only does it eat up valuable boot space, but the zip broke within days of the XC40 being delivered and this means it has become impossible to zip it closed. 
As a result, things have a habit of falling into the bag and becoming lost among the cables. Last week I found a packet of dried paste and two cans of tomatoes hidden in there. However, packing the lead away under the boot floor means I can enjoy all 460-litres of boot space and not have to worry about my Saturday lunch vanishing mid-transit.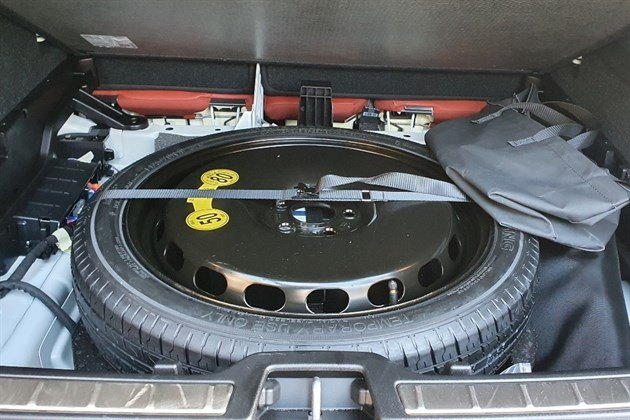 On the topic of spare wheel wells, I should point out that the XC40 Recharge Plug-in Hybrid T5 does not get a spare as standard. I think that's a bit poor, from Volvo. Especially when you consider the fact that the XC40 Recharge Plug-in Hybrid T5 starts at £42,305.
Volvo will no doubt argue that £150 is a small price to pay for a space saver spare wheel and jack, but I think it is reasonable to expect something as important as a spare wheel to be fitted as standard. Especially when you consider Volvo's steadfast dedication to safety. 
When it comes to everyday useability, I have no complaints. The XC40 is a really practical car. The boot opening is wide and the load sill is low, which means it's painless to load in heavy things like bits of furniture or mountain bikes. You also get a pair of handy side pockets, with retainers, which can hold bottles of water or valuables. It's a load space that's clearly well-thought-out.
Of course, being practical and useful are key Volvo traits. The Swedish carmaker is, after all, the company that made estate cars cool and indestructible. And while the XC40 can't match an 850 for space, it does a respectable job of coping with pretty much everything I can throw at it.
« Earlier: Can you fit a bike in a Volvo XC40? Later: Why the XC40 PHEV is proof that hybrids can be fun and fast »
Updates

Want to control your Volvo XC40 with your smartphone? Well now you can, thanks to the latest On Call app.

The XC40 might be designed for frugal motoring, but look under the metal and you'll find it has some serious hot-hatch rivalling numbers.

19 October 2020: How to deal with the XC40's plug-in baggage
Travelling with a 4.5 metre charge cable can present its problems, especially when it comes to storage.

Will the Volvo XC40 carry a full size mountain bike? Dan rolls up his sleeves to find out.

In a world of endless and often pointless car options, Dan thinks he's found one that is actually worth its weight in gold.

Smooth, relaxing and luxurious, the Volvo XC40 is our idea of the perfect premium crossover.

How will the XC40 cope with 1000+ miles in 10 days? Dan finds out with a road trip to the Scottish Highlands.

Thinking of buying a plug-in hybrid? Don't have anywhere to charge it? You'll pay a heavy price, says Dan.

Volvo's plug-in hybrid XC40 joins the HJ fleet. Dan gives his first impression.