Our Cars: Volkswagen Tiguan Allspace 2.0 TDI 150 DSG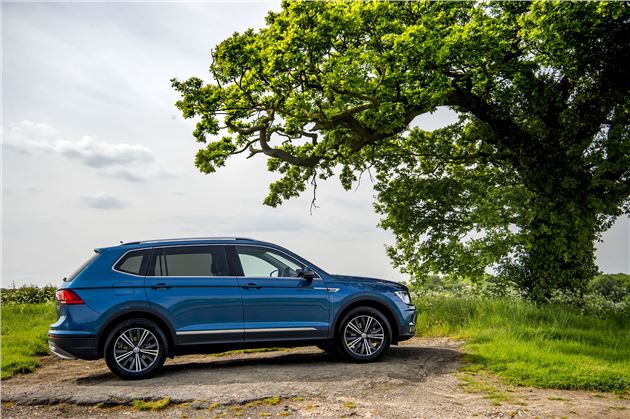 30 July 2018: Still the perfect family car?
The Details
| | |
| --- | --- |
| Current mileage | 4150 |
| Claimed economy | 47.9mpg |
| Actual economy | 40.8mpg |
| | |
I call our Tiguan Allspace the 'Allsaints' for no other reason than it gives me an excuse to sing "TAKE ME TO YOUR BEEEAACH!"
Every time. But to be honest, if you are going on a family trip to the seaside, there are few cars more suited to it than the Tiguan Allspace. (I'm ashamed of how proud I am of this whole intro, frankly.)
The Tiguan we ran here last year was the five-seat model, which our David suggested might be the perfect family car:
"True it's not that exciting, but it's reassuring, relaxing and easy to drive. And for a family car that's exactly what I want."

All Saints and Allspace: both great at taking you to a beach.
Sames, David. Sames. Running a Tiguan is a perpetual journalistic struggle because it's just so effing perfect. The Allspace bit makes it even more so (logical fallacy accepted). For a start, the boot capacity goes up from 615 litres to 700, which to put into context is 50 litres more than a BMW X5 has.
It's proper easy to load too, with a nice flat loading floor and an oblong shape that's not too disfigured by encroaching suspension. Check out this 'real world' (read: terrible) phone snap of my boot as I type this. That's a big cymbal bag. And that camo thing all the way back is a drumstick bag. And on the left, that's a Dacia foam finger. The items aren't linked.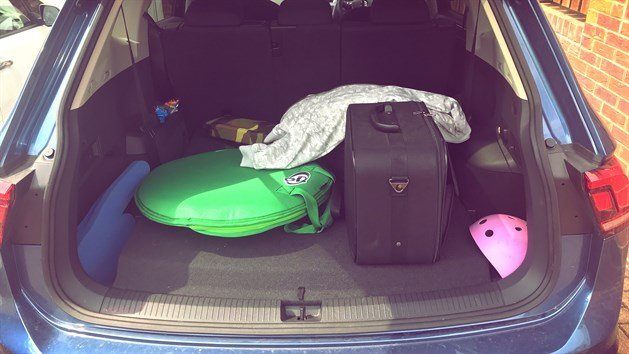 Plus, of course, there are the 6th and 7th seats folded into it, which are proving useful - we'll come to the specifics of how during the next update. And, as I've already mentioned, the clever way that the parcel shelf stows away under the boot floor is a great touch. 
But more than that, what's mint about the Allspace is that during the day-do-day rigmarole everything just…works. Beautiful driving position, great visibility, loads of room, an infotainment system that works properly and intuitively, plenty of in-cabin storage, and lovely build quality. To quote a good friend, for a family car that's exactly what I want.
Problem is, like most men of my age (38) with a young family, I'm still convincing myself I'm not a family-man-with-family-car type person. Somehow. Which is why every time someone asks "how's your Tiguan?" I reply "it's great, but…"
Then I shrug my shoulders and think about something more exciting. A sandwich, say. Or a massive foam hand. 
« Earlier: The (oil) burning question... Later: Big holiday airport trip success »

Updates

It's time to give back our Tiguan - we're replacing it with something that approaches family motoring a very, very different way...

Volkswagen has just announced yet another crossover SUV thing - and another reason not to buy this one?

Having run two very different Tiguans here at HJ, here's the one we reckon you should buy...

The Tiguan's touchscreen was, until recently, the best in any car. Now it isn't. That distinction belongs to...

Big Volkswagen Group might be having a diesely rough patch right now, but its software people deserve an award

Our Tiguan has a feature that, in Mark's opinion, is one of motoring's most scandalously under-reported advances.

The Tiguan Allspace literally saved us a trip during holiday season. Seven-seat joy.

30 July 2018: Still the perfect family car?
Last July we asked whether our five-seat Tiguan was 'the perfect family car'. If it wasn't, then the seven seat one probably is.

The Tiguan is of course available with petrols and diesels. We've run both here at HJ. So which is better?

The Tiguan seems to be an object of desire out on the road...but Mark's not feeling it.

We all of a sudden need to take six people somewhere in our big Tiguan. Take that, five-seat crossovers!

Our second Tiguan in quick succession is very different to the first. Is it the one to buy?