Our Cars: Volkswagen Tiguan Allspace 2.0 TDI 150 DSG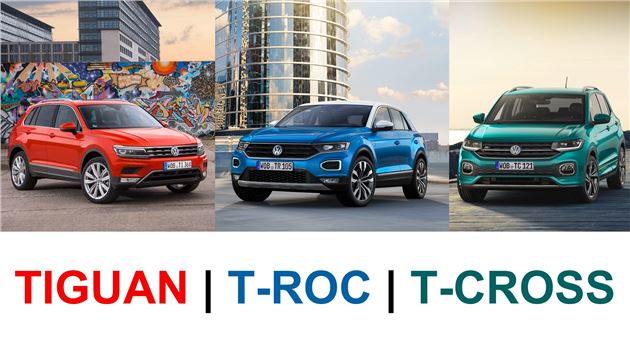 26 October 2018: Another VW SUV - this is getting baffling
The Details
| | |
| --- | --- |
| Current mileage | 5,943 |
| Claimed economy | 47.9mpg |
| Actual economy | 42.1mpg |
Another month, another Volkswagen Group SUV thing. One with an actual Volkswagen badge this time. It's called the T-Cross and, apparently, it's an "urban crossover model" which "reveals itself to be an ideal companion in everyday life and beyond." (Making this not just a small SUV, but the first one you can use after you're dead, apparently.) 
Basically a quite small SUV-shaped thing, anyways. Which is confusing, because I thought that's what the T-Roc is? Although the T-Roc already confused me because when I drove it for a review (see below), I concluded it could easliy do the same job that the Tiguan does, and much more cost effectively, albeit with a little space and quality compromise.
The T-Cross has a wheelbase that's only 3cm shorter than the T-Roc's, and the body is only 12cm shorter. It follows, then, that the boot is roughly the same size too: the T-Cross's total luggage capacity (seats folded) is a mere 9 litres less, at 1281. And, if you slide the T-Cross's rear bench forward, the standard boot capacity is actually a little bigger than the T-Roc's (445 vs. 455). 
What I'm getting at is that here, probably, we have another SUV-shaped Volkswagen that you could feasibly use as a five-seat family car. And cheaper than the last one. Again, probably. And also probably, another reason not to buy a Tiguan.  
I really admire the Tiguan for its overarching family car brilliance, but in six months with it I've never fallen in love with it. Rather, I've just really really appreciated how excellent it is. You know - spacious, practical, well made...just sensible. 
The T-Roc on the other hand, by virtue of its slightly more interesting design and its more compact body making it that bit less clunky around town, is a car I felt I could love. Certainly, having spent a week with a T-Roc I concluded that if I was in a Volkswagen dealership, looking for an SUV type family car, briefcase full of fivers in hand, I'd honestly save the cash and buy a T-Roc over a Tiguan. 
Which is why I reckon that in the same scenario, if there was also a T-Cross there that would relieve my briefcase of even fewer fivers, I'd probably buy that.  
It's weird, I know, criticising Volkswagen for making yet another car that has the same sort of appeal as its bigger, more expensive ones. We should be applauding it. And I am, I suppose. I just wish that the personality it's so clearly tried to inject into the other SUVs was also in the Tiguan. It would have made the last six months a lot more interesting. 
« Earlier: The perfect Tiguan Later: Goodbye Tiguan...we're off to the other extreme »
Updates

It's time to give back our Tiguan - we're replacing it with something that approaches family motoring a very, very different way...

26 October 2018: Another VW SUV - this is getting baffling
Volkswagen has just announced yet another crossover SUV thing - and another reason not to buy this one?

Having run two very different Tiguans here at HJ, here's the one we reckon you should buy...

The Tiguan's touchscreen was, until recently, the best in any car. Now it isn't. That distinction belongs to...

Big Volkswagen Group might be having a diesely rough patch right now, but its software people deserve an award

Our Tiguan has a feature that, in Mark's opinion, is one of motoring's most scandalously under-reported advances.

The Tiguan Allspace literally saved us a trip during holiday season. Seven-seat joy.

Last July we asked whether our five-seat Tiguan was 'the perfect family car'. If it wasn't, then the seven seat one probably is.

The Tiguan is of course available with petrols and diesels. We've run both here at HJ. So which is better?

The Tiguan seems to be an object of desire out on the road...but Mark's not feeling it.

We all of a sudden need to take six people somewhere in our big Tiguan. Take that, five-seat crossovers!

Our second Tiguan in quick succession is very different to the first. Is it the one to buy?