Our Cars: Volkswagen Tiguan Allspace 2.0 TDI 150 DSG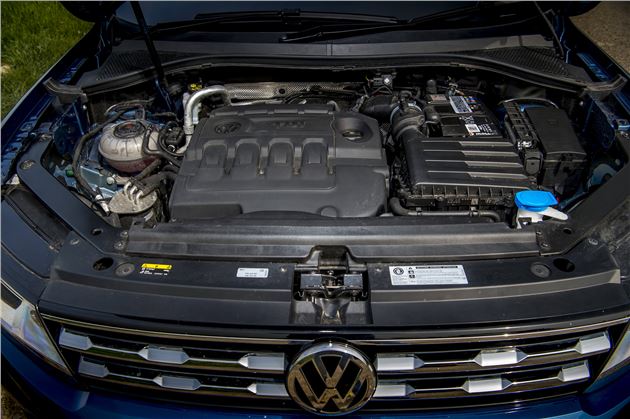 16 July 2018: The (oil) burning question...
The Details
| | |
| --- | --- |
| Current mileage | 3911 |
| Claimed economy | 47.9mpg |
| Actual economy | 41.4mpg |
| | |
The Tiguan comes with the standard off-the-shelf melange of VW Group petrol and diesel engines. Obviously. But if I tell you there are three diesels and two petrols, you could probably have a decent guess at what they are. Go on…
The petrols are a 1.5 TSI with 150PS, a 2.0 TSI with 180, and the diesels all 2.0 litre, two with a single turbo and pushing out 150 or 190 horsepower, and a bi-turbo with 250. Did you guess correctly?
These engines are truly ubiquitous because you'll find them in Volkswagens, Audis, Skodas and SEATs, and in each case in multiple models. The benefits for you, the consumer, are substantial. Not only does it mean a symbiotic multi-brand develpment cycle that ultimately brings quality up and your car price down - I know, I know - emissions scandal...but I'm making a point about something else here - but it also means an abundance of parts and expertise a few years down the line. For when, say, your DPF gets knackered. 
But for me, the road tester, it means that every time I drive another mid-level VWG car my heart sinks a bit. Especially if it has the 2.0 TDI 150 that this Allspace has, which I'd hoped the emissions scandal would have killed off by now. (I'm half joking.)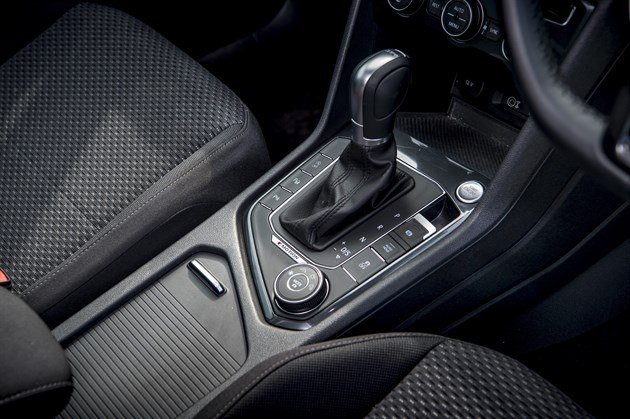 As you can see above, in a car this big and heavy it's not actually that efficient, despite performing admirably close to its claimed MPG. It's also quite clattery. But its most egregious characteristic is lazy throttle response when linked – as our car's is – to the seven-speed DSG. It's a problem I had when running a SEAT Ateca with the same engine-gearbox combo, funnily enough.
It's not the drivetrain I'd choose. I'd have the 1.5 TSI petrol every time. Front-wheel drive. Probably DSG still though – I'm a car journo brave/stupid enough to admit that I like automatics. The TSI is smoother, nicer to listen to and just more…interesting. And that particular car would cost a couple of grand less than this one (1.5 TSI SE Nav DSG: £31,115)
That's a sentiment that the driver of our last Tiguan long-termer, our website editor David Ross, seems to agree with too. In this post here he posits that had the 1.5 been available when he ordered his, that's what he'd have chosen. Funny thing is, faced with choosing between a 38mpg 2.0 petrol and a diesel, he still chose the former…
…and even after it returned 28mpg – performance car efficiency, pretty much – he still didn't regret it.
I understand why. If you're thinking about buying one of these you can do your own mathematics based on your particular finance minefield, but even with a 10mpg deficit it'll take some serious mileage to claw back your additional diesel investment. And even if you do, I just don't think the few quid you've saved is worth it.
« Earlier: Am I wrong about this car? Later: Still the perfect family car? »

Updates

It's time to give back our Tiguan - we're replacing it with something that approaches family motoring a very, very different way...

Volkswagen has just announced yet another crossover SUV thing - and another reason not to buy this one?

Having run two very different Tiguans here at HJ, here's the one we reckon you should buy...

The Tiguan's touchscreen was, until recently, the best in any car. Now it isn't. That distinction belongs to...

Big Volkswagen Group might be having a diesely rough patch right now, but its software people deserve an award

Our Tiguan has a feature that, in Mark's opinion, is one of motoring's most scandalously under-reported advances.

The Tiguan Allspace literally saved us a trip during holiday season. Seven-seat joy.

Last July we asked whether our five-seat Tiguan was 'the perfect family car'. If it wasn't, then the seven seat one probably is.

16 July 2018: The (oil) burning question...
The Tiguan is of course available with petrols and diesels. We've run both here at HJ. So which is better?

The Tiguan seems to be an object of desire out on the road...but Mark's not feeling it.

We all of a sudden need to take six people somewhere in our big Tiguan. Take that, five-seat crossovers!

Our second Tiguan in quick succession is very different to the first. Is it the one to buy?