Our Cars: Volkswagen Tiguan Allspace 2.0 TDI 150 DSG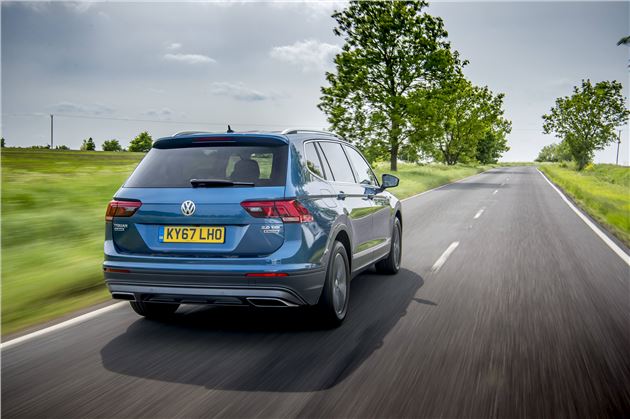 18 June 2018: Six is a crowd
The Details
| | |
| --- | --- |
| Current mileage | 3452 |
| Claimed economy | 47.9mpg |
| Actual economy | 41.8mpg |
| | |
You may know that we've already had a Tiguan here at HJ, and very recently too. For those averse to clicking hypertext (or who just want to stay here), it was a very different proposition, spec wise: five seats, R Line trim, petrol.
The main question we'll answer over the next few months is whether the Allspace version here – the seven-seat one, that is - is really worth the extra outlay. But of course, there are also a few other comparisons we can make: petrol or diesel, and is R-Line really worth it?
For now though, we've already had our first instance of the Allspace thing being useful. It went as follows…
So we're doing a trip to the theatre for the boy's 11th birthday (because we're, like, totally cultured and that) and we're due to pick up grandma. That would make five of us in the car. But when we get there, turns out granddad isn't at work after all and he's coming too. There's been a mix-up. Classic.
Just as our Nicola begins to declare that we'll have to go in two cars, the realisation that our Tiguan will, in fact, accommodate seven dawns on her. Booya.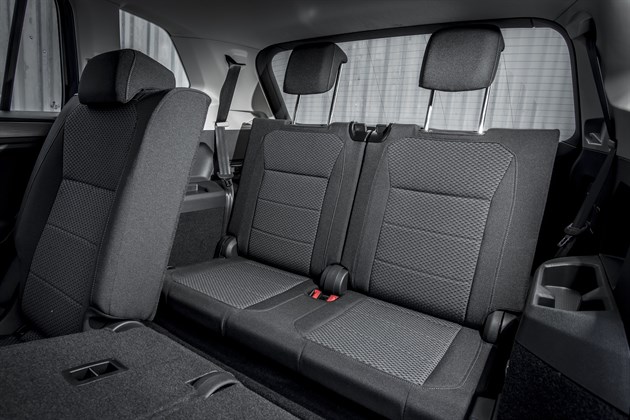 Said rearmost seats. Excite. 
Getting the seats...erm…there's probably a better word than 'erected' but that's what I'm going to go with…was easy. No problems there. Plus, kids always love sitting in the rearmost seats of a car – it's the 'back of the bus' rule. So, grandma and granddad took the middle row. Everyone had enough space. Problem solved. And all it took was a couple of tugs on some little fabric hooks. 
It was a textbook example of so-called 'occasional seats' getting occasional use and working brilliantly. However…
The parcel shelf. There was nowhere to put the parcel shelf, it seemed. We had stuff in the boot, see, and so what miniscule space was left after the rearmost seats were erected was immediately filled by that stuff and the parcel shelf wouldn't fit. And the kids were getting bored. And the grandparents were stood on the street.
So we did what anyone would do: basically throw the parcel shelf into my in-laws' garden. Where it stayed until being moved into the garage after our night out. Where it will stay until we remember to get it back.
A few days later I remembered this whole episode and had a look for a parcel shelf deployment space. And there is one. Of course there is. It's under the little boot floor and above the spare wheel. Clever. So now I know. And so do you. Honestly, those Volkswagen people - it's as though they know what they're doing. 
« Earlier: More seats, more diesel...more good? Later: Am I wrong about this car? »
Updates

It's time to give back our Tiguan - we're replacing it with something that approaches family motoring a very, very different way...

Volkswagen has just announced yet another crossover SUV thing - and another reason not to buy this one?

Having run two very different Tiguans here at HJ, here's the one we reckon you should buy...

The Tiguan's touchscreen was, until recently, the best in any car. Now it isn't. That distinction belongs to...

Big Volkswagen Group might be having a diesely rough patch right now, but its software people deserve an award

Our Tiguan has a feature that, in Mark's opinion, is one of motoring's most scandalously under-reported advances.

The Tiguan Allspace literally saved us a trip during holiday season. Seven-seat joy.

Last July we asked whether our five-seat Tiguan was 'the perfect family car'. If it wasn't, then the seven seat one probably is.

The Tiguan is of course available with petrols and diesels. We've run both here at HJ. So which is better?

The Tiguan seems to be an object of desire out on the road...but Mark's not feeling it.

18 June 2018: Six is a crowd
We all of a sudden need to take six people somewhere in our big Tiguan. Take that, five-seat crossovers!

Our second Tiguan in quick succession is very different to the first. Is it the one to buy?