Our Cars: Volkswagen Tiguan Allspace 2.0 TDI 150 DSG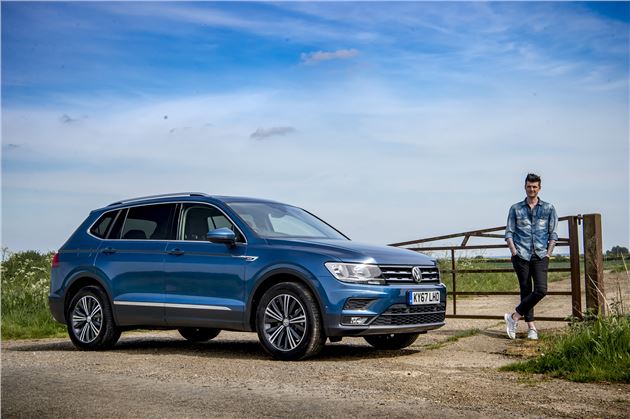 4 June 2018: More seats, more diesel...more good?
The Details
| | |
| --- | --- |
| Current mileage | 3011 |
| Claimed economy | 47.9mpg |
| Actual economy | 41.4mpg |
| | |
So the MINI Countryman has gone and in its place outside my house is a car that's roughly in the same genre. One family crossover for another.
Yet in execution the two couldn't be more different.  The Countryman was an eccentric petrol electric hybrid and, arguably, a 'style first substance second' sort of thing; the Tiguan is a diesel and about as perfunctorily sensible as family 4x4 type things come. The Countryman has a disco lights toggle; the Tiguan has a retractable tow bar.
This is, in fact, our second Tiguan long termer in quick succession. Despite that – and the fact I've made a video review about one – it turns out I never really understood Volkswagen's crossover.
See, when I started planning a video review of the Volkswagen T-Roc recently, there I was thinking that the Tiguan was Volkswagen's family crossover – you know, its answer to the Nissan Qashqai, Peugeot 3008, Ford Kuga etc. Its highly expensive answer, but its answer all the same.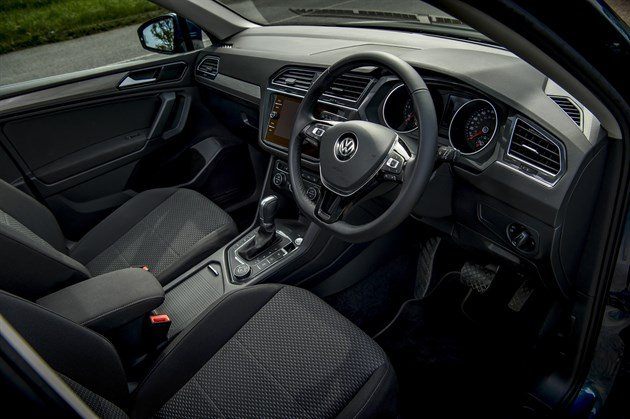 A Volkswagen interior... *shrugs shoulders*
Then the T-Roc comes along, which is very nearly as spacious but of significantly lower quality, ostensibly at least, and ergo priced more closely to the aforementioned non-Volkswagens.
So what that makes the Tiguan is…I'm still not sure, to be honest. I'll hopefully get to the bottom of that over the next few months.
As well as resolving in my own mind whether it really is as boring as I thought it was when I reviewed it. Perhaps a long-term stint with it will develop into…erm…beguilement of some description.
Our particular car, then. It's a diesel (obviously) and it has DSG and, again, it has a tow bar. Caravan spec, basically. It's also an Allspace, which means it has a slightly bigger boot than a non-Allspace Tiguan, in which there are two additional seats. Nice. We'll talk about that lots too. Here we go then…
Updates

It's time to give back our Tiguan - we're replacing it with something that approaches family motoring a very, very different way...

Volkswagen has just announced yet another crossover SUV thing - and another reason not to buy this one?

Having run two very different Tiguans here at HJ, here's the one we reckon you should buy...

The Tiguan's touchscreen was, until recently, the best in any car. Now it isn't. That distinction belongs to...

Big Volkswagen Group might be having a diesely rough patch right now, but its software people deserve an award

Our Tiguan has a feature that, in Mark's opinion, is one of motoring's most scandalously under-reported advances.

The Tiguan Allspace literally saved us a trip during holiday season. Seven-seat joy.

Last July we asked whether our five-seat Tiguan was 'the perfect family car'. If it wasn't, then the seven seat one probably is.

The Tiguan is of course available with petrols and diesels. We've run both here at HJ. So which is better?

The Tiguan seems to be an object of desire out on the road...but Mark's not feeling it.

We all of a sudden need to take six people somewhere in our big Tiguan. Take that, five-seat crossovers!

4 June 2018: More seats, more diesel...more good?
Our second Tiguan in quick succession is very different to the first. Is it the one to buy?