Our Cars: Volkswagen Tiguan Allspace 2.0 TDI 150 DSG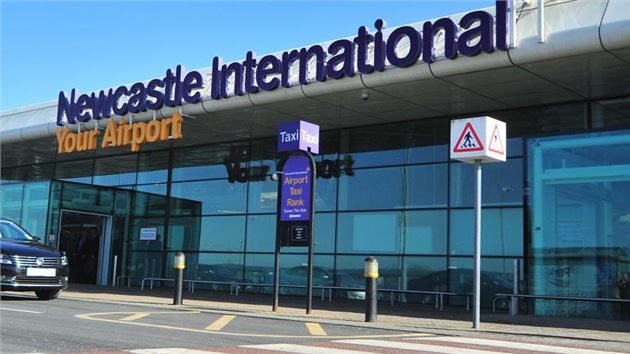 13 August 2018: Big holiday airport trip success
The Details
| | |
| --- | --- |
| Current mileage | 4,365 |
| Claimed economy | 47.9mpg |
| Actual economy | 40.9mpg |
| | |
It was holiday season recently, which meant trips to the airport. Which meant Our Cars updates involving boots full of suitcases and 'this car is practical' type conclusions reached. Fair enough...but that's not quite what this is. 
To set the scene, before I took up full-time employment with HJ I was a freelancer, working for such esteemed outlets as... never mind. Anyway, as any freelancer knows, summer holiday time poses a particular quandary because freelancers who go on holiday are freelancers who aren't working, and freelancers who aren't working are freelancers not getting paid. 
Which is why I decided not to join my wife, kids and in-laws on holiday a few years back. That's 100 per cent the reason. Nothing to do with two weeks with my in-laws. (Just kidding, Mick and Hazel. I love you really.) I worked. I was lonely. I made money. Everyone enjoyed their holiday. No problem. 
I guess it might look a bit odd that I chose not to go this year either, what with my employment status now affording me the luxury of paid annual leave. Nonetheless, despite being urged to join them I figured it would be nice for the in-laws to spend some time with their daughter and grandkids without me. They won't miss me. I'm pretty irritating. You may have seen my videos.
Why am I telling you this? Well, it's a very convolted way of explaining why I had to take them all to the airport recently, and how the Allspace came into its own. There were six of us plus cases, see, and we genuinely weren't sure whether it would work. 
But work it did. The Allspace only has 230 litres of boot space with the rearmost seats up, which is less than a Porsche Boxster's, but by only using one of those seats, the Tiguan managed to swallow no less than four luggage cases, four rucksacks and six people.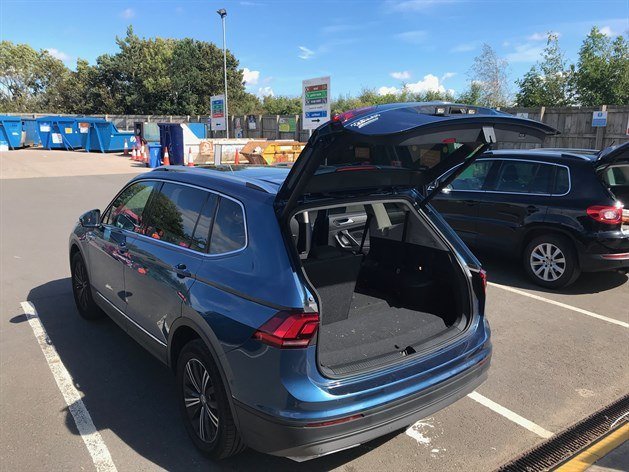 Imagine this scene at an airport rather than a refuse disposal centre.
If I was a good car journalist I'd have taken a picture as evidence, but like most summer holiday trips to the airport, we were running a bit late and it was mildly stressful. In the absence of that, feast your eyes on this picture above, and imagine cases and things in the gap next to the rearmost seat. 
In essence, the Allspace saved me doing a second trip to the airport, which literally saved me a whole £1 on drop-off parking fees, plus maybe 64p in diesel. Back of the net. 
Shortly afterwards I did a Ford Edge review, and concluded that one of its major weaknesses is not having seven seats, despite being so vast. I received the following comment on YouTube from a man called Brian:
"...I only need two seats and a big load area so why the fcuk [sic] does everyone seem to get a hardon about 7 seats!!!..."
Well, this is why people get a "hardon" about seven seats. It can occasionally save them £1.64. Deal with that information, Brian.  
« Earlier: Still the perfect family car? Later: In defence of an unglamorous feature »
Updates

It's time to give back our Tiguan - we're replacing it with something that approaches family motoring a very, very different way...

Volkswagen has just announced yet another crossover SUV thing - and another reason not to buy this one?

Having run two very different Tiguans here at HJ, here's the one we reckon you should buy...

The Tiguan's touchscreen was, until recently, the best in any car. Now it isn't. That distinction belongs to...

Big Volkswagen Group might be having a diesely rough patch right now, but its software people deserve an award

Our Tiguan has a feature that, in Mark's opinion, is one of motoring's most scandalously under-reported advances.

13 August 2018: Big holiday airport trip success
The Tiguan Allspace literally saved us a trip during holiday season. Seven-seat joy.

Last July we asked whether our five-seat Tiguan was 'the perfect family car'. If it wasn't, then the seven seat one probably is.

The Tiguan is of course available with petrols and diesels. We've run both here at HJ. So which is better?

The Tiguan seems to be an object of desire out on the road...but Mark's not feeling it.

We all of a sudden need to take six people somewhere in our big Tiguan. Take that, five-seat crossovers!

Our second Tiguan in quick succession is very different to the first. Is it the one to buy?