Our Cars: Volkswagen e-Golf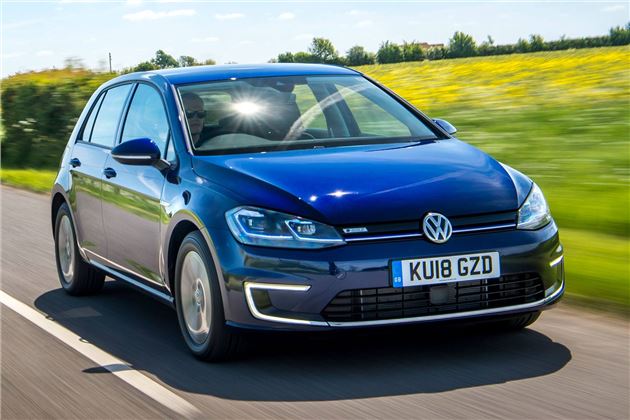 16 October 2018: Where are all the Volkswagen e-Golfs?
The Details
| | |
| --- | --- |
| Current mileage | 3692 miles |
| Claimed range | 124 miles |
| Actual range | 144 miles |
We had a discussion in the HJ office recently about waving at drivers in cars identical to our own. Georgia regularly used to wave at green Skoda Fabias, apparently, and she's keen to do the same in her yellow Audi Q2.
The only time I've ever been waved at by other motorists has been when driving a Mazda MX-5 or a Land Rover Defender - two very different cars which attract a certain breed of enthusiast. It's not something I'd go out of my way to do myself, but I am more likely to notice cars similar to whatever it is I'm driving.
This week, for example, I've been driving a Range Rover Sport that we've had in for review. I've noticed just how many Range Rover Sports there are around and, for two days in a row, I even found myself in convoy with the same, very similar, Range Rover Sport.
Where am I going with this? Ah, yes... there just aren't any Volkswagen e-Golfs out there. 'Normal' Volkswagen Golfs are 10 a penny, obviously, and I see a few plug-in hybrid Golf GTEs around (despite them currently being off sale because Volkswagen can't cope with demand). I don't think I've seen a single e-Golf, though.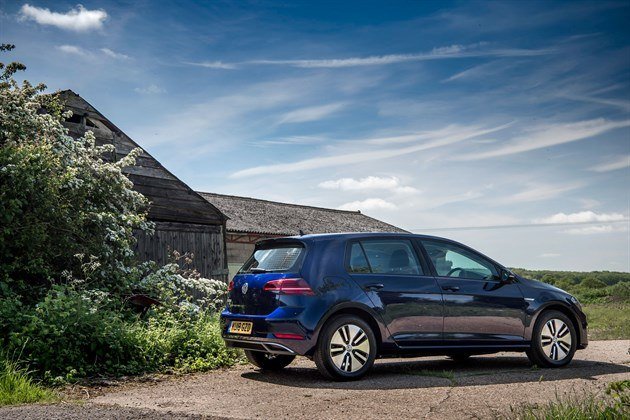 Definitely the only Volkswagen e-Golf in the village.
There could be a number of reasons for this. Maybe they're all congregating in city centres rather than the rural (range-sapping) roads I spend most of my time on. Or maybe Volkswagen just isn't selling many.
It's not that I don't see other electric cars. Nissan Leafs are a relatively common sight - although maybe that's just because they stand out compared to the more conventional e-Golf.
A reader recently got in touch and asked if I thought the Volkswagen e-Golf was too expensive. Starting at £29,230 (after the Plug-in Car Grant), it's pricier than a Hyundai Ioniq and Nissan Leaf, and quite considerably more expensive than a petrol or diesel Golf. I suspect that goes a long way towards explaining the small number I see on the roads.
Despite that, I think the e-Golf has a lot going for it. It's good to drive, has a quality interior and 140-miles or so range is realistic. The world just needs to catch on...
« Earlier: How can you maximise the range of an electric car? Later: A silent killer? »
Updates

It's the end of our time with the Volkswagen e-Golf.

If only the Volkswagen e-Golf could be charged using Tesla's Supercharger network.

Can pedestrians hear the e-Golf? Should electric cars make an artificial noise? Andy investigates.

16 October 2018: Where are all the Volkswagen e-Golfs?
Andrew hasn't seen another e-Golf on the roads. Is ours a one-off?

We take the Volkswagen e-Golf on a road trip but somebody forgets to charge it first...

We love the Volkswagen e-Golf but the infrastructure isn't quite there yet.

How easy is it to find a replacement windscreen for the Volkswagen e-Golf? Andrew was all too keen to find out.

The e-Golf undertakes its longer single-charge drive. How far can it go? Andrew finds out.

So which option boxes should you tick when speccing an e-Golf? Andy has a look at what he'd spend all his imaginary money on.

If you want to buy a Volkswagen e-Golf like mine, it will cost you a whopping £37,040. Or will it..?

Andrew's getting all defensive about the Volkswagen e-Golf. You'd probably be better asking him about Brexit...

A convenient test of the new Nissan Leaf represented to perfect opportunity for us to compare it with our Volkswagen e-Golf.

Andrew attempts a longer journey in the electric Volkswagen e-Golf. It all goes surprisingly swimmingly.

Just how usable is an electric car every day? Andy's getting to grips with the UK's EV charging infrastructure.