Our Cars: Volkswagen e-Golf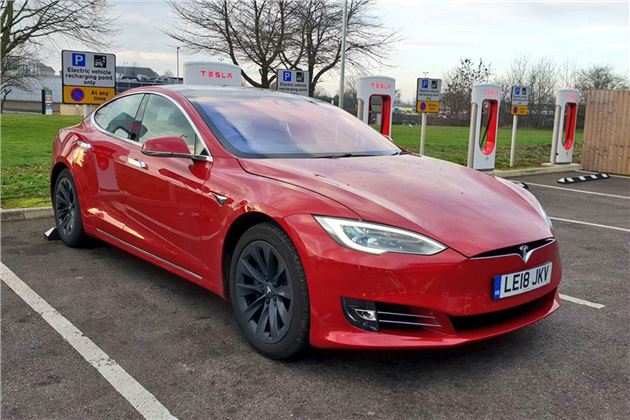 13 November 2018: Why is Tesla the daddy of electric cars?
The Details
| | |
| --- | --- |
| Current mileage | 4115 miles |
| Claimed range | 124 miles |
| Actual range | 121 miles |
The electric car market is a strange one. The mainstream manufacturers seem to lag behind US tech firm Tesla, which launched its first electric car in 2008 and has now become the carmaker of choice for EV afficionados who wish to travel further afield on a single charge.
I've just spent a week with a Tesla Model S, and it's been an interesting experience. My car was the entry-level 75D, with a price tag of £70,850 before options. It's not a rival to the e-Golf, evidently, so it's pointless comparing the two. But as in an insight into Tesla's way of doing things, it's been quite the eye opener.
If you're a regular reader of my e-Golf updates, you'll know that my biggest bugbear of running an EV is the appaling state of the UK's charging network. Trying to find somewhere to charge is a hassle, and when you do it's often blocked by someone else or simply not working. It's also more fiddly than it ought to be (requiring different apps for different charge points) and it can be expensive (thanks Ecotricity).
Tesla knows this, so it's invested millions on its own network. A kind of private network of chargers that only Tesla drivers can use. During my brief time with the Model S, I needed a top up of electricity while travelling south on the M1. I used the in-car navigation to find a charger at Newport Pagnell services, and any fears about the chargers being blocked or not working were soon put to one side.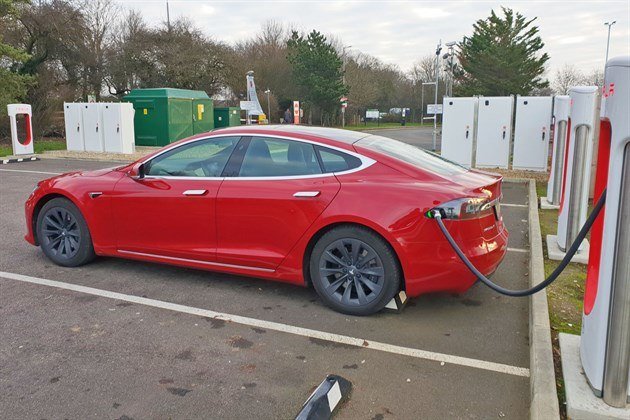 If only you could charge a Volkswagen e-Golf here...
The Superchargers, as Tesla calls them, are in their own little car park away from the hoi palloi - so there's little chance of someone in a petrol or diesel car blocking them. In the case of Newport Pagnell, there are 12 Superchargers. Yes, 12. They're never going to be all in use.
Plugging the Tesla in is super easy, too. No messing around with a phone app. Just plug it in and it charges. Tesla owners get 400kWh of free charging a year, and once all that's used up they'll automatically be billed 20p per kWh. For comparison. Ecotricity's Electric Highway currently costs 30p per kWh - and it's less reliable, slower, more difficult to use, you get the idea.
I plugged the Tesla in, went for a coffee and after around 30 minutes, Tesla's handy app told me I had enough electricity to cover an extra 170 miles - easily enough to reach my destination. There are downsides... at the time of writing, there are just 50 Supercharger locations in the UK - although this is set to increase to 71 by the end of 2019.
My time with the Tesla got me thinking about my perfect electric car. It wouldn't be the Tesla - for reasons I'll come onto in the review. It would, however, be a good car like the Volkswagen e-Golf, with the range of a Tesla and access to Tesla's network of Superchargers.
« Earlier: A silent killer? Later: Goodbye, my electric friend »
Updates

It's the end of our time with the Volkswagen e-Golf.

13 November 2018: Why is Tesla the daddy of electric cars?
If only the Volkswagen e-Golf could be charged using Tesla's Supercharger network.

Can pedestrians hear the e-Golf? Should electric cars make an artificial noise? Andy investigates.

Andrew hasn't seen another e-Golf on the roads. Is ours a one-off?

We take the Volkswagen e-Golf on a road trip but somebody forgets to charge it first...

We love the Volkswagen e-Golf but the infrastructure isn't quite there yet.

How easy is it to find a replacement windscreen for the Volkswagen e-Golf? Andrew was all too keen to find out.

The e-Golf undertakes its longer single-charge drive. How far can it go? Andrew finds out.

So which option boxes should you tick when speccing an e-Golf? Andy has a look at what he'd spend all his imaginary money on.

If you want to buy a Volkswagen e-Golf like mine, it will cost you a whopping £37,040. Or will it..?

Andrew's getting all defensive about the Volkswagen e-Golf. You'd probably be better asking him about Brexit...

A convenient test of the new Nissan Leaf represented to perfect opportunity for us to compare it with our Volkswagen e-Golf.

Andrew attempts a longer journey in the electric Volkswagen e-Golf. It all goes surprisingly swimmingly.

Just how usable is an electric car every day? Andy's getting to grips with the UK's EV charging infrastructure.