Our Cars: Volkswagen e-Golf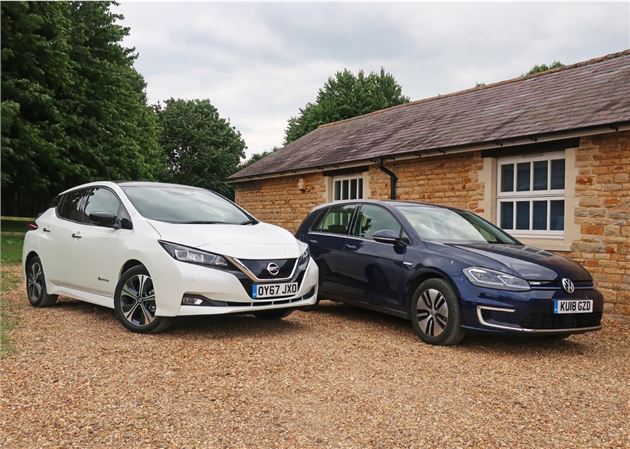 26 June 2018: How does the Volkswagen e-Golf compare to the Nissan Leaf?
The Details
| | |
| --- | --- |
| Current mileage | 1240 miles |
| Claimed range | 124 miles |
| Actual range | 160 miles |
I have to confess, most of the time I enjoy a luxury that most electric car owners aren't able to. I have access to the many cars we have on test every week, meaning if I have a long journey to make, I can swap the e-Golf for something with a petrol or diesel engine.
Before you start searching for the comments box (there isn't one, sorry), let me explain why I'm telling you this. Last week, we had a Nissan Leaf in for review - giving me little choice but to spend a full seven days with an electric car. Not only did this provide real life experience of running an EV, it also represented the perfect opportunity to compare the e-Golf with arguably its most direct competitor.
First impressions fall in favour of the Golf. While the new Leaf is much improved inside compared to its predecessor and feels more like a 'normal' car than before, it's just not up to the quality of the Volkswagen. The e-Golf feels rather premium, with a slick infotainment system and lots of quality materials.
I have noticed that the seats in the Golf do make me longing for fairly frequent breaks on longer journeys. That's not a huge issue... you have to stop regularly to charge it anywa, and most electric car drivers won't make many long journeys. But it's not a problem the Leaf has. Thanks to Nissan's clever Zero Gravity Seats, developed quite literally using rocket science, I felt as fresh as a daisy after circumnavigating the M25 for a weekend away in Berkshire.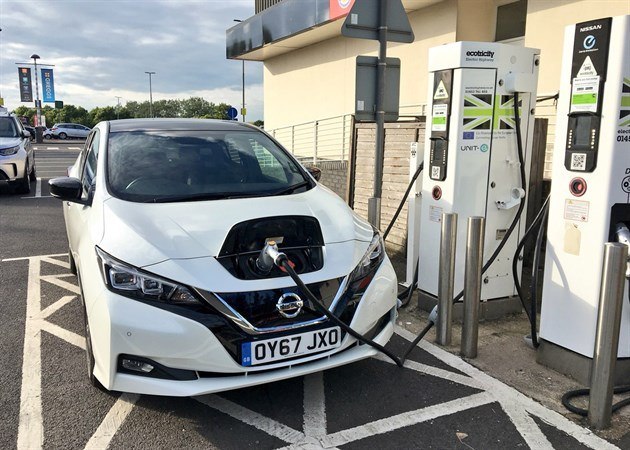 A week of zero-emissions driving went extremely smoothly
The Leaf's bigger boot meant carrying a car full of friends and their luggage wasn't a problem for the electric car and its 168-mile range was plenty for the 75-mile drive. It probably would have been enough for a return journey, but I found an NCP car park in Reading town centre with four charging points going free. In fact, it's range where the Leaf pips the Golf. Under real-life driving, the Golf can cover around 124 miles, Volkswagen claims - although, as previously reported, that's fairly easy to beat.
You won't be achieving these range figures if you're heavy with the accelerator, but the Leaf will hit 62mph in 7.9 seconds. That's more than a second and a half quicker than the e-Golf. But you'll have to press the Leaf's 'eco' button if you want to increase range - and that seriously hampers acceleration.
Incidentally, the new Leaf's clearly quite a distinctive car. Following my return journey, not one but two industry colleagues messaged me to say they'd seen the Leaf on the M25. One said I was 'causing congestion'... I blame the electric car mindset I'm now well and truely in, opting for using minimal battery rather than reaching my destination in record time.
So, Leaf or e-Golf? On paper, the Leaf's better in many ways. It's quicker, has a more useable range and is more spacious. But my money would go on the Golf. The Volkswagen's interior is lovely - the same can't be said for the Nissan's - and it's more enjoyable to drive, if slower. The second you get into the Golf it feels like any other car, with just silent running alerting you to its eco credentials. The Leaf shouts about it more, yet the interior's fairly drab. And don't get me started on the ancient infotainment system.
Whether you choose the Volkswagen e-Golf, Nissan Leaf or any other electric car on the market, you'll enjoy the perks offered by an electric car such as instant acceleration and silent running. As my experience is proving, you may also be surprised by just how easily an electric car slots into your life.
« Earlier: Can the Volkswagen e-Golf cover longer journeys? Later: I'm becoming an electric car evangelist »
Updates

It's the end of our time with the Volkswagen e-Golf.

If only the Volkswagen e-Golf could be charged using Tesla's Supercharger network.

Can pedestrians hear the e-Golf? Should electric cars make an artificial noise? Andy investigates.

Andrew hasn't seen another e-Golf on the roads. Is ours a one-off?

We take the Volkswagen e-Golf on a road trip but somebody forgets to charge it first...

We love the Volkswagen e-Golf but the infrastructure isn't quite there yet.

How easy is it to find a replacement windscreen for the Volkswagen e-Golf? Andrew was all too keen to find out.

The e-Golf undertakes its longer single-charge drive. How far can it go? Andrew finds out.

So which option boxes should you tick when speccing an e-Golf? Andy has a look at what he'd spend all his imaginary money on.

If you want to buy a Volkswagen e-Golf like mine, it will cost you a whopping £37,040. Or will it..?

Andrew's getting all defensive about the Volkswagen e-Golf. You'd probably be better asking him about Brexit...

26 June 2018: How does the Volkswagen e-Golf compare to the Nissan Leaf?
A convenient test of the new Nissan Leaf represented to perfect opportunity for us to compare it with our Volkswagen e-Golf.

Andrew attempts a longer journey in the electric Volkswagen e-Golf. It all goes surprisingly swimmingly.

Just how usable is an electric car every day? Andy's getting to grips with the UK's EV charging infrastructure.