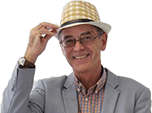 Our Cars: Skoda Yeti 1.6 TDI Greenline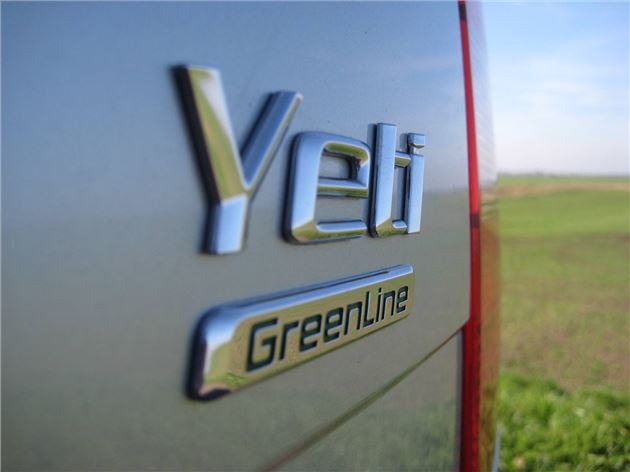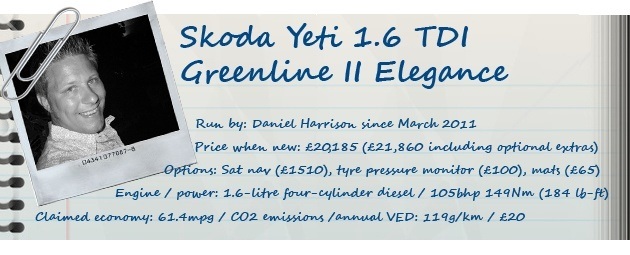 15 April 2011: How does the Greenline's range compare to other Yetis?
The 1.6-litre TDI CR in the Greenline is 9mpg more economical than the next most efficient engine, the 2.0-litre TDI. But what does that mean in terms of miles and how does it stack up to the rest of the range?
All Yetis have a 55 litre fuel tank with the exception of the 1.8 TSI and 2.0 TDI 140, which have a 60-litre tank to stretch the distance between fill ups. Even so, the 1.8 TSI is the model that will see the most forecourt action, needing a fill-up every 460 miles.
Compare the 1.6-litre Greenline to the next most economical model - the 2.0-litre TDI - and you'll find that it will save around £180 per 10,000 miles in diesel (assuming a fuel price of 140p per litre and acheiving the official Combined figure).
I've put together this little graphic to demonstrate the differences.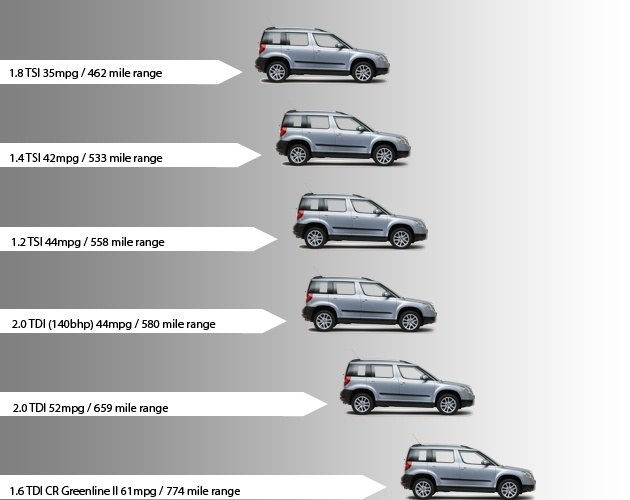 Figures are based on the official Combined fuel consumption.
« Earlier: Take a look for yourself Later: My Top Five Skoda Yeti Videos »
Updates
Ask me anything you like about the Yeti Greenline.

Summer or Winter, day or night, Yeti continues to prove itself.

My map gives details of what I've been up to in the Yeti and where in the UK it has been.

Does it live up to the promised 61.4mpg?

A long trip for Yeti down to the Goodwood Festival of Speed to take a look at the Skoda's 'other' side.

How does the Yeti cope when it's faced with its biggest load yet?

Using the on-board computer, it's possible to tune the Yeti to exactly how you like it and change everything from how the doors unlock to the daytime running lights.

Yeti bags our 'Car of the Year' Award for being the most searched-for model on honestjohn.co.uk.

What exactly is behind the Greenline name?

From 'that' Top Gear clip to a 'real' Yeti dancing. These are my pick of the Yeti videos on YouTube.

15 April 2011: How does the Greenline's range compare to other Yetis?
How far can my goody-two-shoes Yeti go? And is it really that much further than other Yetis in the range with different engines?

Here's the Skoda Yeti brochure in full to save you traipsing down to the showroom. Browse or download.

From the potential for eye-opening fuel consumption to the luxury of heated seats, these are the bits most likely to put a smile on my face.

Yeti is one of the most popular cars on Honestjohn.co.uk. It's regularly in our Top Five Reviews, owners give it the thumbs-up in up and it's a regular talking point in our Back Room Forum. Questions about Skoda's cross-over arrive daily.