Our Cars: Skoda Fabia TSI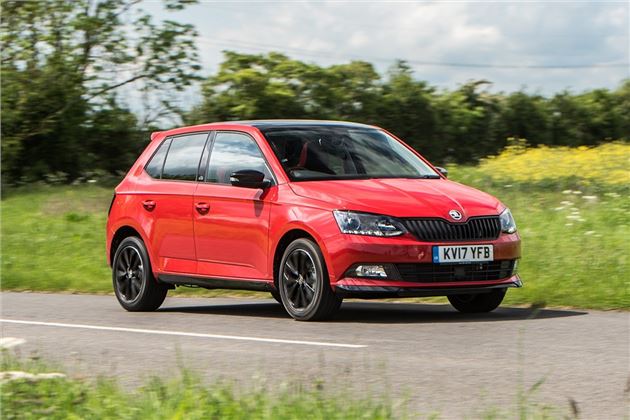 24 May 2017: Load capacity or catastrophe in our new Skoda Fabia
The Details
| | |
| --- | --- |
| Current mileage | 886 |
| Claimed economy | 60.1 |
| Actual economy | 43.1 |
Straight away, my new Skoda Fabia was put to the test. Recently I moved house and, while I used a van to move most of the large items, I had to use the Fabia to shift some things before the van arrived. This meant that I got to know the ins and outs of my car's load capacity very quickly.
I needed to move five long boxes, so obviously I had to fold the rear seats down. They don't fold completely flat, which is a bit annoying, but I also really needed to fold the front passenger seat. Unfortunately, reclining it enough to accomodate long loads isn't possible, because the rear seat backs get in the way when they're flipped down. So in the end I had to position the long boxes between the two front seats.
The Fabia is classed as a small hatchback, meaning that it isn't exactly supposed to be used as a removal van. But I'm nothing if not an optimist. Also I really needed a wardrobe or I'd be living out of a floordrobe and that's not ideal.
That being said, the space in the relatively small Fabia is actually quite good. Eventually, after a whole lot of effort and careful application of my flawless loading technique, I managed to fit all my hastily bought furniture in. And there was still a lot of room to spare, surprisingly, albiet for more sensibly shaped items than flatpack wardrobes.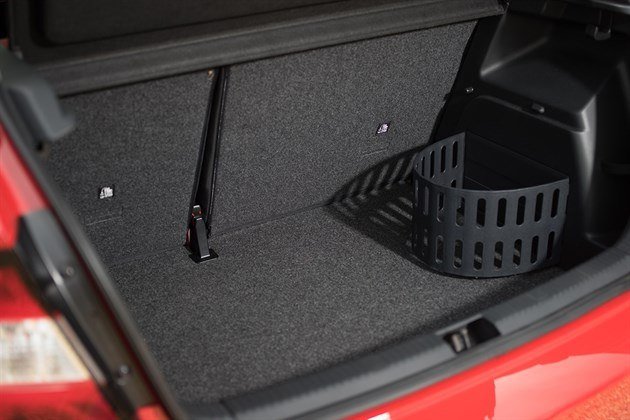 Where I put my groceries and, sometimes, entire wardrobes
I made it home with all the furniture, the car is intact and I still have a shred of my sanity. What more could I want? The new house is in a pretty rural area. Not so rural that we think Mary Berry is still presenting Bake Off (if only), but rural enough that the roads are fairly potholed.
The car has handled moving from commutes populated with roundabouts and Tesco Extras to tackling B roads very smoothly. The twists and turns of country roads are easy in the sportier Monte Carlo trim, the handling is nice and neat and 110PS is more than enough to cope with overtaking the ever-present pensioner too frightened to overtake the lorries holding back morning traffic.
As a city car, its tight turning circle and nimble manoeuvrability make it top-class, but for long trips on faster roads it can become uncomfortable. It offers impressive steering and cornering but the black 16-inch alloy wheels and sports suspension that come as part of the Monte Carlo trim make for a firm ride on bumpy roads.
So far, I've enjoyed the little Fabia a lot. But for a car that's sold as the cheap alternative to rivals like the Volkswagen Polo, I'm not sure that the cheaper, bog-standard models would offer enough to compete. Only time will tell I suppose.
« Earlier: Our new Skoda Fabia arrives Later: Fabia Follies »
Updates

Our little green Fabia goes back home this week, but what are Georgia's final thoughts?

Is is a case of function over flair? Georgia looks into the Skoda Fabia's arguably boring interior.

Georgia gives a rundown of the Fabia's safety features.

The good, the bad and the ugly aspects of the Fabia's direct-shift gearbox.

Georgia tests whether the Simply Clever Package is a worthwhile optional extra.

The Skoda Fabia versus the Ford Fiesta. Georgia compares the two very different small hatchbacks.

Georgia's 1.2-litre red Fabia gets swapped for a 1.0-litre green machine. But how does it compare?

The time has come to discuss why exactly the Fabia struggles to sell itself to young people.

The Fabia gets dog-tested when Georgia takes her Labrador out for a day trip.

After having the Fabia for a month, Georgia begins to notice little annoyances cropping up.

24 May 2017: Load capacity or catastrophe in our new Skoda Fabia
The Fabia's load space is quickly tested when Georgia uses it to move some bulky furniture from the suburbs to wildest tractor land.

Georgia welcomes the Skoda Fabia into her life with open arms. But will she still love it in six months time?