Our Cars: Nissan Qashqai 1.5 dCi n-tec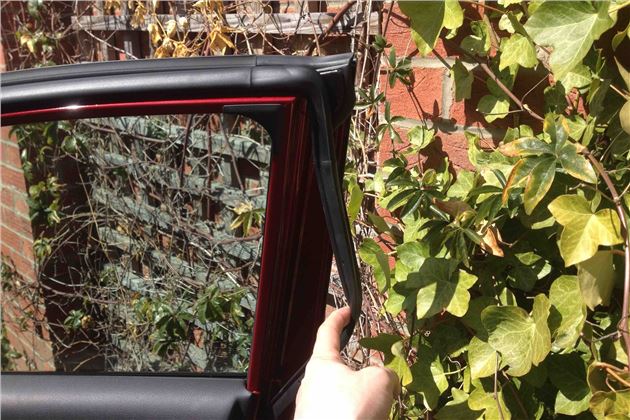 22 May 2015: Falling apart at the seals
The Details
| | |
| --- | --- |
| Current mileage | 8750 |
| Claimed economy | 74.3mpg |
| Actual economy | 53.0mpg |
| | |
"Your rubber's falling off, Mark."
When your wife says that to you... well. Anyway, she was right. The driver's door seal of the Qashqai is coming away. It's not making any difference – the door still closes properly – but it's happened.
What it has brought home is that fact that the Qashqai is remarkably well built. Minor parking sensor blip aside, easily rectified, the Qashqai has been good as gold – this is the first and only trim issue we've had.
It's no wonder they're everywhere. To be honest, driving around the North East in a Qashqai often feels like what it must have been like having a Ford Model T in 1920s America. There are horses and there are Qashqais. Look what happened the other day, again... 
                                           This happened recently. In the North...
In 100 years' time, when the Geordies of the future are making a 'The Last Century of The Toon' exhibition in a gallery hovering over the dried up valley that was once the River Tyne, it will begin with holograms of Donna Air, a giant Sports Direct mug, and a red Nissan Qashqai.
The thing about the Qashqai is, it's built to last – longer than Donna Air's Geordie accent did, that's for sure.
But the cabin design, that's another matter. Coming to the end of our time with the car, we've settled into the Qashqai's interior like the living room in a rented house: it's comfortable and familiar, but it's also a bit bland and old fashioned. Tired, even. And there's nothing much you can do about it.
And that probably explains my nonchalance towards my malfunctioning bit of trim. Like a slightly loose curtain rail it's very briefly irritating, but when the house is primarily a function of necessity…well, as long as the curtains still close, right? 
« Earlier: Is this an SUV? Part 2 Later: Vast difference »
Updates

The Qashqai has gone, so it's time to look back at what impact it's made over the last six months...

A stint with a BMW hybrid supercar got Mark all worked up about how short the Qashqai is falling in the economy stakes.

22 May 2015: Falling apart at the seals
An errant door seal demonstrates just how well built the functional Nissan Qashqai generally is.

Part two of last month's cliffhanger, in which a rogue hand car wash emporium tried to classify the Qashqai as an SUV.

When you're in the North East of England with a Qashqai, a football analogy is inevitable. Here it is...

A trip to the hand car wash place prompts us to question the very nature of our family hatchback.

Finally our parking sensor issue has been resolved, as is another of the Qashqai's frustrating quirks.

Bad cars don't really exist any more. Bad in-car media systems still do. Luckily, the Qashqai responds well to being touched.

We have a bit of a problem with our Qashqai. The parking sensors keep screaming at us. And we don't like it....

Our Qashqai is marvellous family transport but it's not proving emotional. Which is a bit of a shame.

Mark may be advancing in years but he's having more than a few problems approaching 50 in his Nissan Qashqai.

Mark picks up the new Nissan Qashqai, making him feel right at home in his native North East.