Our Cars: Nissan Qashqai 1.5 dCi n-tec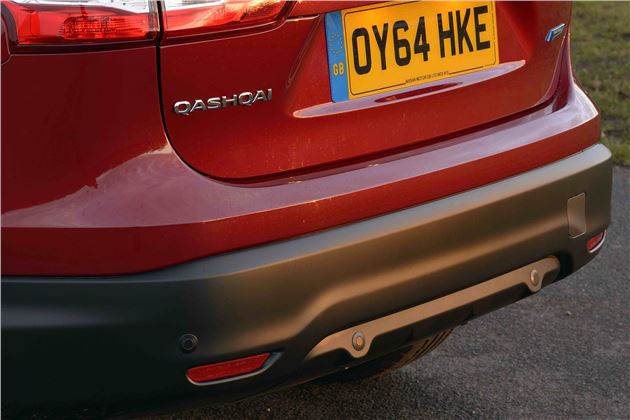 27 February 2015: Parking sensor meltdown
The Details
| | |
| --- | --- |
| Current mileage | 5175 |
| Claimed economy | 74.3mpg |
| Actual economy | 50.4mpg |
| | |
My Qashqai has a glitch. I first heard about it before I even got the car, when photographer Matt Vosper took delivery of the Qashqai to do its official start-of-term snaps. "The parking sensors keep going mental," he said. Or words to that effect.  
They still keep going mental. Front and rear parking sensors linked to cameras are part of our car's n-tec+ specification and usually they're great – anyone that's spent any time with parking sensors will know that once they're gone, they're generally missed.
I don't think I'll miss these ones though. They're like a very nervous, slightly loopy grandma sat in the passenger seat, constantly alerting you of any danger that may or may not be about to befall you, as though you don't have any eyes, ears, arms, legs or a brain of your own.
Approach a queue of traffic: BEEEEEP! Slow down for a roundabout: BEEEEEEP! Put the car in reverse: BEEEEEEEEP! Drive through a KFC Drive-Thru: BEEEEEEEEP! I reckon I could park this thing on the underside of the moon and it would still think it was about to crash into something. BEEEEEEP!
                                                A parking sensor yesterday. Exciting.
This is not a constant problem. In fact, it's the arbitrary nature of the malfunction that's most annoying. It's not like the sensors go off whenever the car is close to something at low speed, which would make sense, rather that the grating beep tends to happen in really random fashion. Thankfully, the parking sensors and camera always actually work when parking.
I've even wiped the sensors – making them the only part of the car that's ever been washed by me so far – to make sure it's not a coating of muck that's confusing them, which would be a fundamental design flaw, but worth trying. It's not that.
The issue is in stark opposition to the one I'm having with the start/stop system, which remains utterly bone idle. The contrast is quite comical: one system is prone to loud and inappropriate outbursts, while another can barely even muster the enthusiasm to prove it's still functioning. It's like a night out with Russell Brand and Thom Yorke.
I really should get these things fixed, but they're not terrible problems and everything else is going so well. Okay then, I'll get these things fixed. 
« Earlier: This product works just fine Later: Touching moments »
Updates

The Qashqai has gone, so it's time to look back at what impact it's made over the last six months...

A stint with a BMW hybrid supercar got Mark all worked up about how short the Qashqai is falling in the economy stakes.

An errant door seal demonstrates just how well built the functional Nissan Qashqai generally is.

Part two of last month's cliffhanger, in which a rogue hand car wash emporium tried to classify the Qashqai as an SUV.

When you're in the North East of England with a Qashqai, a football analogy is inevitable. Here it is...

A trip to the hand car wash place prompts us to question the very nature of our family hatchback.

Finally our parking sensor issue has been resolved, as is another of the Qashqai's frustrating quirks.

Bad cars don't really exist any more. Bad in-car media systems still do. Luckily, the Qashqai responds well to being touched.

27 February 2015: Parking sensor meltdown
We have a bit of a problem with our Qashqai. The parking sensors keep screaming at us. And we don't like it....

Our Qashqai is marvellous family transport but it's not proving emotional. Which is a bit of a shame.

Mark may be advancing in years but he's having more than a few problems approaching 50 in his Nissan Qashqai.

Mark picks up the new Nissan Qashqai, making him feel right at home in his native North East.