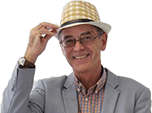 Our Cars: Honda Civic Type R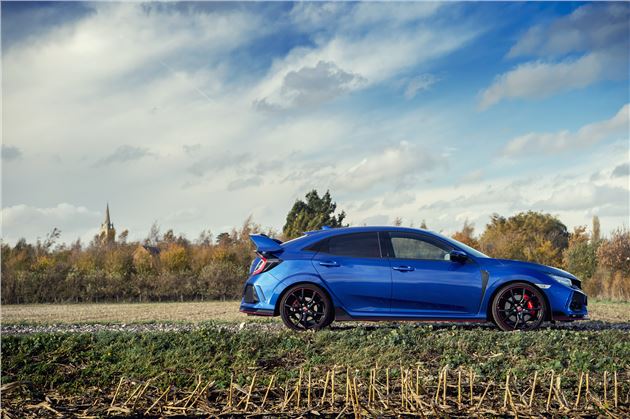 18 December 2018: Here's why you buy a Civic Type R [Pt. 2]
The Details
| | |
| --- | --- |
| Current mileage | 1200 |
| Claimed economy | 36.7mpg |
| Actual economy | 29.5mpg |
In Pt.1 of this we convinced you, hopefully, of the CTR's otherworldly performance credentials. It probably doesn't need saying again, but nonetheless, production family hatchbacks do not come more exciting than this.
Sadly, they do come far more suited to being family transport. Some of the CTR's day-to-day frustrations come as a direct result of it being a performance car – the ride quality, for example – but some of it is just basic poor design. So let's talk about that stuff, because that's the stuff you'll be dealing with the majority of the time. If you didn't need that stuff, you'd be buying a Porsche Cayman or something, right?
First… four seats. Four seats in a family hatchback. I mean, seriously. I asked Honda about this and was given the official line about "all Type Rs having four seats" which, I suppose, you could see as admirable adherence to a principle.
On the other hand… nah. Other Type Rs also had tape decks and LCD clocks; making a five-seat family car significantly less useful for no other reason than an esoteric nod to history is, I think, a bad move. Any potential Type R buyer with child #3 will be obliged to agree, then go to his or her nearest Ford or Volkswagen dealership.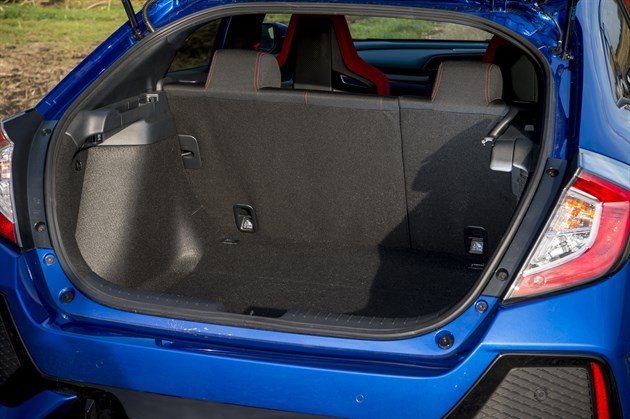 A big basic boot. Nothing more to add.
Other areas of Civic grief? There's the infotainment, which is widely regarded as one of the very worst pieces of in-car software available today. It's so bad that I'm going to dedicate a whole update to it, so let's move on.
The boot is big and the hatchback itself is massive, which makes it very flexible and easy to load, and the retractable luggage cover is pretty neat and clever, but I do wish there were more hooks and nets, and maybe a bit of underfloor storage. Oh, and back up front there's only one cupholder. Which is weird.
But, to be fair, it's otherwise ok. Like, there are plenty of USB ports for your phones, plus a wireless phone charger, and the in-cabin storage is decent throughout. The kids have never once complained about the space in the back, and it has one of the very best driving positions of any hatchback, ever.
Funny thing is, none of that stuff really matters to me. I love this car so much that it could have no cupholders, a boot the size of a practice amp, only one rear seatbelt, and infotainment running on Windows 95 (which it might as well be, to be honest), and I'd still enjoy using it. That's the power of aesthetics. And actual power.
« Earlier: Here's why you buy a Civic Type R [Pt.1] Later: The world's worst infotainment system? »
Updates

Some time with a rival hot hatch has made Mark appreciate the greatness of the CTR's particular skill...

Within one week our CTR has done more than 1000 miles, most of it on the motorway. How has it stacked up?

We've got loud brakes and foggy lights but they're still not diminishing our love for the barking mad Type R

Here's why a 320 horsepower mega hatch isn't quite quick enough...

The Civic Type R's 2.0 turbo engine is a marvel of engineering, but it somehow doesn't quite hit the spot.

Does the world's craziest family hatchback also have the world's worst in-car infotainment system? (The answer is yes.)

18 December 2018: Here's why you buy a Civic Type R [Pt. 2]
If the Civic Type R is an astonishing performance car, as a hatchback it's underwhelming... and for some that could be a big problem.

The Civic Type R is part supercar, almost, and part family hatchback. It's amazing at the first role. Here's why.

We've replaced family transport chalk with cheese, saying goodbye to a Volkswagen SUV and hello to this mad thing.