Our Cars: Audi Q2 1.4 TFSI Sport S tronic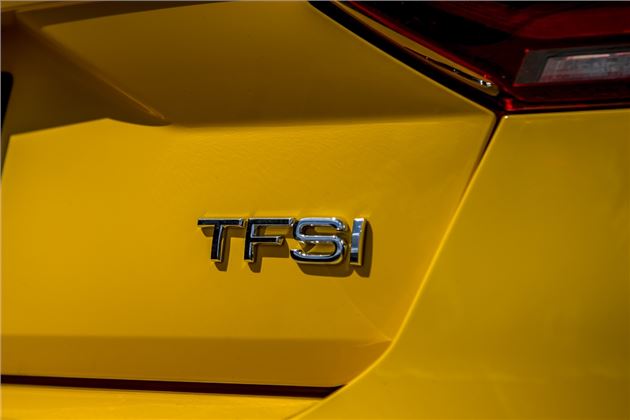 14 November 2018: Does the 1.4 TFSI cut it in our Audi Q2?
The Details
| | |
| --- | --- |
| Current mileage | 5792 |
| Claimed economy | 52.3 |
| Actual economy | 43.1 |
Like most manufacturers, Audi has moved towards its downsizing turbocharged petrol engines in the last few years — meaning the 1.4-litre engine in our Q2 boasts better fuel economy and improved performance in lower gears than bigger, making them more enjoyable to drive around towns and cities.
The 150PS of our 1.4 offers plenty of punch and refinement, while achieving a decent 43mpg fuel economy traversing the country roads of my commute, which - admittedly - isn't the urban environment the Q2 is aimed at.
But you won't find a 1.4-litre engine under the bonnet of a brand new Q2, because Audi has replaced the 1.4-litre engine with the 1.5 TFSI (also known as a 35TFSI) in its lineup.
The slightly larger turbocharged 1.5-litre four-cylinder achieves the same 150PS and 52.3mpg official combined fuel economy as our 1.4 TFSI, but it's ever-so-slightly smoother to drive and cheaper to run. For the most part, there's very little noticeable difference between the engines.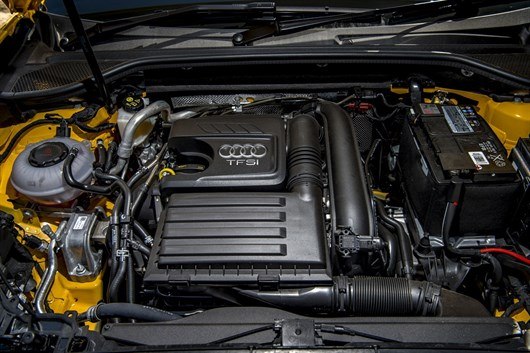 Look, it's an engine! 
Although, if you're buying a used Q2 then knowing a bit about the 1.4-petrol is a necessity. Before the 1.5, the Q2 came with two petrol options, the 1.0-litre (30 TFSI) and the 1.4. Diesel drivers get the choice of a 1.6 or 2.0 TDI, but we'll concentrate on the petrols for now.
For urban drivers who spend most of their time driving around towns, the 1.0 is a great choice. The 1.0-litre is also £2000 cheaper than the 1.4 TFSI. If, like me, you do a lot driving at motorway speeds - the 1.4 TFSI makes more sense, especially if you'll have passengers with you most of the time.
The engine in our Q2 is enjoyably and sporty, yet very refined and smooth. It's especially fun in Dynamic mode, which is one of the options (along with Comfort, Auto, Individual and Eco) on the Audi Drive Select menu - which comes as standard on Sport trim.
The S-Tronic is also great paired with our 1.4 TFSI engine, although it does have a bit of a habit of hesistating when you try to accelerate from standstill. This issue is more prevelant in some modes than others, i.e. it happens more often when going uphill in Auto than in Dynamic because the gearbox struggles to know if it needs to be in second or third gear.
« Earlier: Is Audi's virtual cockpit worth the money? Later: Our Audi Q2 is heading home, and we're sad to see it go »
Updates

It's time to say goodbye to our lovely yellow Q2, and we'd be lying if we said we wouldn't miss it.

14 November 2018: Does the 1.4 TFSI cut it in our Audi Q2?
The 1.4 TFSI in Audi's lineup has been replaced by the 1.5 TFSI (35 TFSI), but which engine would Georgia opt for?

Georgia likes the Virtual Cockpit in the Q2, but is it worth £1400?

Th new Audi Q3 is newer and nicer than the Q2, so why does it only cost a touch more than our Q2?

Audi has added some partial matting onto the rear pillar for customers who buy a Q2 Special Edition #2. Georgia takes you though the fancy, but pointless, optional extra.

Seasons changing get Georgia thinking about the first three months with her Audi Q2.

The Audi ticks all the boxes for young buyers who want a sporty, stylish and premium car. But what's up with the £21k price tag?

Georgia contemplates the triumphs and tribulations of owning a yellow car.

Georgia begins to find the lack of touchscreen in our Q2 slightly irksome...

Georgia puts our Audi Q2 through its paces against a VW T-Roc.

Georgia takes her Audi Q2 on a trip to Bristol, but how does is fare on a long trip?

Our new Audi Q2 arrives, and the colour causes a range of reactions.