Infiniti debuts Q60 Concept luxury coupe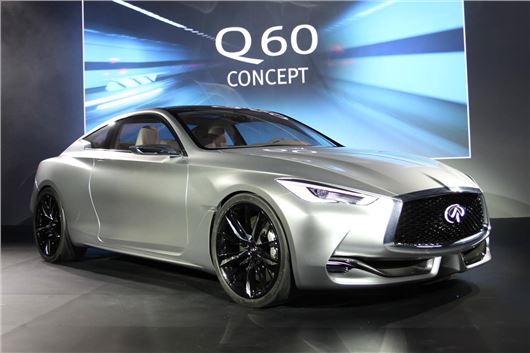 Published 14 January 2015
Infiniti has unveiled the Q60 Concept at the Detroit Motor Show. It's a two-door, four-seat coupe that precursors a BMW 4 Series rival, due to hit showrooms in 2016.
However, despite confirming that the concept will see production next year, Infiniti said little about its specification during its Detroit Motor Show debut, although we do know that the concept is powered by a 3.0-litre twin-turbo V6 petrol engine coupled to a seven-speed automatic gearbox.
Speaking at its Detroit unveiling, Infiniti president Roland Krueger said: "Design is a key driver for developing a strong brand. Q60 Concept is another building block in Infiniti's quest to refresh its portfolio with a strong and consistent design language. And in 2016, we will launch a new model heavily inspired by the Q60 Concept."
Infiniti's accompanying statement goes on to speak much design language blather, including mention of the car's "high tech stare, with fine fibre-optics like the lines of the iris radiating from the pupil."
The Q60 follows the Q80 Inspiration Concept, which will become Infiniti's flagship saloon in 2016, as the brand tries to make a purposeful impact on the European market with a more clearly defined product range, both in design terms and naming hierarchy.
That said, Infiniti enjoyed relatively some success in the UK in 2014, with the 746 cars it sold representing a 93 per cent improvement on 2013's UK tally. And with Infiniti's Q30 production due to start in Nissan's Sunderland plant imminently, the luxury car brand will receive an injection of domestic goodwill in the UK that is likely to see it steal sales from uncertain potential buyers of Audi, BMW, Mercedes-Benz and, of course, Lexus models. 
Comments
Author

Mark Nichol
Latest