Euro-spec 2013 Honda CR-V Breaks Cover in Frankfurt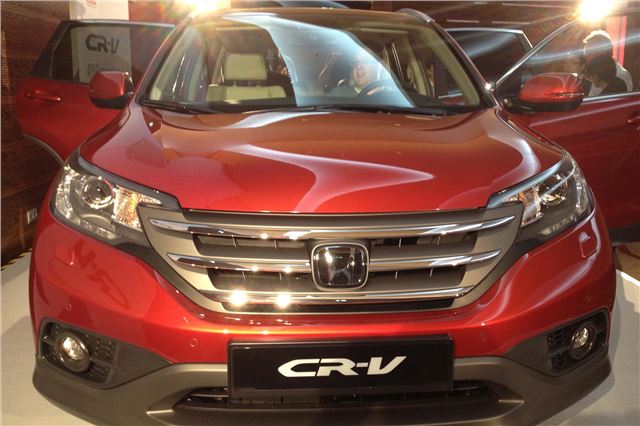 Nine days ago we were invited to attend the unveiling of the first British built fourth generation Honda CR-V.
We were asked not to publish anything until 18th July and we respected that embargo.
It looks bigger but at 4,570mm long and 1,650mm high the new CR-V is 30mm lower and 5mm shorter than the previous CR-V.
Volume production at Swindon starts mid August 2012 and there will eventually be a choice of seven drivetrain combinations:
A manual or automatic 2.2iDTEC four wheel drive.
A manual or automatic 2.0iVTEC four wheel drive.
A manual or automatic 2.0iVTEC two-wheel drive.
And a manual 1.6iDTEC two-wheel drive.
The first four go on sale from Autumn 2012, the two-wheel drive petrol from early 2013 and the two wheel drive 1.6 diesel from mid 2013.
Over the years, the Honda CR-V has morphed from the family funwagon we first saw in 1997. That was 6 months ahead of the first Land Rover Freelander, but 3 years behind the first Toyota RAV-4 and 6 years behind the car that started it all: the 1991 Vauxhall Frontera.
The second generation CR-V from 2001 shared some of the features of the first, including a lift-up rear window, side-hinged tailgate and walk-through cabin (assuming you went for the auto that had a column shift).
But neither first nor second generation CR-V had what a keen driver would call 'handling'. That came with the third generation CR-V that soundly thrashed the contemporary Toyota RAV-4 in that department. I had one for 6 months and it not only handled almost as well as a Mazda CX-7, it was the most comfortable car I had ever driven. And, manual or automatic, it still had a walk-through cab, though no between seats access to the rear.
And, though very practical, it had stopped being a 'Multi Activity Vehicle', as suitable for surfing as for shopping. It had become a luxurious 'Sports Utility Vehicle'.
The new CR-V takes that a stage further. It is even more car-like, modelled more like a junior Lexus RX than a LandRover Freelander.
In marketing terms, Honda sees it sitting above the Hyundai ix35, KIA Sportage, Land Rover Freelander and Toyota RAV-4, equal to a VW Tiguan, and nipping at the heels of the Audi Q5 and BMW X3.
Expect a decently equipped new 4WD CR-V to start at over £25,000 and top out at about £35,000.
Launch engines are the 2.2iDTEC with 150PS and 350NM torque. The manual with idle stop emits 149g/km CO2, same as a BMW X3 2.0 diesel, but the auto chucks out 174g/km, which is quite a lot more than the X3 auto.
The 2.0iVTEC now offers 155PS and 192Nm torque. It emits 173g/km in manual form with idle stop and 175g/km as an auto. But in 2WD manual form emissions drop to 168g/km.
It has to be emphasised that Honda is probably the most 'honest' manufacturer over 'official' emissions and CO2 outputs so these figures are probably achievable by real drivers.
The 4WD system is different from before. Instead of having dual pump system that engages 4WD when it is needed, it now has a single hydraulic pump and the car sets off in 4WD, 'relaxing' to 2WD when the system detects it isn't needed.
With the rear seats folded flat, the boot capacity of the CR-V has grown by 148 litres to 1,648 litres. If the space saver spare wheel is specified, 147 litres to 1,669 litres and with the seats folded up, the boot capacity is 589 litres. The load length has been increased by 140mm to 1,570mm, while the height of the load lip has been reduced by 25mm to make it easier to load heavy or awkward items. The boot of the CR-V can now accommodate two mountain bikes or four sets of golf clubs.
The next generation Motion Adaptive electric power steering system (MA-EPS) has been refined to combine easy manoeuvrability with increased feedback and response at higher velocity. This sophisticated new system also works with the standard Advanced Vehicle Stability Assist (VSA) system to detect instability in slippery road conditions and automatically initiates steering inputs that prompt the driver to steer in the correct direction.
The MA-EPS system also has efficiency benefits. It's simple and compact and unlike a conventional hydraulic pump power steering system, it does not draw continuous power from the engine, helping to reduce fuel consumption.
There's also a range of electronic systems designed to make driving both easier and safer including Hill Start Assist (HSA) which is standard across the range and stops the vehicle rolling backwards during hill starts. Hill Descent Control (HDC) makes its debut on the CR-V and is available on automatic variants, it operates at up to 5 mph and helps the CR-V descend difficult terrain safely and consistently. These systems work in conjunction with the VSA and the MA-EPS systems.
Honda's Collision Mitigation Braking System (CMBS) is a radar-based autonomous emergency braking system. At speeds above 9 mph, moving and stationary vehicles are detected along a path 100m ahead of the vehicle. When the system senses that the car is likely to hit one of these obstacles, a three stage process is initiated. In the first, (typically around 3 seconds before impact), the driver is alerted by visual and audible warnings. In the second stage, when the system senses that a collision is still likely (typically some 2 seconds before impact), three sharp tugs are given on the seat belt and the car automatically starts to apply some braking. Finally, when a collision is unavoidable, CMBS tightens the front seat occupants' seatbelts (using reversible tensioners different from the pyrotechnic devices used during the collision itself) and applies a high level of braking force. This braking can be supplemented by the driver up to the maximum that the car is capable of. Honda estimates that if all cars were fitted with CMBS, between 200,000 and 250,000 accidents could be either prevented or their effects mitigated every year.
Though UK production at Swindon starts in mid August 2012, specs and prices remain to be advised.]
More at Honda
Comments