Nissan Leaf test: How far can you go on one tank?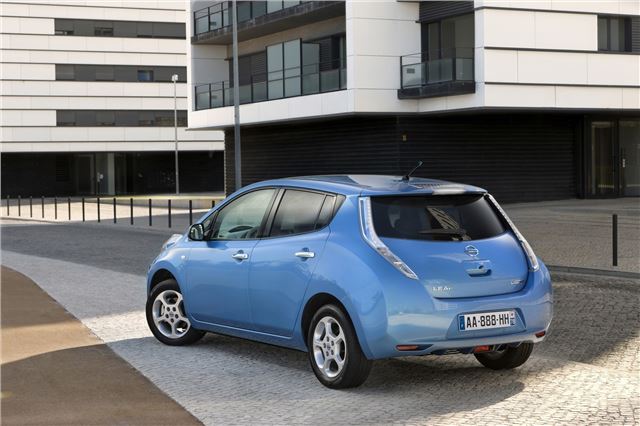 We've been following the Nissan Leaf story closely, ever since the car was announced back in August 2009. We drove the Tiida/Leaf prototype at the start of the year and have given the Leaf a proper road test on UK roads, but now it's time for the car to face up to answer the biggest question that electric car buyers have: How far will it go?
From our previous drives, we know what to expect from the Leaf: it's quirky without being an oddball, packed with kit and does a reasonable job of seating five in comfort. From the moment you sit behind the wheel, it's undaunting with familiar controls and the minimum of fuss. On the road it's fun, has an impressive turn of speed and is quiet to drive. And as all the power is available from the second you press the throttle, it also feels substantially more powerful than similar-size diesels, not to mention the Toyota Prius, which it primarily competes with. Plus you can re-charge from a conventional three-pin socket that you can find in any home.
But until now now we've not spent enough time with the Leaf to drain the battery. So we jumped at the chance of spending half a day with the car - it was the ideal opportunity to see just how far the Leaf can go in everyday conditions on a 'tank of sparks'.
As anyone who's tried to match the manufacturer's official economy figures knows, fuel consumption is is dependent on a number of factors, chiefly how you drive, weather conditions, whether you have the air conditioning on and types of road. Even those with the lightest of right feet can struggle to match the official figures. Nissan reckons that given the right conditions, it's possible to get 108 miles out of a full charge and maybe more if you take it really easy. That may sound a bit on the low side, but the company's research shows that 80 per cent of UK drivers do little more than 30 miles per day.
This isn't a test to see how many miles you can wring out of the car by turning off all the little luxuries, but rather what you can expect in day-to-day driving on a variety of roads and conditions. With your foot down, air con on full blast and a hilly terrain, it's unlikely to get you 50 miles down the road. Conversely, on a flat road, with no air con and at a steady pace, it's theoretically possible to cover up to 140 miles.
What we found in our drive is that it's possible to get at least 80 miles out of a tank without taking it especially easy. Even when we finally gave in and got the car re-charged, there was a range of 10 miles left.
Our driving was a mixture of city, B-roads and motorways and involved faster stints as well as taking it easy when needed. That included all the driving you'd expect to experience during a commute, with everything from traffic lights, junctions to stop-start traffic to clearer roads with national speed limits. The Leaf also has an 'eco mode' which noticeably turns down the acceleration and air con - we did half of our drive with it on and half of our drive with it off.
Energy consumption was largely as you'd expect from any other car. In free-moving traffic at lower speeds, impressively low, while the energy gauge dropped more quickly under heavy acceleration and when the engine was being worked harder. As it's an auto, there's no need to worry about being in the most efficient gear and as maximum torque of 207lb ft is immediately available and there are no revs to keep an eye on, either, which means you're not wasting energy getting up to speed.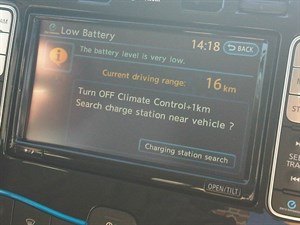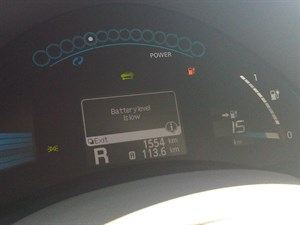 By the time we got to the end of our 80-mile drive, the Leaf wasted no time letting us know that it was running low on power, with warnings on the instruments and the sat nav screen. It shouldn't come as a surprise to anyone and the Leaf does a better job of alerting the driver that fuel is running low than many conventional petrol and diesel cars. As well as the warnings themselves, the Leaf will try to get you to the nearest public re-charging station.
On the road, the Leaf continues to impress. Put your foot down and it feels urgent, delivers power immediately (and almost silently) and handles surprisingly well with decent steering, contained bodyroll and a comfortable ride.
This is just our experience with the range of one fully-charged Leaf and it's satisfying to know that you can cover a reasonable distance without having to take it easy all the time. The Leaf goes on sale in early 2011, priced from £23,990. We'd love to know what the first owners are managing to achieve. If you own one, please let us know what you're managing, by submitting an owner's review.
What do the read-outs mean?
Our driver's eye-view graphic shows you what's what.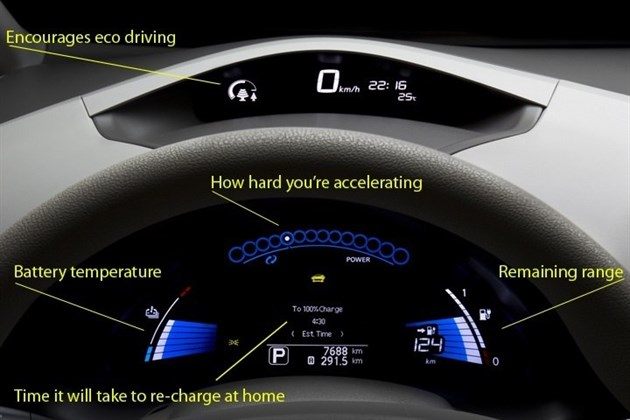 How do the costs stack up?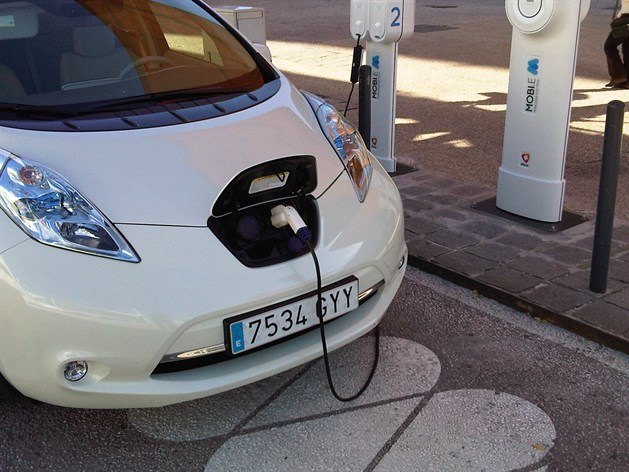 The Leaf still looks expensive up against more conventional mid-size diesels, for example a mid-range Ford Focus. A well specced Ford Focus 2.0-litre diesel has a list price of around £20,000, while the Leaf is still £4000 more expensive after a Government subsidy of £5000.
But for someone averaging a 50-mile per day commute, it doesn't take long before the lower running costs means that the gap starts to narrow.
10,000 miles of diesel is going to set you back around £1000 in a car that averages 55mpg. The same distance in a Leaf will cost you around £300 if charged at home overnight. Over three years/30,000 miles, that's a saving of £2100.
If you're doing an average of 50 miles per day, that's 18,250 miles per year. That would cost: £1836 in diesel, whereas the Leaf would cost £547. Over three years, that's a saving of £3867.
Company Car buyers can also take advantage of a tasty little loophole - it's exempt from Company Car Tax for five years. Against something like a diesel Focus it's a saving of around £500 per year for a basic rate tax payer. Being electric, it's also exempt from Road Tax, though the savings over a diesel hatchback total little more than £100 over three years.
Plus for London, you can add a saving of up to £2000 per year in Congestion Charges.
Map highlights a charging point north/south divide
Although there are clusters of public recharging points in southern cities, the north lags behind and means it's currently impossible to travel the length of the country using the fast-charge network. If you started your journey in the South-East, say in Royal Tunbridge Wells, you could comfortably get to the Midlands or South Yorkshire (via the M25, M1 and M6) using the network of quick-charge points. North of Sheffield, the situation is different. According to the website www.ev-network.org.uk/, which has a map of public quick-charge points, the north-west of England has no coverage, while over on the east coast, there's nothing between Sheffield and Newcastle. It's a similar situation in Scotland.
Although not as fast as filling up with petrol or diesel, the quick-charge points allow the Leaf to be charged up to 80 per cent of its full capacity in just under 30 minutes. At-home charging using a 240V - 16A outlet takes approximately seven to eight hours for a full charge.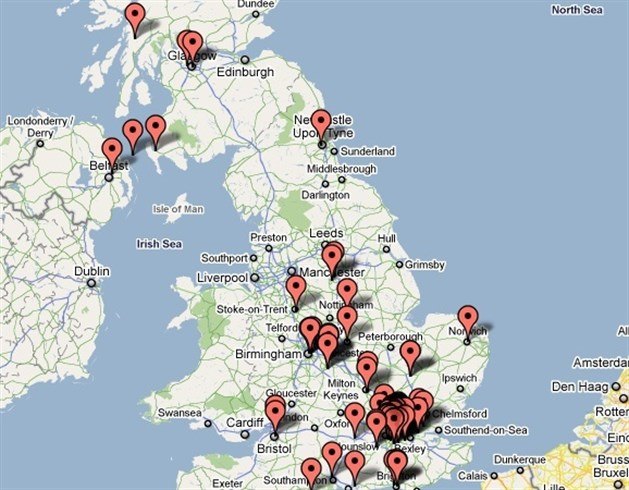 Click image for the full map.
Comments