Lexus LC 500h hybrid stunner rolls in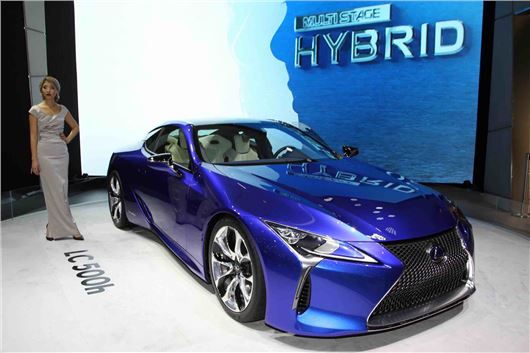 Published 02 March 2016
This beautifully low and wide coupé is the latest chapter in Lexus' quest to make hybrids actually interesting. The LC 500h got its debut at the Geneva Motor Show and is due on sale at the end of 2016, aiming to be a sort of half-price BMW i8 – it should cost around £60,000.
Like the i8 it's a 2+2 setup, meaning tiny rear seats, and also like the i8 it's a hybrd dedicated to being as light as possible, meaning it's both fast and efficient. Much of the bodywork is carbon fibre or aluminium, and the drivetrain is truly innovative.
Strangely, it has two gearboxes – a CVT of the type Lexus usually uses in its hybrids, and a four-speed automatic. The former is programmed with six specific shift points and linked to the electric motor, while the 3.5-litre petrol engine is taken care of by the auto.
How this relationship between power units and gearboxes plays out is a little fuzzy at the moment, but Lexus says the effect is of a ten-speed auto, and eradicates the whining, step-less characteristic of a CVT – the characteristic that kills any notion of sportiness in Lexus' regular hybrid models.
Total power is 360PS, all driven through the rear wheels, and because it's light we can expect a 0-62mph time well under five seconds. 

Comments
Author

Mark Nichol
Latest