Frankfurt Motor Show 2017: New Nissan Leaf set for early 2018
Published 07 September 2017
This is the new Nissan Leaf, which will go on sale in the UK in early 2018. Along with a sleeker design, the new Leaf has a longer range - now 235 miles on a single charge
That's a significant increase over the current model - the latest version of which has a 155 mile range. It's down to a bigger 40kWh lithium-ion battery - up from 30kWh - although that does mean a slightly longer fast charge time of 40 minutes from a fast charger - 10 minutes longer than before.
The new battery gives the Leaf a power output of 110 kW - equivalent to 150PS - with torque increased to 320Nm, improving performance.
Later in 2018, Nissan will introduce a more expensive higher-power version with a bigger battery which will give the Leaf a range of close to 310 miles although, as always, this range is dependant on how the car is driven.
One interesting new feature is called e-Pedal which, according to Nissan, lets you 'drive and brake in a totally new and seamless way'. Apparently it allows the driver to start, accelerate and brake just by using one pedal.
When you come off the accelerator pedal, the brakes are applied automatically, gradually bringing the car to a complete stop. The car holds its position, even on steep uphill slopes, until the accelerator is pressed again. Although as Nissan usefully points out, the normal brake pedal must still be used in 'aggressive braking situations.'
Nissan has also worked to improve the handling to give the Leaf better stability while the steering now has a more linear feel thanks to new software. It is also available with Intelligent Ride Control which controls the engine and brakes to counteract the pitching caused by bumpy roads.
Inside there's a completely new interior with higher quality materials and a better fit and finish according to Nissan. This includes a new 7-inch driver information display which has been redesigned to be easier to use. Apple CarPlay and Android Auto are also included on cars fitted with navigation.
Cabin noise has been reduced thanks to less wind drag, aerodynamic changes and a quieter electric motor. The boot is bigger at 435 litres while the boot floor has been changed to make it more practical.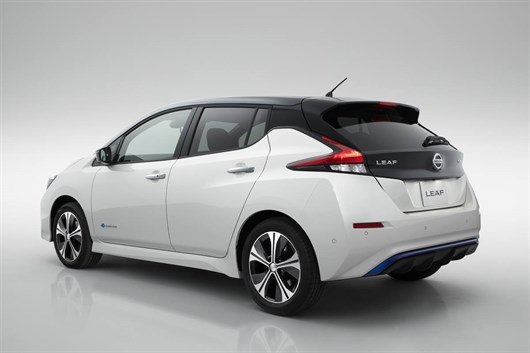 Comments
Author

David Ross
Latest