Will your car fail the new MoT?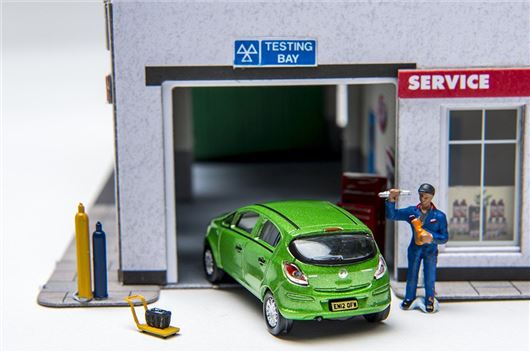 Published 14 May 2018
There's been a lot of confusion lately surrounding the incoming MoT changes, namely about whether older diesels are likely to pass. So we've broken it down into the five major changes you need to know about.
The MoT changes will affect diesel vehicles
Diesel cars with a Diesel Particulate Filter (DPF) will find it harder to pass the MoT from May 2018 when the Government introduces strict new rules on emissions. 
From 20 May 2018, any Euro5 diesel that emits visible smoke of any colour will automatically fail the MoT. DPFs will also face mandatory checks, with failures being issued if the tester finds evidence that the filter was removed or has been tampered with.
According to the Driver and Vehicle Standards Agency (DVSA) guidance document 'an automatic failure will be issued if the DPF canister has been cut open and re-welded, unless the owner can provide documented evidence for a legitimate reason like a filter clean'.
>> Everything you need to know about DPFs
"The new system creates the potential for confusion as testers will have to make a judgement as to whether faults are Dangerous, Major or Minor."
New items will now be tested under the MoT
There are a few things that will be tested for the first time. These include if tyres are obviously under-inflated, if the brake fluid has been contaminated, fluid leaks posing an environmental risk, brake pad warning lights and if brake pads or discs are missing.
Reversing lights on vehicles first used from 1 September 2009 will also be part of the MoT for the first time and must operate automatically when reverse gear is selected. Aftermarket high intensity discharge (HID) headlamps will also be banned, with owners required to convert their HID headlamps back to halogen.
>> Top 10 causes of MoT test failures
Headlight washers on vehicles first used from 1 September 2009 (if they have them) and daytime running lights on vehicles first used from 1 March 2018 (most of these vehicles will have their first MoT in 2021) will also be checked.
Defects will be categorised differently
The DVSA is introducing new defect categories, with test faults now being listed as Minor, Major or Dangerous. Any car that gets a Dangerous fault will fail and be deemed illegal to be driven on the road.
A Major fault will also fail and be subject to a repair and retest. Minor defects will be considered along the same lines as advisories, allowing the vehicle to pass with the faults being noted to the MoT history. The MOT tester gives each item a category depending on the type of problem and seriousness.
However, RAC spokesman Simon Williams said: "The new system creates the potential for confusion as testers will have to make a judgement as to whether faults are Dangerous, Major or Minor. This will surely be open to interpretation which may lead to greater inconsistency from one test centre to another."
| | | |
| --- | --- | --- |
| Category | What it means | How it affects the MoT result |
| Dangerous | A direct and immediate risk to road safety or has a serious impact on the environment. Do not drive the vehicle until it's been repaired. | Fail |
| Major | It may affect the vehicle's safety, put other road users at risk or have an impact on the environment. Repair it immediately. | Fail |
| Minor | No significant effect on the safety of the vehicle or impact on the environment. Repair as soon as possible. | Pass |
| Advisory | It could become more serious in the future. Monitor and repair it if necessary. | Pass |
| Pass | It meets the minimum legal standard. Make sure it continues to meet the standard. | Pass |
Some vehicles over 40 years old won't need an MOT
Cars, vans, motorcycles and other light passenger vehicles won't need to have an MoT if they're over 40 years old. At the moment, only vehicles first built before 1960 are exempt from needing an MoT.
That means any car built before 1 January 1978 is included. If you already own a 1977 car, you'll need to contact DVLA to change its VED class to 'historic' to take advantage of the tax break.
You won't have to apply to stop getting an MoT for your vehicle, however, each time you tax your historic vehicle (even if you don't pay a fee), you'll have to declare it meets the rules for not needing an MoT.
The MoT ceritificate will change
The design of the MoT certificate will, after 20 May 2018, list any defects under the new categories, so they're clear and easy to understand.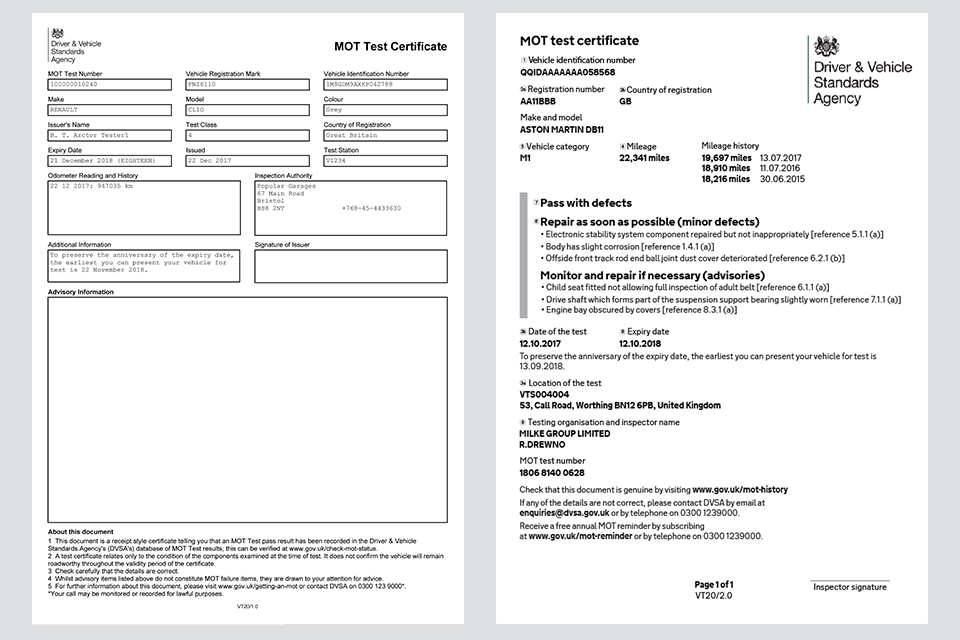 The DVSA has also scrapped plans to extend the first MoT for new cars from three to four years. A Department for Transport (DfT) consultation in 2017 considered changing the period before the first test to four years, a move that was met with significant concern by HonestJohn.co.uk.
Comments
Author

Georgia Petrie
Latest