Are hydrogen vehicles the answer to EV woes?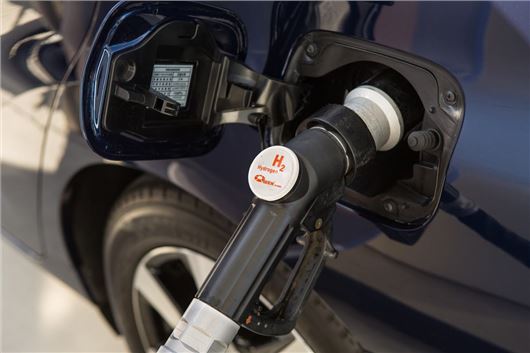 Published 27 March 2018
With sales of petrol and diesel cars set to be banned in the UK by 2040, the spotlight has turned on electric vehicles as the alternative. But there is another zero emissions fuel - hydrogen.
Hydrogen fuel cell cars are nothing new of course. We drove the Honda FCX Clarity in 2010, but there's very little mention of this alternative fuel source in the mainstream media.
Yet we constantly hear about EVs as the only real alternative to conventional petrol and diesel engines. Despite all the noise made, the buying public has yet to be convinced it seems - less than 1000 electric cars were sold in the UK in the first two months of 2018.
Why? Well electric cars will not work for everyone. Partly due to their maximum range - for example a Volkswagen e-Golf covers 186 miles on a single charge in ideal conditions - but also a lack of coverage when it comes to charging points in the UK. 
But perhaps the biggest barrier is convenience. Most people want to fuel their car once a week and forget about it. The idea of having to sit at a motorway services for a couple of hours while your car charges is not that appealing for most. It's a big step change for a nation used to putting in 20 litres of unleaded to keep them going.
So on paper, hydrogen power looks very appealing. A hydrogen car is essentially an electric car, but doesn't require plugging in and charging. Instead the power is generated by the fuel cell. In place of a petrol tank there's a high-pressure hydrogen tank and this hydrogen is combined with atmospheric oxygen to generate electricity.
The fuel cell is really a tiny electric power station, generating its own electricity rather than through a plug-in system. As a result there are no CO2 emissions - instead the only by-product is water. Honda says the FCX Clarity is three times more efficient than a petrol-engined car.
But the real appeal is that refuelling a fuel cell vehicle is like fuelling a normal car and takes just a few minutes. 
At the latest Future of Technology seminar organised by the Advanced Propulsion Centre (APC) and Innovate UK, industry specialists argued that hydrogen is ready to challenge batteries as the zero emissions fuel of the future.
However, FCEV sceptics' argue that they're less efficient than electric vehicles. Hydrogen doesn't occur naturally, it must be extracted, then compressed in fuel tanks. It then has to mix with oxygen in a fuel cell stack to create electricity to power the car's motors.
Tesla's founder and CEO, Elon Musk, previously said, "Hydrogen is an energy storage mechanism, not a source of energy. If you get that Hydrogen from water, you're splitting H20, and electrolysis is extremely inefficient. It makes no sense."
Many energy experts point to the energy loss in this process when compared with an electric car, in which the electricity comes straight from a battery pack.
That's true to an extent, but for makers such as Toyota, hydrogen will complement electric power rather than replace it. Hydrogen fuel cell cars utilise a lithium-ion battery, just like EVs. However, since it is only used to boost acceleration and not for primary propulsion, the battery can be much smaller.
"Unlike batteries, FCEVs are already proven in rail and truck applications as well as passenger cars. You could run all the trains in Wales using hydrogen produced from just one medium-sized wind farm," said John Maddy of the University of South Wales.
Work is also underway to obtain hydrogen from biomass, rather than seperating it from natural gas, a process that would significantly cut the life-cycle emissions from hydrogen to around 60g/km CO2. This is below the level that EVs will achieve, even when electricity is sourced from renewable sources, because of the environmental costs of battery production.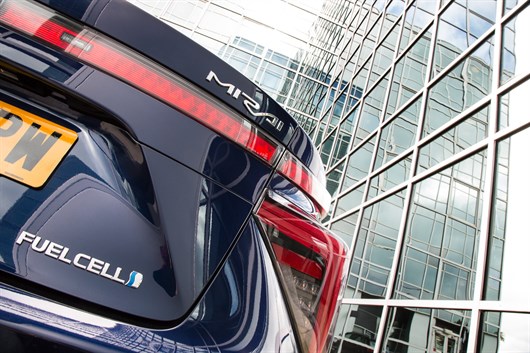 Toyota UK's alternative fuels manager, John Hunt, said that the main barriers to sale was the cost of the complete fuel cell system, especially the fuel storage tanks and the availability of the gas.
"There's 1TWh of unused power generating capacity available in the UK. This could produce enough Hydrogen to fuel 90,000 FCEVs for 12,000 miles per year each, with none of the load balancing problems that are being predicted for battery electric vehicles," said Hunt.
Yet, not everyone agrees. Dr. Colin Heron, chief executive of Zero Carbon Future, asked: "Why waste electricity and money making hydrogen when you could just put it into a battery and go?" Presenting a range of calculations, Heron claimed that a fuel cell electric passenger car is "three times the price to buy and five times the cost per mile to run."
He also suggested that by the time EV batteries have finished their second life – potentially in around 15 years – technologies will have been developed that allow them to be recycled and the rare metals recovered, eliminating one of the major environmental concerns around the technology.
Currently the only hydrogen fuel cell vehicle on sale in the UK is the Toyota Mirai. It's priced at £65,000 and there are only a handful of hydrogen filling stations. Will we see the price come down as technology develops as with EVs? And will there ever be a proper network of hydrogen pumps and filling stations? Let us know what you think.
Comments
Author

Georgia Petrie
Latest