Toyota Prius Plug-In (2017–)
Model History
March 2016
Plug-in Prius launched
Has calculated emissions as low as 32g/km and extrapolated average fuel consumption of 202mpg based on the current tests. Goes up to 84mph in EV mode and up to 31 miles on electricity alone.
The new Prius Plug-in's Hybrid Synergy Drive powertrain features a larger, 8.8kW/h lithium-ion battery pack, allowing EV driving for longer and improving the potential driving range from a tank of fuel. It posts a substantial improvement in fuel consumption compared to its predecessor, with an extrapolated average figure of 202mpg (from an 11 kilometre lab test), the best rating for any current plug-in hybrid on the market.
When not running in EV mode, Prius Plug-in will automatically favour its all-electric drive capability in situations where this can deliver higher efficiency than the petrol engine, most notably when driving around town and on shorter journeys.
October 2016
Figures for Toyota Prius Plug-in announced: Better extrapolated NEDC target figures of 282.5mpg and CO2 emissions of 22g/km, and an EV range of more than 30 miles, thus meeding new rules for plug in hybrids used for private hire in London.
Large-capacity lithium-ion battery, located beneath the loadspace, is key to Prius Plug-in's 30-mile-plus EV range. Volume has been increased from 87 to 145 litres and energy capacity doubled from 4.4 to 8.8kW/h, yet at 120kg it is only 50% heavier than the none plug in battery.
EV power has been increased by 83 per cent, thanks to the development of a Dual Motor Drive System. A new, highly compact clutch within the transaxle allows the hybrid system generator to act as a second electric motor. This boosts EV driving power to 68kW, giving better acceleration and even more engaging performance, while at the same reducing the frequency with which the petrol hybrid engine is brought into play.
A more efficient new PHV system, building on the quality of the fourth generation full hybrid technology deployed in the new Prius, further helps maximise the vehicle's EV performance potential.
The automatic air conditioning is powered by a gas injection heat pump, capable of heating the cabin without having to start the engine, even when external temperatures drop as low as -10°C. This minimises the impact heating the car's interior has on the EV driving range. The heat pump is far more efficient than engine heating or high-power electric water heaters, being able to warm the cabin efficiently using heat absorbed from the outside air. The gas injection mechanism mounted on the pump gives the system its ability to operate even when outside temperatures are low.
During charging, a new battery warming system heats the cells to an efficient working temperature, in outside conditions are as cold as -20°C. This ensures that battery power and efficiency are maintained at level sufficient to minimise any cold weather impact on the EV driving range. Effectively, full power it available right from start-off, even in very cold weather. Maximum charging power has been increased from 2.0 to 3.3kW. The battery can be fully charged up to 65 per cent more quickly – in just two hours using a Type II Mode III Mennekes connector, or three hours 10 minutes using a standard household plug socket. The charging process can now be programmed for a week on a day-to-day basis, including the facility to simultaneously charge the battery and pre-heat or pre-cool the cabin.
The new transaxle is combined with a new, highly efficient Power Control Unit to give Prius Plug-in exceptional overall operating efficiency.
February 2017
Toyota substantially reduced prices of the Prius Plug-in. The revised prices shown are after the Government grant of £2,500.
Toyota Prius Plug-in Business Edition Plus: £29,195
Toyota Prius Plug-in Business Edition Plus with Solar Roof Panel: £30,695
Toyota Prius Plug-in Excel: £31,395
February 2018
Updates to the Toyota Prius Plug-in for 2018
Prius Plug-in goes into 2018 with no changes to its equipment specifications but, like its sister Prius family models, it has new fuel and emissions figures, shown below.
Prius Plug-in

(15in wheels only)

Fuel consumption (mpg)
Combined
235
Urban
n/a
Extra-urban
n/a
CO 2 emissions – combined cycle (g/km)
28
July 2019
Hot on the heels of Lightening One, the World's first practical solar powered car, Toyota got deeper into solar assisted PHEVs. Unlike plug-in electric cars, solar power has the potential to provide greater range with smaller batteries so could be the breakthrough to free fuel for every car on the roads.
Toyota Motor Corporation in collaboration with NEDO, Sharp Corporation announced a plan to start public road trials from late July 2019 to assess improvements in the cruising range and fuel efficiency of electrified vehicles equipped with high-efficiency solar batteries.
To enable the trial, Sharp has modularised its world-class, high-efficiency solar battery cells1 (conversion efficiency of 34 per cent-plus2), previously developed for a NEDO-led project3, to create an onboard solar battery panel. Toyota has installed this panel not just on the roof, but also on the bonnet, tailgate and other parts of its Prius Plug-in Hybrid to produce a demonstration car for trials on pubblic roads. By enhancing the efficiency of the solar battery panel and expanding its onboard area, Toyota was able to achieve a rated generation output of around 860W4, a figure around 4.8 times higher compared to the production Prius Plug-in equipped with a solar charging.
In addition to substantially boosting its power generation output, the demo car employs a system that charges the driving battery while the vehicle is parked, as well as when it's being driven. This development is expected to lead to huge improvements in electric-powered cruising range and fuel efficiency.
Toyota plans to conduct the trials in various driving conditions in Toyota City, Aichi Prefecture, Tokyo and other areas. Data, including the solar battery panel's power generation and the amount the drive battery is charged, will be gathered and verified, and used in the development of an on-board solar recharging system. Toyota plans to share a selection of trial data results with NEDO and Sharp.
The PV-powered (pohotovoltaic) Vehicle Strategy Committee5, sponsored by NEDO and others, will evaluate the benefits based on improvements in CO2 emissions reductions and convenience, such as the number of times a vehicle needs recharging. The goal is to contribute to the creation of a new solar battery panel market, including the transport sector, and find new solutions for energy and environmental issues.
Performance comparison
Vehicle

Performance items

Prius Plug-in Hybrid

(with solar charging system)

Demo car
Solar battery cell conversion efficiency
22.5%
34%-plus
Rated power generation output
180W
approx. 860W
Maximum charge to the driving battery while the vehicle is parked (per day)*
BEV**-mode cruising range equivalent to 6.1km
BEV-mode cruising range equivalent to 44.5km
Maximum charge and power supply to the drivng and auxiliary battery while the vehicle is being driven (per day)*
Supplies power only to auxiliary battery, which powers the car navigation system, etc.
BEV-mode cruising range equivalent to 56.3km
* Maximum amount of charge generated by the solar charging system while the vehicle is parked or being driven, converted into travelling distance according to the JC08 Japan test cycle. Calculation based on the Japan Photovoltaic Energy Association Labelling Guidelines (FY2016), taking into account the various losses incurred in onboard systems. Solar radiation amount calculated based on the daily data of the average year between 1990 and 2009 in the Nagoya district (source: NEDO). ** Battery Electric Vehicle.
In April 2016, NEDO, a national research and development organisation in Japan, set up the PV-powered Vehicle Strategy Committee, which comprises members from industry and academia. With the goal of finding solutions to energy and environmental issues in the transport sector, the committee's research focuses on solar power systems. Sharp and Toyota are active committee members. The committee's achievements thus far include estimates6 of the potential to achieve an output of 1kW in vehicles, in spite of the limited space available to install power systems, by using a solar battery module with a conversion efficiency of 30 per cent-plus, zero annual recharging (depending on usage patterns) and estimates of the benefits from a reduction in CO2 emissions.
More at: https://www.nedo.go.jp/english/news/AA5en_100358.html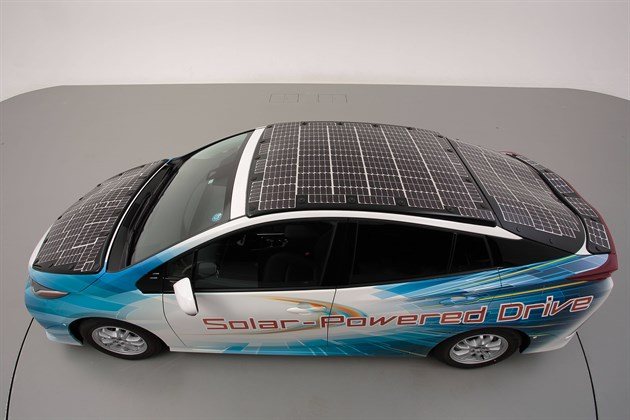 July 2019
Befitting its popular used as a taxi/private hire car, Toyota has introduced a new 5-seat interior for the Prius Plug-in.
Its rechargeable powertrain delivers an official 217mpg (WLTP data) with 29g/km CO2 emissions (NEDC correlated data), and allows an all-electric EV driving range, with zero emissions, of up to 34 miles.
Its designed-in efficiency includes a sophisticated heating system with a pump which draws heat from air outside the car, requiring less power than heaters which generate warmth from the engine. Also, the lithium-ion battery has a warming system which ensures the cells are brought up to an efficient working temperature, so that efficiency and EV driving range are maintained even in cold weather.
The new look interior replaces the rear centre console with a third seat to take capacity up to five people. A new seat fabric pattern has been introduced and there are two interior colour options: Cool Grey, with grey seat bolsters, and Black. The car's trim has also been changed to all-black, including the centre console, shift lever and steering wheel, matching the look of the 2019 Prius.
There are new colour choices for the exterior, too, with the introduction of Scarlet Flare pearlescent and Galaxy Black metallic finishes.
Equipment changes include the provision of a larger wireless charging tray, which can accommodate the latest generation smartphones. Prius Plug-in also adopts the latest specification Toyota Touch multimedia system.
Equipment specifications for the two-grade range are unchanged. The Business Edition model comes with 15-inch alloy wheels, Toyota Safety Sense, Blind Spot Monitor, Rear Cross Traffic Alert, smart entry and start, head-up display, Toyota Touch 2 with navigation and DAB, dual-zone automatic air conditioning with HUMI occupant detection, wireless phone charger, heated front seats and two TFT multi-information colour displays.
The Excel version adds leather seat upholstery, a JBL premium audio system and Simple Intelligent Park Assist, with front and rear parking sensors.
The new 2019 Toyota Prius Plug-in is on sale now.
May 3019
Toyota 5 year warranties can now be extended to 7 years for £495, including MoTs and Toyota Roadside Assistance.
What does a Toyota Prius Plug-In (2017) cost?
Contract hire from

£224.63

per month
Buy a used Toyota Prius from £17,495