Mitsubishi Outlander PHEV (2014–)
Last updated 1 February 2018
44g/km CO2 means no VED. London Congestion Charge exempt. Very low company BIK tax. Masses of space.
Very heavy. Real mpg user average 59.8 mpg. Uncultured cabin and driving experience. Loses sixth and seventh seats of diesel Outlander.
Updated 27 March 2020
16: Another complaint of clip inside the charger flap of a year old Mitsubishi Outlander PHEV coming off and the flap not closing properly. Cliop replaced by dealer but came off again. Flap now rubs on...
Introduction
When it launched in 2013 the Mitsubishi Outlander PHEV held the honour of being the world's only plug-in hybrid SUV – until the Volvo XC90 T8 came along in 2015. Regardless, it's still the world's most ludicrously economical: 156.9mpg official average economy and 42g/km CO2. 
A user-chooser's dream, the numbers give any company purchasing the car a 100% first year write down allowance, while the driver enjoys zero VED payments, very low BIK, London C-Charge exemption and a £2,500 Government electric car grant towards the price. (It was £5,000 until April 2016, when it ensured the Outlander PHEV cost the same as an equivalent diesel - now no longer the case.)
A 2015 facelift attempted to take the car upmarket, including a higher quality cabin, improved performance, better ride quality and some design tweaks, including a revised grille.
Journey carefully for fewer than 20-25 miles per day, and always keep your PHEV plugged in at home, and in theory you'll never delve into your fuel tank. But once you begin to task the four-cylinder petrol engine with work things go downhill rapidly – unless you're literally going down a hill. You can expect 30-40mpg from the PHEV if the battery is flat, because the engine is not only moving this two-tonne car about, but charging the massive battery too.
And it does so in noisy fashion generally, although conversely when running on electric power alone the PHEV is a model of quiet comfort and refinement – and surprisingly good at going around corners, too.
Despite the cabin improvements brought about with the facelift, the interior of the Outlander is hardly inspiring. It's well put together and feels durable, but the design is bland, the switchgear incoherent, and the infotainment system tacky. The driving position conspires to perch you too high in the car, while some practicality is lost compared to the diesel Outlander because the rearmost seats (six and seven) make way for an electric motor and the boot is smaller.

Ultimately, Mitsubishi has found a very useful niche with the Outlander PHEV by offering this much space in such tax-friendly fashion, which could well be enough for plenty of company car buyers – those with company fuel cards, especially. However, even post-facelift it lacks charm and flair, and remains very much a purchase for the head rather than the heart.
Mitsubishi Outlander PHEV Road Test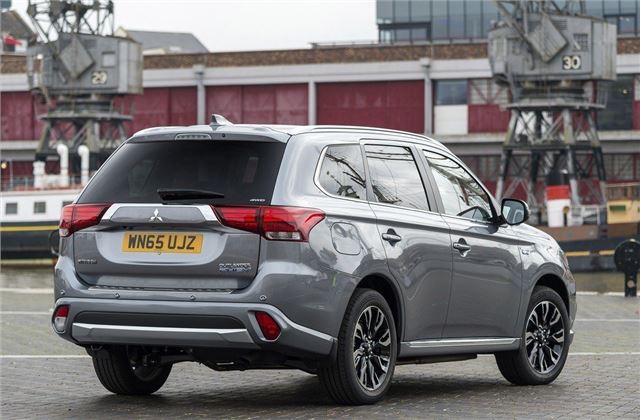 Owners' reviews
Great if you only do short trips
Love it except for paintwork...
A bit like the child at school "could and should do a lot better"
Misrepresented to the extreme...