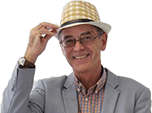 What's the best automatic for a tall driver?
What's the best second hand automatic car for a tall man, with a tall family, that does a various distance of miles for work?

Asked on by Aldrin

Answered by
Honest John
You don't want a diesel with a DPF, but you might not have much choice. The answer is probably a Skoda Superb 2.0 TDI 6-speed DSG.
Honest John recommends

– find and buy your perfect car, in just a few clicks
Similar questions

I want to buy a three/four year old Volkswagen Golf VII for around £10,000-13,000, which has covered about 30,000 miles. Which engine and fuel type do you recommend? We cover around 10,000 miles a year...

I'm thinking of buying a 2014 SEAT Leon DSG auto SE. What should I look out for? Also, are the DSG issues now resolved?

My wife favours a used Skoda Yeti petrol auto for local, rural journeys and the occasional long trip. I hear that the Yeti automatic gearbox can be iffy. Any recommendations?
Related models

Large hatchback that offers excellent value for money. Limousine-like legroom and bootspace. Efficient range of engines. Improved even more with 2019 facelift.